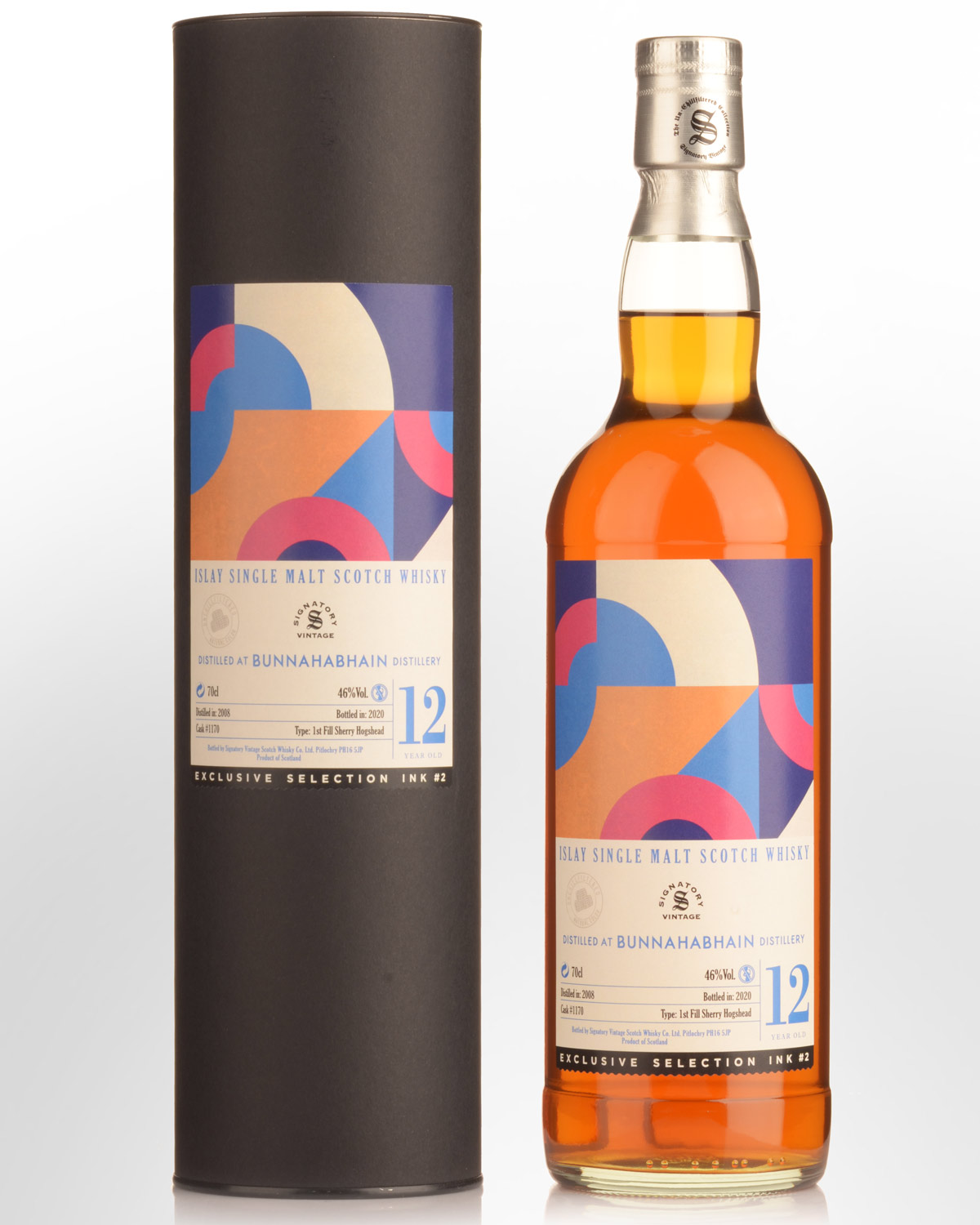 2008 Signatory Vintage Exclusive Selection Ink #2 Collection Single Cask Bunnahabhain 12 Year Old Single Malt Scotch Whisky (700ml)
Signatory's 'Ink Collections' are hand-picked by whisky experts at the French retailer, 'Le Comptoir Irlandais'. Aiming at perfectly realised maturations, the labels reflect the complex alchemy of whisky, wood and time by illustrating different arrangements of shapes and colours. We have secured and tasted four from the series, and can confirm these are indeed astute choices showcasing fabulous character and balance in every instance. There are more whiskies from this ongoing series which we'll endeavour to secure in the coming months. For now, the INK #2 collection is now close to sold out at the Brittany based store, so the current offer cannot be repeated.
Tasting note: Drawn from a single first-fill sherry hogshead (#1170), Le Comptoir Irlandais dedicate this unpeated Bunnah' to lovers of "old school" sherry. The nose captures the sherry nicely; fruit cake and brandy sauce smother the malt's latent fruitiness, deepening and intensifying after brief air contact. In the mouth, the quality of the cask selection is confirmed: Plums and raisins galore with fabulous concentration - even at this middling ABV - and an almost luscious finish. The aftertaste hints at fruit'n'nut chocolate and ginger bread, lingering with dilute molasses, coffee cake and fine, drying astringency. This one's all about the sherry. Pure and delectable, though you wouldn't easily pick it as Bunnah'. 46% Alc./Vol. Non chill filtered.
Notes from the bottler... We are here, as the English say, on a big old fashioned "Sherry Bomb". Few fruits and spices like on "modern" Sherry casks, but more rustic, more "old school" aromas. The cask is very powerful, it is a magnificent sherry whisky, but you do not feel anything of the Bunnahabhain character, there it is only the cask, in a sense it is a little unbalanced whisky ... but if you like the cask from Sherry it's splendid. The palate is massive, thick, on dark chocolate, pepper, blood orange and a woody note reminiscent of certain old Cognacs.The finish is always on coffee, chocolate, dried fruits. A huge superb old-fashioned Sherry cask with deep and heavy aromas, more distant from modern Sherry casks with a fresher, lighter and fruity style.