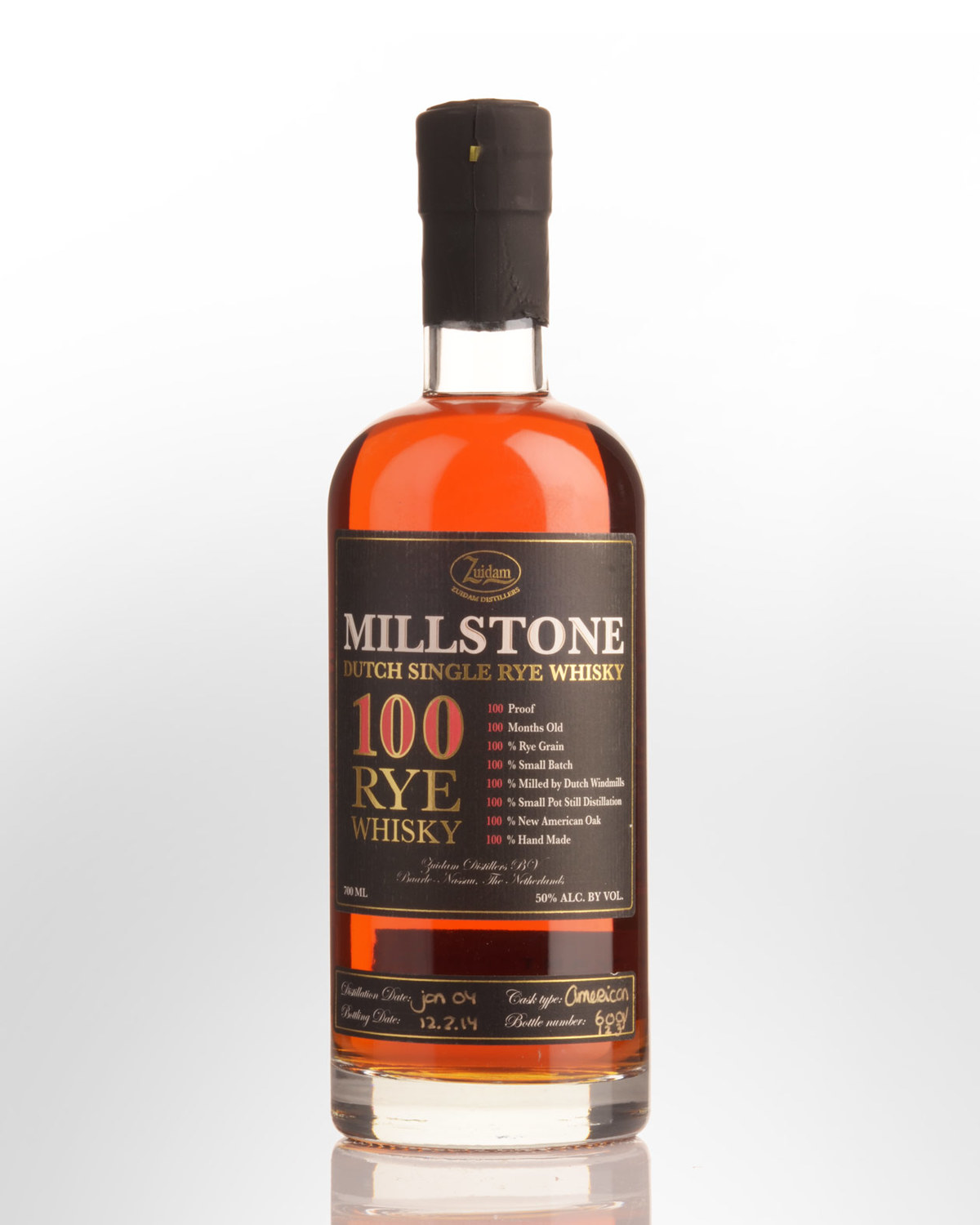 Zuidam Distillers Millstone 100 Rye Whisky (700ml)
NETHERLANDS
Where Bols, Filliers and Bokma have become household names in Dutch spirits and liqueurs, you can now add another: 'Zuidam'. By European standards, this project is very, very young - only reconciled by a precociousness that seems to flaunt five centuries of distilling history.
In 1975, Fred van Zuidam and wife, Helene, opened a deliberately contained operation with one small copper still. That modest initiative now turns out a staggering 600 products, including liqueurs, genevers and new world style gins. And with help from their sons, they've recently turned to making whisky in a serious way.
Described as "a distilling geek"and characterised by his frank and pragmatic attitude, Patrick Zuidam supervises the operation. With his brother Gilbert, the pair have progressively upgraded to four brand new copper stills, over 1000 oak barrels (typically American oak as well as x-Bourbon and Oloroso Sherry), four production lines and modern tank storage facilities topped off with a curious throwback from the past.
"It might seem like a gimmick", says Patrick, "but the truth is that when I took over here I wanted to introduce a new genever but there was absolutely no money. I asked a local miller if he would do it cheap and he said he would do it free in return for a bottle of genever. We now use seven local windmills."
While it preserves an iconic piece of Dutch heritage, Patrick admits " it's a big job because you can't drive a truck to the windmill because it's up a hill. Every bag of barley must be carried up and back again".
The millers believe that the traditional slow grind causes almost no increase in the temperature of the barley and thus helps preserve the grain's wonderful aromas. Patrick is less convinced, "It's a good story, and a nice local angle. But if I'm honest with you, I don't believe a word of it."
Zuidam presently produce peated and unpeated malt as well as rye.
Spirits writer, Dominic Roskrow, who visited the distillery in 2012 recognised the latter as a significant testimony to the dogged expertise and determination exhibited here.
"It takes a huge amount of skill to make rye whisky" explains Roskrow. "It tests distilling skills to the limit. Rye is notoriously difficult to malt, and it doesn't convert sugars to alcohols without a fight, either. Most rye whisky will be made with a proportion of malted barley to help the conversion process. You can make 100 per cent malted rye whisky, but be prepared for a struggle".
Patrick acknowledges the challenge: "I really like the taste of the rye whisky, which has a velvety side to it unlike American rye whiskeys. But it's a hard grain to distill." he says. " The mash goes thick like wallpaper paste and has the same oily texture. If it ferments too quickly big bubbles of carbon dioxide explode up, sending this thick substance all over the place so you have to wade through it. It takes some cleaning up."
Because they use only new and/or once used barrels, and they store the barrels in a warm warehouse, the whisky ages rather quickly but the results are self-evident. While there are other upstarts in the Netherlands, so far Zuidam is arguably the only one that counts.
A complete surprise from the Netherlands, it ranks as one of the very best examples in its genre tasted to date. Outstanding.

A sensational 100% Rye based whisky, bottled at 100 proof, and aged in 100% New American oak - do you sense a theme here?

To complete the picture, we would add that a maturation period of 100 months has also taken place as stated on the label, however a closer look reveals that this batch is in fact 10 years old! (Distilled in January 2004 and bottled in February 2014).
Tasting notes: [Jan 2004 Distillation, tasted from a near empty bottle.] Deep polished copper. A slightly botanical opening is followed by a fantastic rye bouquet that's increasingly pure and dense; it excites the senses with ryvita biscuit and honey notes, gaining hints of dried apple and a wonderful white pepper overlay. Almost crunchy in the mouth with a text book delivery of rye soaked oak and a superb ginger bread, dried apple and peppermint surge to finish. The oak peeks through at the fade but rye in its purest form is the main feature here. Coming as a complete surprise from the Netherlands, it ranks as one of the very best examples in its genre tasted to date. Outstanding. 50% Alc./Vol.
Other reviews......the rye fair cracks against the teeth with added Demerara flintiness. Salivating, rye-fruity and simply pulses with that forceful grain; the small still oils accumulate to form a thickening backdrop. The spices buzz...not quite as finely tuned as the 2013 bottling, but really makes a very big statement. 90 points- Jim Murrays Whisky Bible 2015
...From the distillery that received last year's World Whisky award comes another contender for the title in 2013. This is called 100 because it's 100 percent rye distilled in pot stills, 100 proof, and 100 months old (a bit over eight years). It's big, and perfectly balanced between honey and fruit, sparkling distinctive raunchy spice, and a dash of ginger biscuits. This is rye to die for. Superb.
93 points- www.maltadvocate.com (Summer 2013) Reviewed by: Dominic Roskrow
...Gold and Best in Class Medals at the International Spirit Challenge in London 2012.