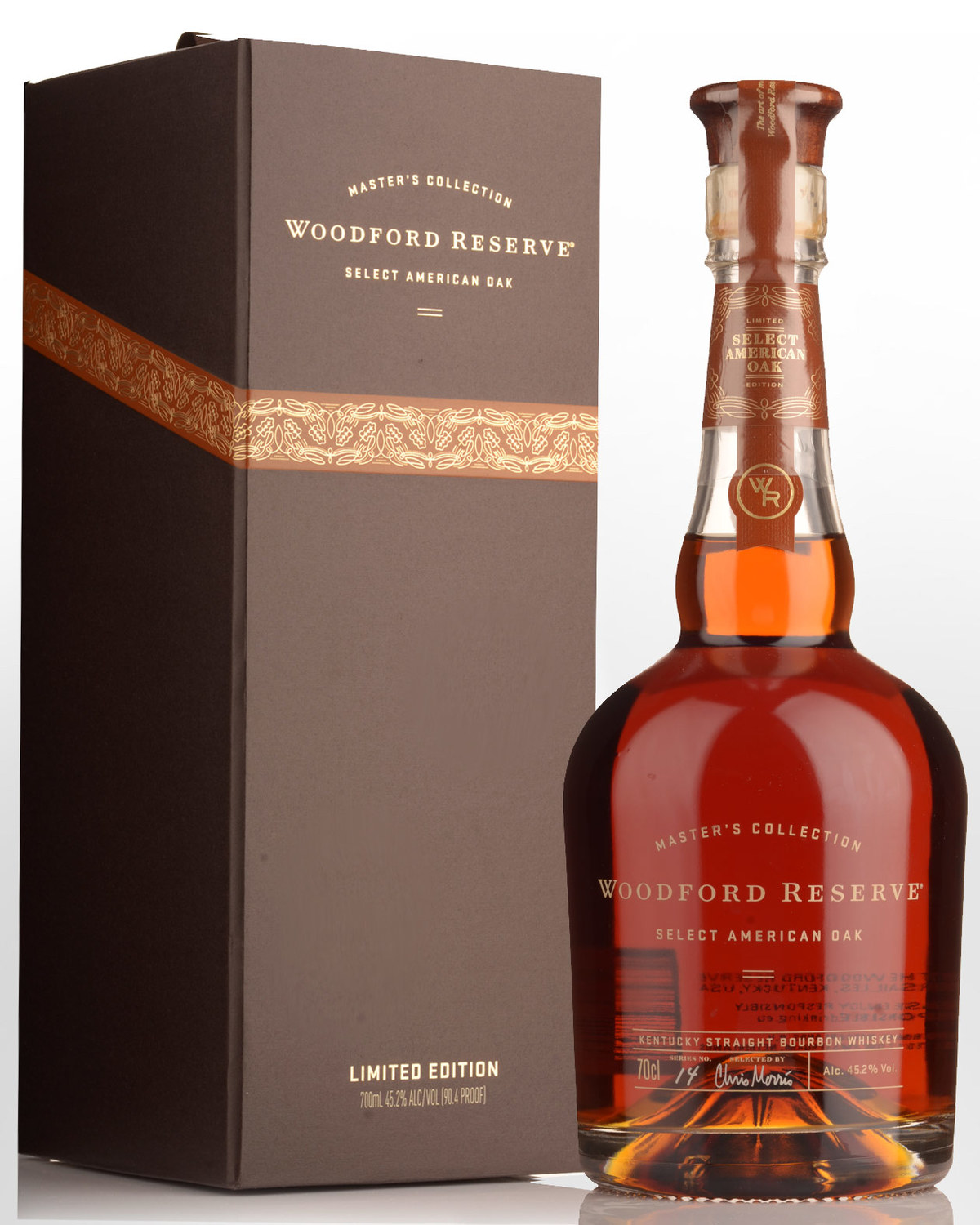 Woodford Reserve Master's Collection Select American Oak Bourbon Whiskey (700ml)
For Bourbon maturation, barrels made of American white oak are mandatory. But even within American oak there are differences. Woodford's house style employs a commingling of Northern oak, Appalachian oak and Ozark oak — three terroirs with very different growing profiles. Mixed together these barrel types produce a standardised flavour profile that we recognize as Woodford Reserve.
The 'Select American Oak' edition departs from this formula: Only barrels made of Ozark oak were used (aka Quercus muehlenbergii, these trees are characterised by their fast growth). Focusing on one kind of timber, Master Distiller, Chris Morris enters yet another interesting adventure in flavour formation, demonstrating that where the tree is grown also makes a difference to the final whiskey. In his words, "this has a slightly spicy, nutty flavour... The medley of aromas includes vanilla, milk chocolate, walnut, pecans, and marzipan. A hint of peach and cocoa powder are also evident on the palate, while the finish has a welcome touch of wood spice."
Brown-Forman have been offering limited edition 'experiments' under the Master's Collection label since 2006. As is often the case with the series, this 14th release is controversial. At least one Bourbon lover describes the whiskey as "...very dry, and very youthful — distinctly different from standard Woodford Reserve" - which is the whole point of the experiment.
Tasting note: Bottled at Woodford's standard 90.4 proof, this deep topaz coloured Bourbon is all about American oak - cinnamon, peach pie and vanilla aromas emerge along side drier notes of oak shavings and cocoa. Medium bodied, the palate starts out woody and nutty, slowly giving way to richer flavours of ripe peach, vanilla, caramel and light spice. Elegant and understated, it's soft and accessible enough to sip straight. It's also deceptively long, with the aftertaste affirming the quality and character of the wood. A likeable departure from mainstream Bourbons, give it time to open up in the glass. 45.2% Alc./Vol.
Other reviews... The nose is a bit hot and generally restrained, with dried leaves, earthiness, and waxy crayons. Light-bodied, very soft, and somewhat juicy. Stone fruit and grain flavors combine for an enjoyable peach-pie quality before the tannic finish. 85 points
- whiskyadvocate.com, reviewed by: Jeffery Lindenmuth (Spring 2019)
Notes from Woodford... Crisp yeasty and bready notes mingle with soft oak, vanilla, milk chocolate and marzipan. Walnut, pecans and Fall leaves bring the oak tannins forward. Flavour: Soft nutty character and a sip of sweet tea bring a deep hint of peach and cocoa powder to life. Finish: Long and warm with a hint of wood spice.