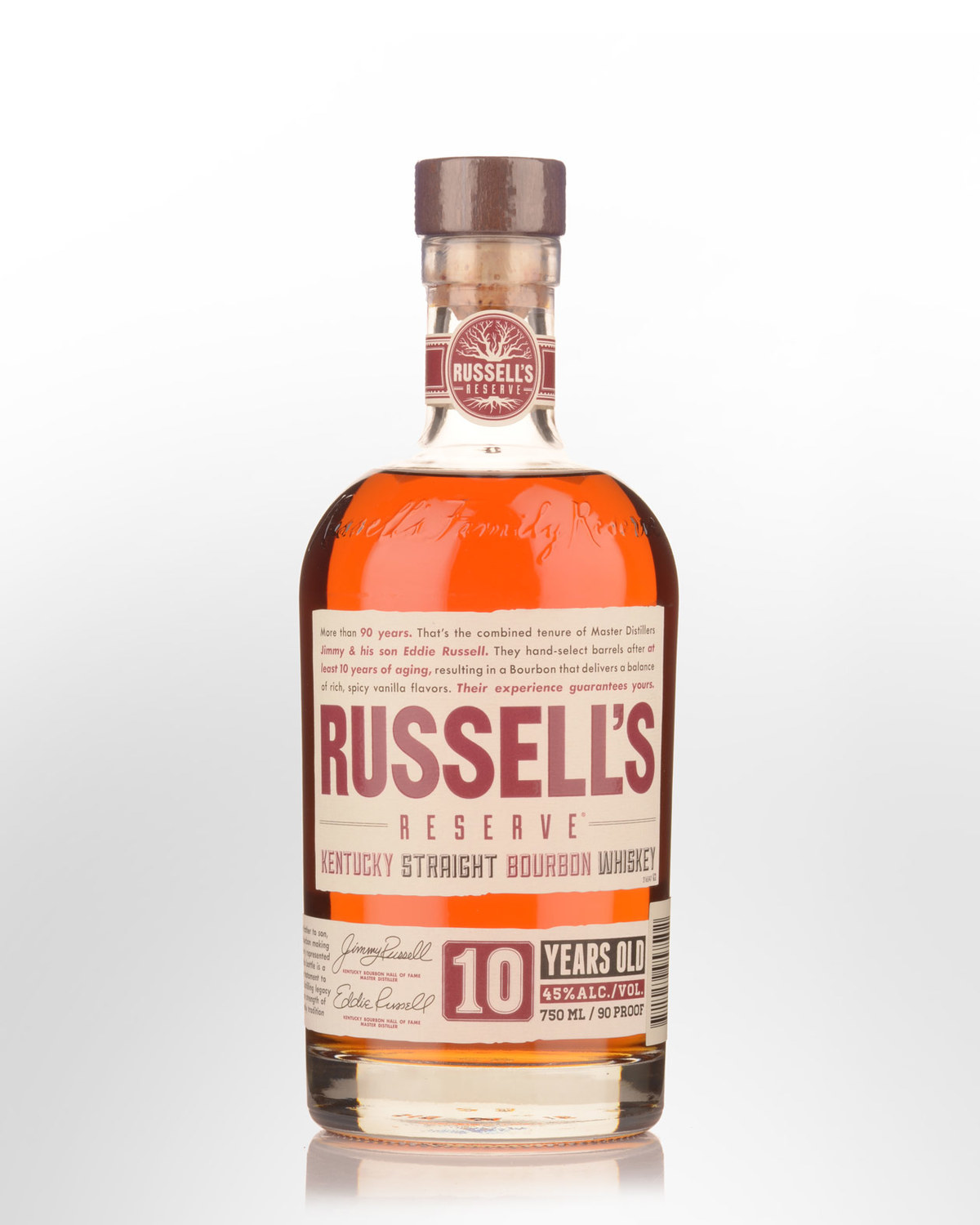 Wild Turkey Russell's Reserve 10 Year Old Bourbon Whiskey (750ml)
Lawrenceburg, Kentucky,
UNITED STATES
At the Wild Turkey Distillery, bourbon is a family tradition with Master Distiller Jimmy Russell following his father and grandfather before him. You'll still see Jimmy, now joined by his son, Eddie, early in the morning, inspecting shipments of grains as they come in, checking the stills, or wandering through the warehouses to make sure the barrels are getting the proper circulation.

Jimmy and Eddie recently realized they had more in common than just their family connection. "Both Eddie and I believe 10 years is a wonderful stage of maturity for a bourbon," comments Jimmy. In fact, it was Eddie who suggested to Jimmy that they offer a special bottling for consumers to enjoy. Jimmy agreed and in honor of their joint effort, he put their name on it. Russell's Reserve is deep amber in color with a nose that is rich in vanilla, oak, toffee and a touch of old leather. The body is huge, and the palate is very spicy with notes of chili peppers, tamarind, almonds and cumin. The Whiskey was awarded a Silver Medal at the 2000 San Francisco World Spirits Competition.
Tasting note: Initially a robust Bourbon sniff offering spicy toffee apple, sweet cereal, vanilla, dark chocolate and dried fruits. Settles down after several minutes becoming more pancake and maple syrup like. The palate exhibits a mouthwatering sweet / dry balance with massive, crisp, crunchy grains (plenty for rye lovers here) followed by beautifully integrated spices. Finishes perfectly clean, dry with hints of cool mint freshness that goes on an on. Remains one of the Bourbon world's top values.
First tasted June 2011... Gold colour. Shellac at first, then clears with attractive scents of vanilla and clove becoming distinctively nougat and nutty. Initially soft in the mouth  but becomes big and spicy. Mid palate shows semi sweet char grilled corn flavours, then turns dry like a good rye, before finishing wonderfully fresh and clean with a subtle peppermint burst. Amazing length with gentle spices and peppermint persisting. Lovely stuff that's also atypical from this distillery. 45% Alc./Vol. 93 points
'A controlled explosion of complexity... Entirely flawless whiskey'.
- Jim Murray.
Other reviews... 
Nose:

Fascinating layering of diverse aromas ; something almost smoky to this one, perhaps from extracting a peculiar, heavy-ish character from the oak; thinned by a delicate gooseberry note (yes, really!) - as opposed to the usual citrus - which itself is sandwiched between subtle Demerera sugar and vanilla; the rye also makes itself heard; Taste:  the body flexes muscles enough to compound the rich brown sugar/liquorice background and intense rye fruitiness. Serious chewing required; Flavour: excellent depth, with the oaks now offering impressive soft bitter balance; remains long and consistent as the spices amplify; Body: unquestionably an upgrade on the last bottling i examined and shows complexity of this world great distillery. But i still cannot even begin to get my head around that a whiskey named after bourbon legend Jimmy Russell is bottled at 90 proof and not his own preferred 101. One of the true wonders of the whiskey world, that...45%
Rating: 94 - note sourced from Jim Murray's Whisky Bible 2010
Nose: Stunning rye-citrus combo...Taste: seriously mega for its age, not so much in the firm cocoa oak, but the utter enormity of the small grain depth...Finish: gentle, minty spices cool the mouth... Entirely flawless whiskey.
Rating: 96 - note sourced from Jim Murray's Whisky Bible 2006


Click here to learn more about Bourbon Whiskey.