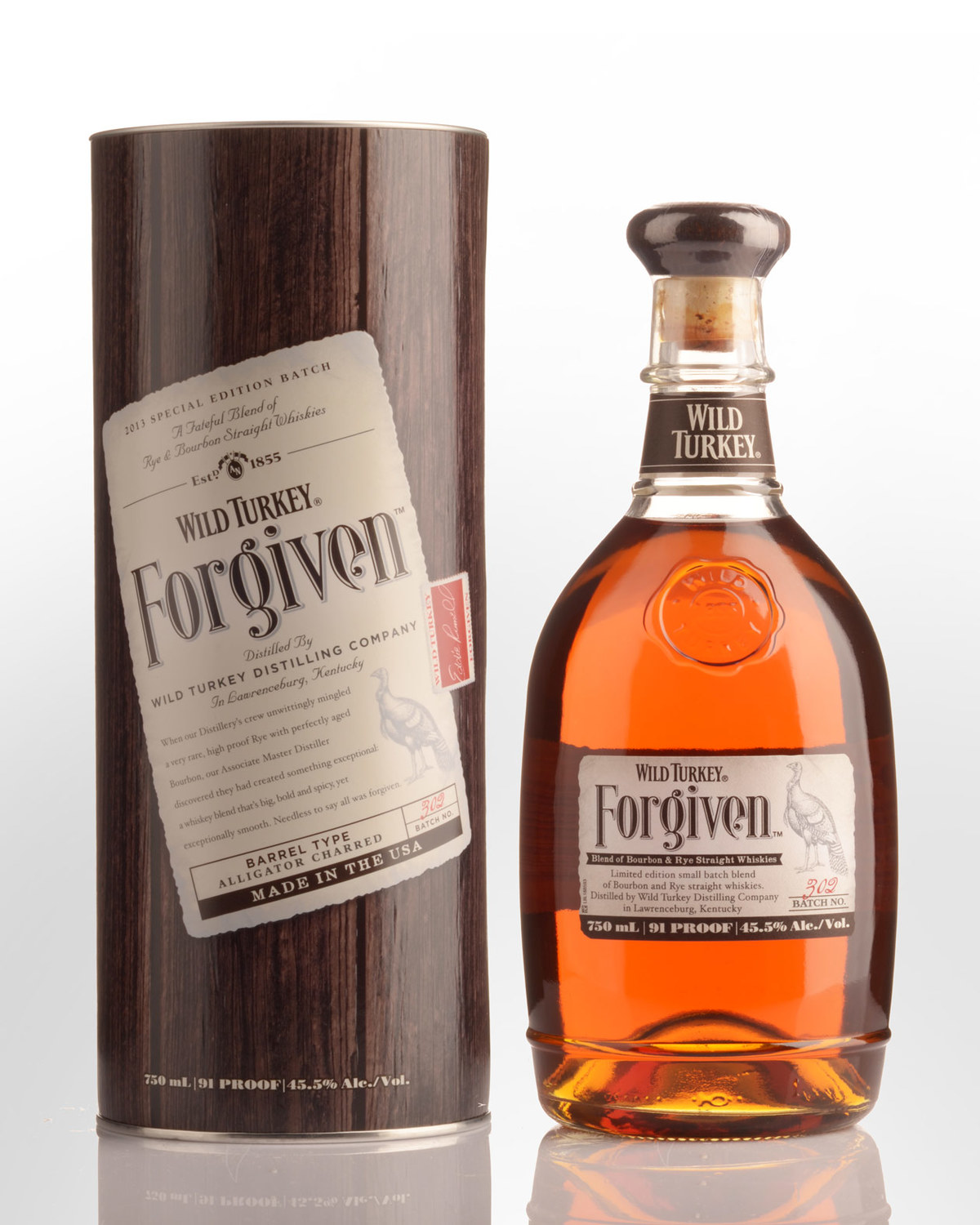 Wild Turkey Forgiven Special Edition (Bourbon / Rye Whiskey Blend) Blended American Whiskey (750ml)
Note: Product has come from a private collection and as such may have some minor scuffing/scratches/handling marks. Actual product not pictured.
Whether or not its creation was a mistake, this is a whiskey we really like and backed.
It seems a solid addition to the Bourbon category, made more compelling from the high rye input. The actual blend is 78% 6-year-old Bourbon and 22% 4 year old, high-proof Rye matured in Wild Turkey's signature No. 4 Alligator charred barrels. While these maturation periods may not seem long, in the warmth of Kentucky, ageing can take place fast. Around 6 years is where the right balance is typically achieved. Those partial to super aged whiskies will disagree, but then, if you have the cash for Eagle Rare 17 or Pappy Van Winkle on a regular basis you probably should stop reading now.
In the U.S., Forgiven exceeded expectations on its debut, with Campari America re-releasing it due to popular demand.

The story is most likely 95% marketing with the other 5% taking place in careful blending trials, but if you're into tall tales, there was a freak moment of serendipity that went something like this:
"The distillery crew at Wild Turkey mistakenly mingled a very rare, high-proof Rye with perfectly-aged Bourbon, Associate Master Distiller and Kentucky Bourbon Hall of Fame member Eddie Russell, discovered they had unwittingly created something exceptional. The resulting whiskey knocked Eddie's socks off and a story of consequence was born. This will dazzle whiskey lovers looking for an unconventional choice, and mesmerize those lucky enough to snag a bottle before quantities run dry"
and...
"For accidentally creating such a unique whiskey, needless to say, all was 'Forgiven.'"
Spirits writer, Geoff Kleinmann points out, "Distilleries, especially ones run by legends like Jimmy Russell, run like well oiled machines. Batches are tightly controlled by computers, bar codes, and in some cases RFID. We're talking about massive multi-million dollar operations, where someone doesn't accidentally do anything. What's probably more the case is that Wild Turkey, like most bourbon suppliers faced with a shortage in aged rye, turned to a product that would bring some rye into the mix at a price and volume that made sense…. Beyond tasting it for review, we found ourselves really drinking this whiskey – a true benchmark of a great product. "
Even John Hansell, publisher and editor of America's www.maltadvocate.com magazine showed unusual enthusiasm for Forgiven. American whisky is his sweet spot, so he should know. As a seemingly hard marker, Hansell's 87 points equates to low 90s in most people's books. He sums up Forgiven as "Lively, distinctive, and versatile". (Read the full review below).
Spirits as good as this simply don't happen by accident, and no matter what its origin, age, or composition, we're not the only ones recommending it to friends.
Tasting notes.... Polished brass appearance. A big bouquet, but as they say, a little bit of rye goes a long way and it's clearly contributing some lovely baked apple and peppermint notes here while the charry oak and the sweeter vanilla / caramels linger beneath. Warm and peppery from the outset. Excellent concentration with the initial spicy-rye attack followed by some softer, sweet corn notes at mid palate before the rye rounds off the finish to end peppery yet clean and with good length. Subtle apple pie, vanilla and cinnamon fade. A lively cross blend that really satisfies.45.5% Alc./Vol.
Other reviews... An accidental "mingling" of rye whiskey with bourbon, resulting in a product that acts like bourbon with an unusually high percentage of rye in the mashbill. It shows, with vibrant notes of warming cinnamon, fresh mint, nutmeg, licorice root, and a hint of tellicherry pepper. All this is soothed by vanilla, caramel, and subtle honeyed citrus. Lively, distinctive, and versatile.
87 points - John Hansell, www.maltadvocate.com