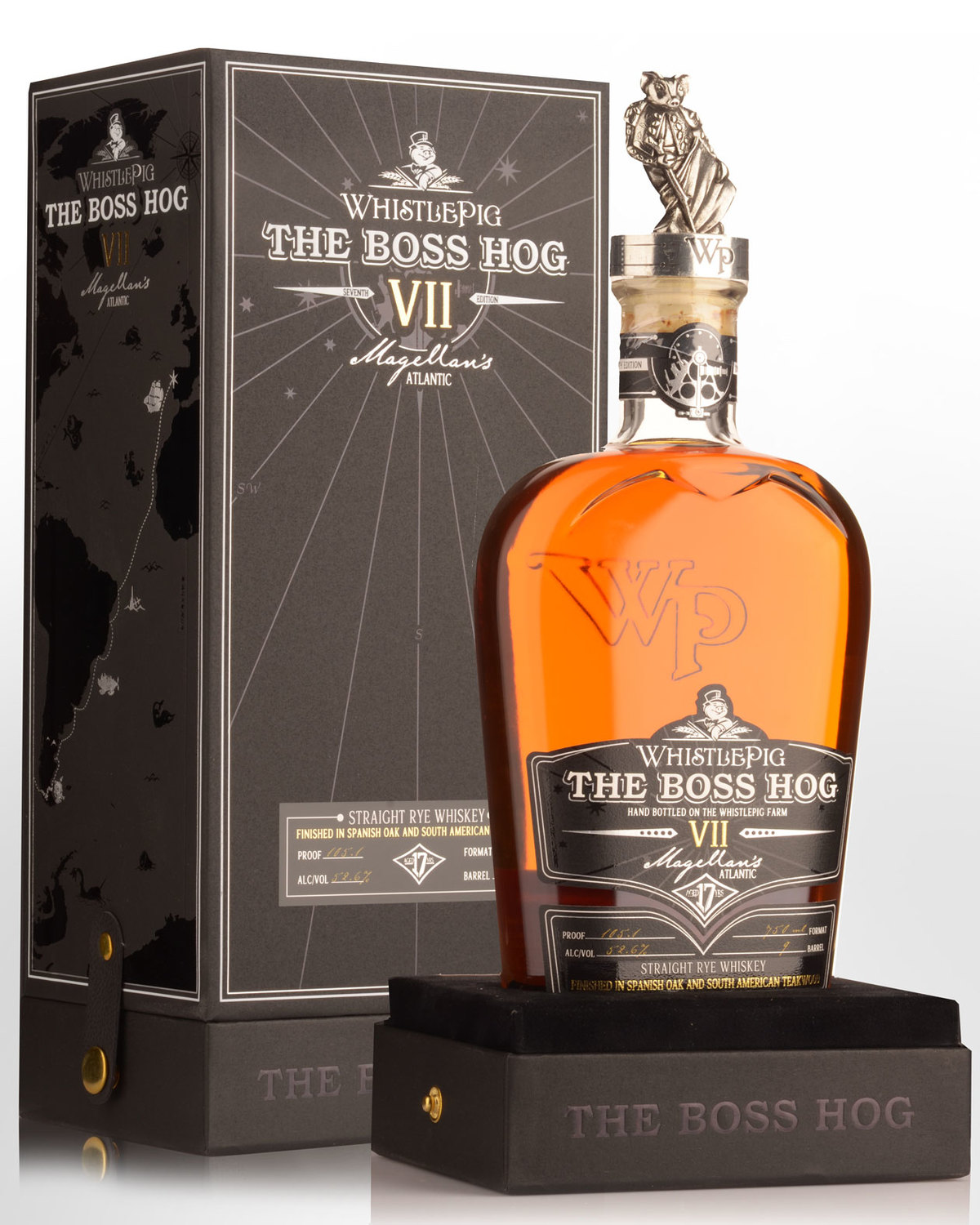 Whistle Pig The Boss Hog Magellan's Atlantic 17 Year Old Cask Strength Rye Whiskey (750ml) - Seventh Edition
UNITED STATES
Whistle Pig's Master Distiller, the late Dave Pickerell always said that the only way he would do a 'Boss Hog' bottling was if his "five promises" were kept. It had to be from an ouststanding single barrel, bottled at natural proof, be powerfully complex, be distinct from anything they had previously done and be of extraordinary quality. By all reports, this fulfills that vision.
Made from Canadian rye, the 7th edition of Whistle Pig's beautifully presented, premier Boss Hog rye is inspired by the first recorded circumnavigation of the globe: "After seventeen years of slumber in American Oak, it first encounters new Spanish staves from the mountainous forests of northern Spain; a cask nearly impossible to tame yet well worth the effort. Crossing the Atlantic the whiskey finds its finish in fragrant South American teakwood."
Note, these are single barrel expressions so the proof ranges from 105.1-107.8 depending on the barrel. Like previous editions, the brand's pig mascot adorns the pewter stopper, this time traditional Spanish atire. As always, a fast sell at the opening price in the U.S. has seen this limited edition quickly slated to reach upwards of four figures. The Australian allocations have just landed. Very limited stocks.
Other reviews... [Barrel No. 13 tasted] This rye, finished in virgin Spanish oak and Brazilian teakwood barrels, has a delicious nose, full of vanilla extract, fresh-baked dough, cinnamon, and nougat. It's consistent on the palate, balancing the sweetness of marshmallow and vanilla frosting with licorice tea, mint, and toasted oak. More toasted oak, cinnamon, and brown sugar on the finish, tinged with bitter black tea. Collectibles. 93 points - whiskyadvocate.com, reviewed by: Susannah Skiver Barton (Winter 2020)
"The aroma of this whiskey is rather unique with the teakwood bringing a musky almost incense like aroma. The spices found are more of the sweet nature rather than the hot/peppery ones. As you taste, the rye is moderately full on the palate with those notes found in the aroma continuing on the taste. The rye is warming on the palate, but not harsh without water. The finish has almost a mulled wine quality to it. The length is long lasting and thought provoking. It's refreshing not to have yet another wine finished whiskey." 96 points - distiller.com