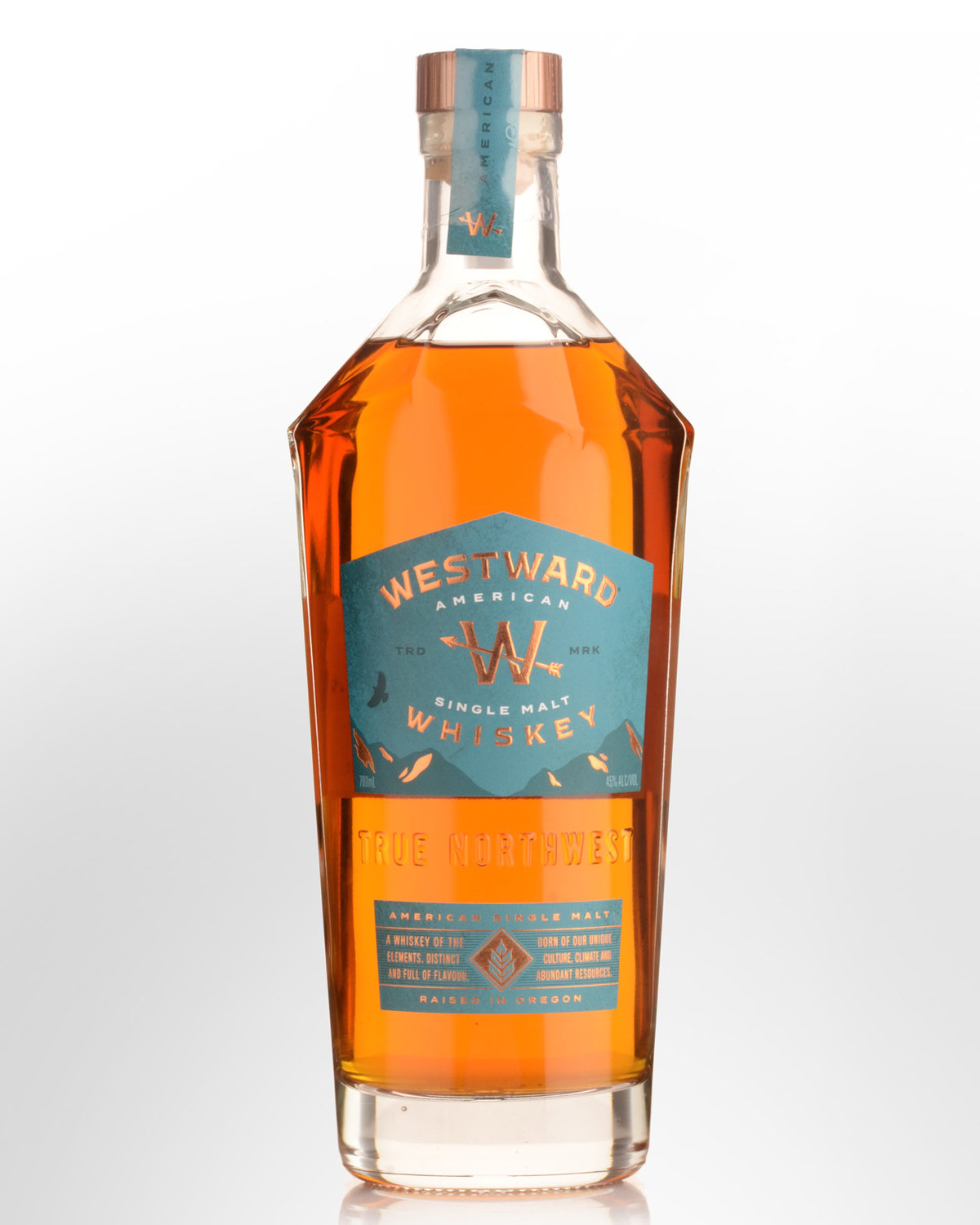 Westward Single Malt American Whiskey (700ml)
"A true American single malt showing proof & Gusto."
- whiskyadvocate.com
Diageo-backed 'Distill Ventures' has been investing in startup distilleries for several years now. The world's biggest whisky company promises capital, mentorship, sales and marketing expertise in return for equity. But not just any 'mum & dad' distillery can apply. When the planets align and the right mix of product, packaging and people are combined with ambition on a global scale, you might just get Diageo's attention… To date, three have made the grade: Starward in Melbourne, Denmark's Stauning and now Westward American Single Malt from Oregon.
Westward debuted in 2012 when it was offered in 375ml bottles as a single barrel expression (the company had filled just five barrels at the time). With growing inventories, the whiskey is now a blend of six to eight barrels, which was always the plan according to founder and Master Distiller, Christian Krogstad. "Blends of multiple barrels not only allow for better consistency, but also enable us to take the best of each barrel and combine them"he explains. Done properly, the process allows for increased complexity.
Considering the global growth in single malts, it's no surprise Americans are now pushing their own version. But there is a solid point of difference with Westward.
A craft beer background sees them employ two row barley with ale yeast and a belief that a better pot ale will translate to a better end product (if you removed the hops from Sierra Nevada you'd basically have their wash). Fermentations are long. Traditional double distillation is the norm, however their stills include a column on top of the pot filled with "copper wool" to create more copper contact and reflux. Post distillation sees the Kentucky maturation program utilising new first use two & three char 200 litre barrels (no fancy cask finishes here).
Unlike many micro upstarts who are keen to mature new-make at a pace to ensure a quick turnaround on their investment, Westward chose full size barrels over smaller alternatives. While the latter accelerate ageing (especially during Oregon's hot summers), they can also leave the impression of "forced" maturation in the flavour profile.
Westward have also driven the regulatory area on minimum age requirement and taken it a step further than Scotland's three year minimum to four years to qualify as American Single Malt. However, Krogstad adds, "Ours is an intentionally young whiskey, roughly five years. We age in new oak barrels, and the longer it sits in there, the more it tastes like wood and the less it tastes like a grain. "Consequently, Krogstad follows the lead of his hero, Jimmy Russell of Wild Turkey fame, picking barrels at their peak, rather than for the sake of greater age at a much higher price tag. Just like many 'young' Australian malts, it's surprising how good the results are.
Tasting note: Deep amber gold. Bold aromas of oak shavings, enticing poached fruits as well as clove and cinnamon... a touch of orange zest keeps things fresh. Air contact accents the ripe fruit aspect as peach / apricot. Lots of fruity malt to the palate countering the rich woody notes followed by hints of dried mango(?) and vanillan oak through the medium long finish. It's a hugely flavoursome, barley-forward style that maintains some of the sweet spice notes associated with Bourbon. Non chill filtered. 45% Alc./Vol.
Other reviews... A true American single malt; the impression of new charred barrels distinguishes this from its Old World counterparts, while the creamed honey, caramel, and candied nuts keep the wood in check. On the palate, the wood influence delivers big vanilla and hints of smoky char, coupled with nicely concentrated flavors of Turkey Golden table syrup, fruit, and spice. A nice rendition of New World single malt, showing proof and gusto.
87 points- whiskyadvocate.com, reviewed by: Jeffery Lindenmuth (Spring 2018)
...Made from 100% malted barley grown in the Pacific Northwest and fermented with ale yeast, this single-barrel single malt is brisk, flavorful and hints at beer. The sweet, gentle aroma offers vanilla and a subtle root beer-like herbal note. The palate is on the drier side, but pleasing, showing lots of vanilla and a hoppy note at the end chased by allspice and clove. 94 points- wineenthusiast.com