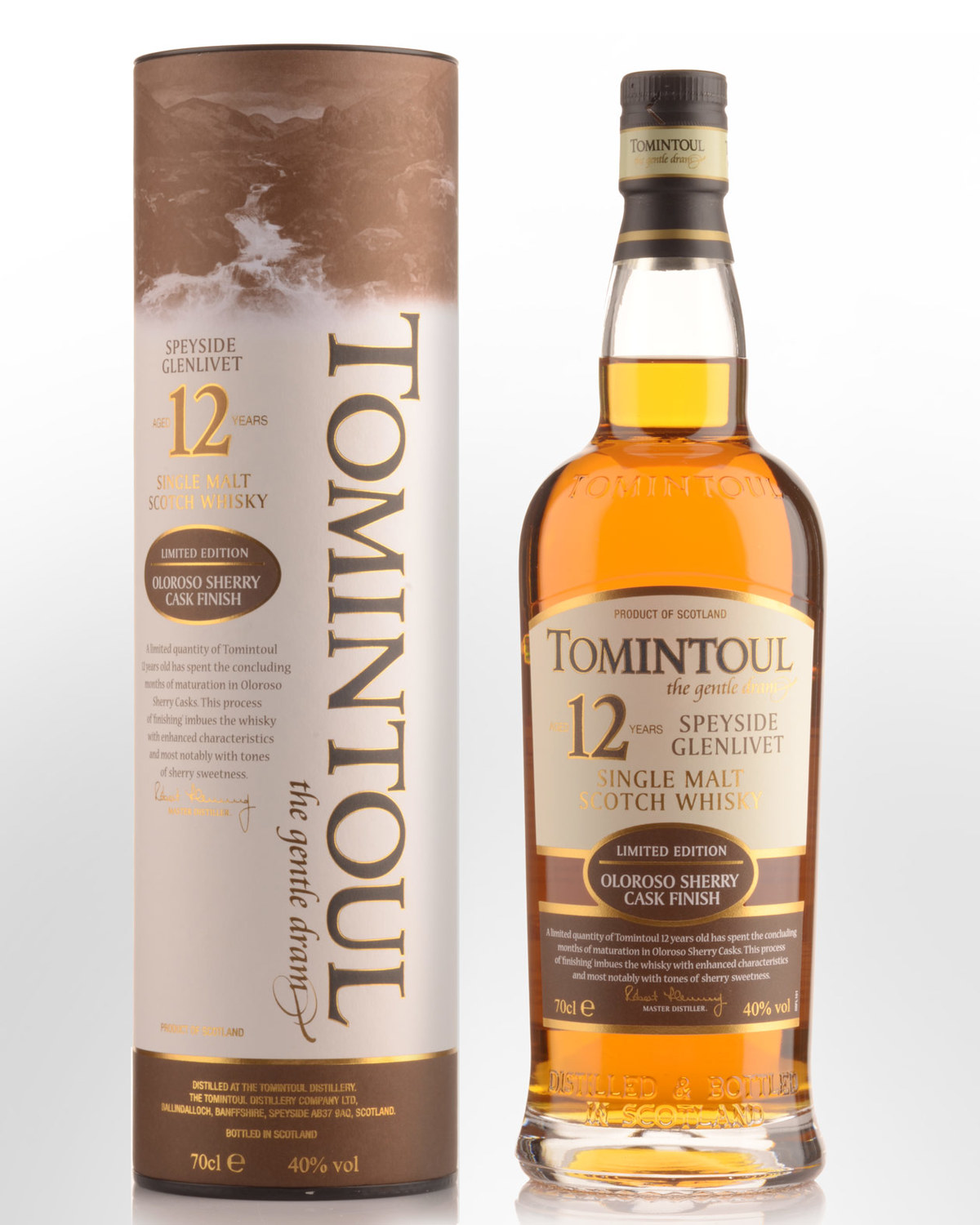 Tomintoul 12 Year Old Limited Edition Oloroso Sherry Cask Finish Single Malt Scotch Whisky (700ml)
Speyside, Highlands,
SCOTLAND
Tomintoul Distillery has been owned and operated by Angus Dundee Distillers since 2000. By comparison to some of it's counterparts in Speyside, Tomintoul is a very quiet operation with a very modest marketing budget, and very few if any export ambitions. This combined with the gushing 95.5 point review in Jim Murray's 2010 Whisky Bible suggests that local demand for the product is strong.
Other reviews....
Pronounced Oloroso suggest fresh, untainted butts of outstanding quality; some apple juice dovetails with the grape. About the cleanest nose I have seen in a long time; Big malt delivery that perfectly and unexpectedly counters the sherry; at times gloriously bitter-sweet with the accent, rightly, being on the juicy barley; as near as damn-it perfect weight and then a tidal wave of spice. That excellent spice delivery rounds off the malty-sherry marriage beautifully. Wonderfully long and seductive with the finish remaining busy and balanced. Perhaps it is the voluptuousness of the body which works to best effect here: the mouth is filled with a just-so amount of oil to make the soft sherry, firmer oak and balancing sweet barley notes really harmonise. The label claims the sweetness comes from the sherry. It doesn't: the sherry (nose apart is dry, the barley sweetens. Even so, a huge leap in quality from the standard 10 and a thrilling reminder of just how good an excellent clean-sherry-influenced whisky can be. 95.5 points - Jim Murray's Whisky Bible 2010
...The subtle sherry adds an additional level of complexity when compared to the standard 10 year old, taking Tomintoul to a new level. Rich and creamy, with well-balanced notes of toffee, vanilla fudge, toasted nuts, and elegant fruit. A surprisingly delicious whisky for 12 years old. 88 points - whiskyadvocate.com, reviewed by: John Hansell (Fall 2008)