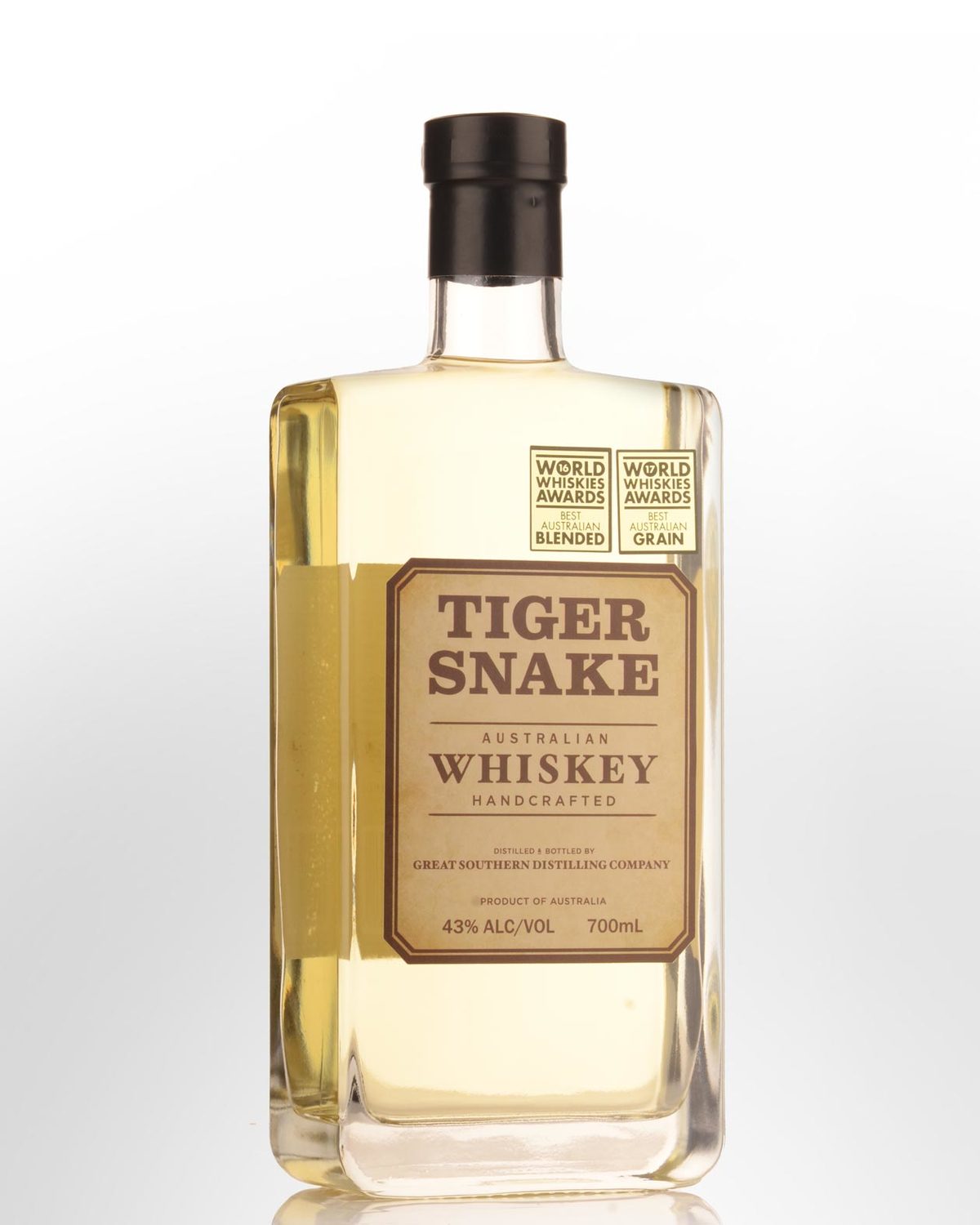 Tiger Snake Sour Mash Whiskey (700ml)
Albany, Western Australia,
AUSTRALIA
With his 'Director's Cut' Single Malt Whisky winning multiple awards Cameron Syme turned his attention to where his journey with whisky began. Long before his palate matured to preferring single malts, Cameron enjoyed drinking Bourbon and felt destined to make his own.
"Tiger Snake" is Australia's first legal Sour Mash Whiskey. "Our inspiration for Tiger Snake Sour Mash Whiskey comes from those great Tennessee Whiskeys and Kentucky Bourbons", says Cameron. Like the word Champagne, Bourbon is a geographic indicator so is called 'Sour Mash' whiskey in Australia which refers to the type of grain mashing process.
Using a classic grain bill of corn, rye and malted barley, sourced entirely from the pristine fields of Western Australia the full flavoured sour mash is bursting with tones of vanilla, caramel and hazelnuts.
The name is taken from the Western Tiger Snake, one of the most venomous snakes in the world which grows up to 2 metres long. These beautiful, albeit dangerous, creatures are native to the area of the Great Southern distillery, whose barrel store in Albany is cool, dark and undisturbed. Perhaps that's why on a hot day you may just find a Tiger Snake curled up under a barrel. 43% Alc./Vol.
Re tasted Sept 2017... [BATCH 11] Fabulous burnished gold appearance. Appealingly sweet styled aromas of toasty vanilla oak, wood shavings, tea biscuits and hints of milk chocolate. A delicious buttery texture and flavours of cream tea biscuits, vanilla and grated chocolate. Concludes nicely balanced with gentle spices and hinting at buttered popcorn in the aftertaste. Well done! 43% Alc./Vol. 1250 bottles.
First tasted 2012...
Bright copper amber hue. Issues a medley of rye and Bourbon-like notes from fresh sawn American oak and vanilla, to spicy rye crackers as well as hints of candlewax. A light entry builds into a mid weighted, buttery, vanilla and mildly sugared profile with a lip smacking, peppery rye biscuit finish. The vanilla, cocoa and beeswax aftertaste rounds off the profile in a distinctively Bourbonesque finale.
92 points