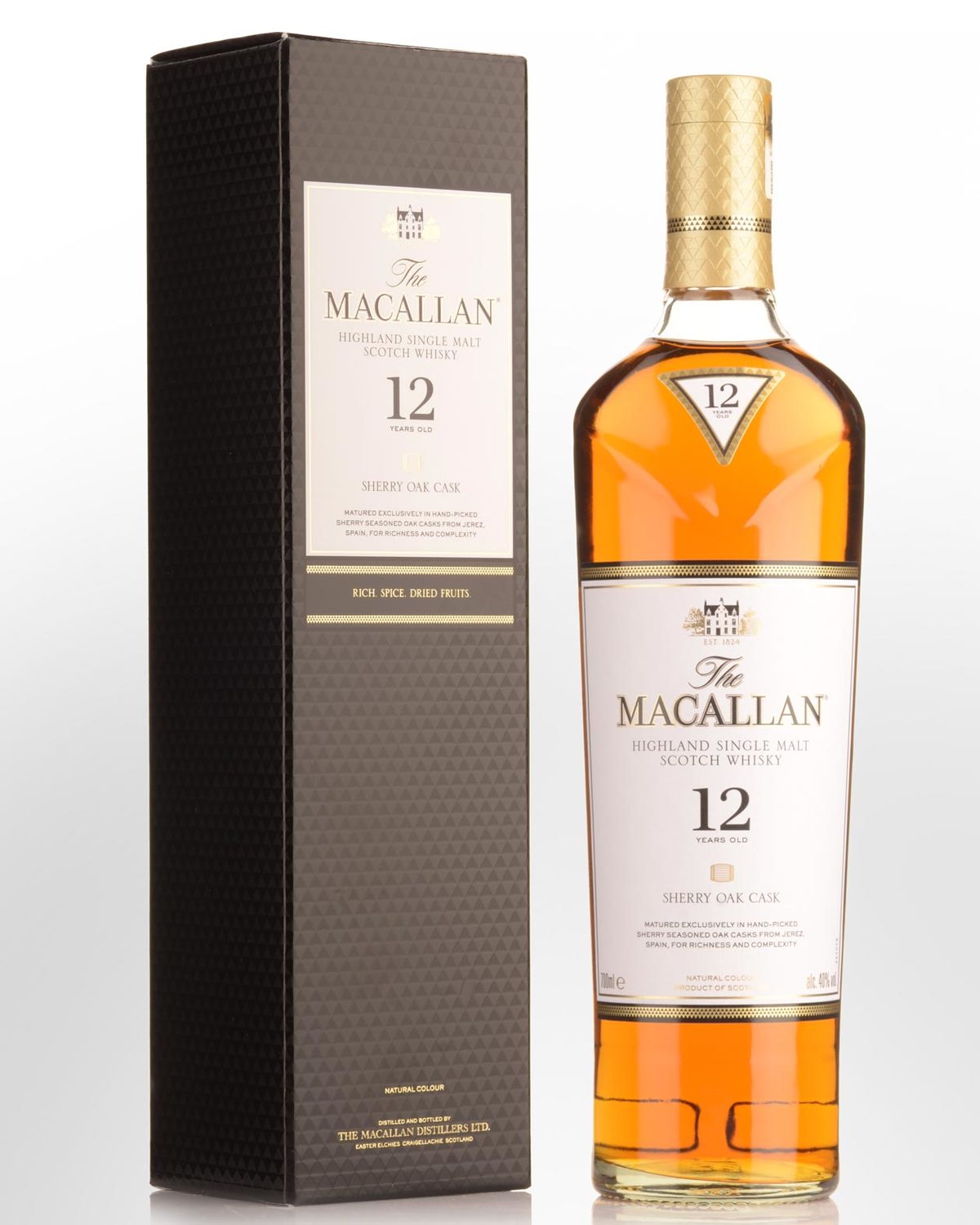 The Macallan Sherry Oak Cask 12 Year Old Single Malt Scotch Whisky (700ml)
Speyside, Highlands,
SCOTLAND
"This is virtually faultless. Virtually a time machine back to another era." - Jim Murray's Whisky Bible 2022
The Macallan 12 year old gets a stylish new makeover while continuing a tradition of being matured exclusively in Oloroso sherry seasoned casks from Jerez. While the exact breakdown remains undisclosed, we do know that the majority were first-fill casks which means even more colour and flavours are picked up - and it shows on the nose; Twelve years is relatively young for a slow-ager like Macallan, but already there's nice aromatic intensity and definition with a medley of dried fruits (dates, prunes, fig) alongside drier, leafy, nutty characteristics as well as fresh oak shavings and pepper prickle. Likewise on the palate which repeats the aromas adding nuances of sulphur, orange spice cake, bitter chocolate, cinnamon and vanilla. The finish drops in vibrancy and momentum leaving mostly residual vanillas, the spice and sherry notes in retreat. Tastes like some American oak is at play, nevertheless, this retains many essential qualities of traditional Macallan. 40% Alc./Vol.
Other reviews... I have to say that some Macallan I have tasted on the road has let me down in the last year or so. This is virtually faultless. Virtually a time machine back to another era. 93 points - Jim Murray's Whisky Bible 2022
...Nose: sure there's more happening than in the modest Cardhu. Some nice metallic touches, a little polish, walnuts, chocolate cake, Mars bar, roasted peanuts, Ovaltine yet again… There's also some wet earth in the background, humus, a wee mushroom hiding beneath some autumn leaves… Mouth: closer to the Cardhu, less coherent than on the nose, a tad gritty, with some tobacco and tea, then some cloves and caraway, some burnt cake… Sadly, all that does not last forever, and this baby tends to become a little too dry, bitter and narrow, although I do enjoy these notes of dried herbs, parsley, some would even say umami… Finish: short and very dry, mainly on bitter chocolate. A little burnt wood and bitter oranges in the aftertaste. Comments: really good, but the low strength makes it cheap and, well, parsimonious. A little frustrating – and at that price…
81 points - Serge Valentin, whiskyfun.com