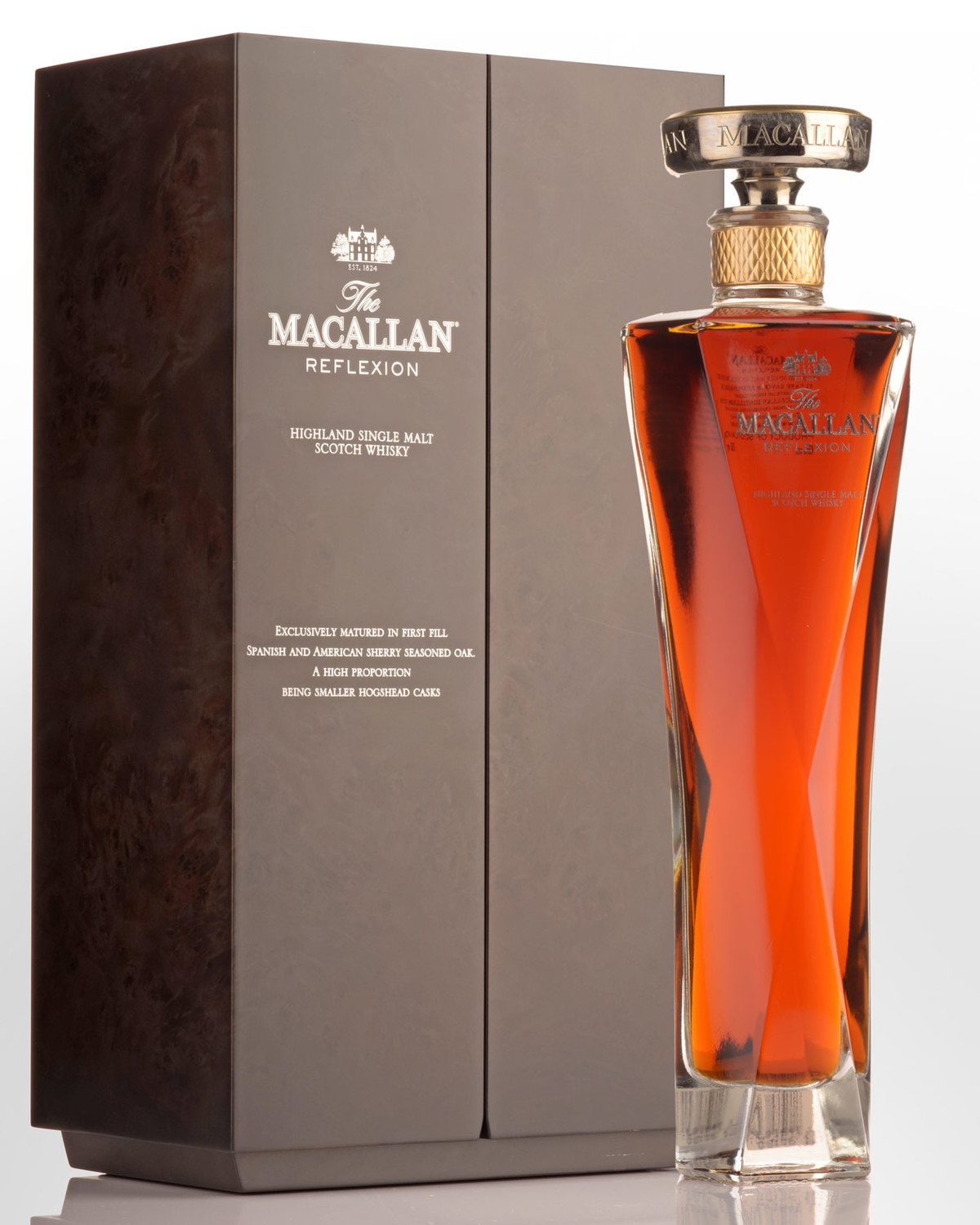 The Macallan Reflexion Single Malt Scotch Whisky (700ml)
Speyside, Highlands,
SCOTLAND
Sitting atop Ruby within the current 1824 series comes "Reflexion".
Part of Macallan's luxury 1824 Master collection and one of the three pinnacles of the range (the others being 'M' and 'No.6'), Reflexion pays homage to the distillery's signature Sherry-influenced style, drawing on whiskies matured in first-fill sherry hogsheads – both American and Spanish oak. These are smaller casks, which allow for a greater surface area of wood to interact with the spirit. When the series was launched in 2013, Macallan revealed it had invested £16 million in Spanish oak over the year. Master of wood, Stuart MacPherson, said: "Wood sits at the very heart of what we do at The Macallan and this range further demonstrates the vital role of our casks in the production of these superb whiskies. Our commitment to sherry seasoned oak casks is unquestionable and the Masters Series showcases The Macallan at its very best." Limited and very collectable, the quality extends into the presentation: the box in itself is quite innovative as it separates to reveal a sleek, tapered-style decanter with silver stopper. Notes sourced from Macallan: Nose: Orange and citrus fruits open up like fresh fruit on a sunny market day. Their zest is fresh, the fruit is firm. A slight waxy note fades to fresh green apples. Then the sweet stall: chocolate, thick fudge, boiled sweets, aniseed; caramel toffees almost overwhelm whilst white chocolate truffles are hidden. Just as you are ready to taste, a delivery of bananas in fresh, sweet oak arrives. Palate: Initial light citrus zest with new oak quickly gives way to a juicier sweetness, thick and succulent, of lemon and orange. Raisin, sultana and apple, with a hint of cinnamon and ginger, are subtle. Finish: Boiled sweets add balance to a glimpse of toasted oak to give a medium and soft finish. 43% Alc./Vol.