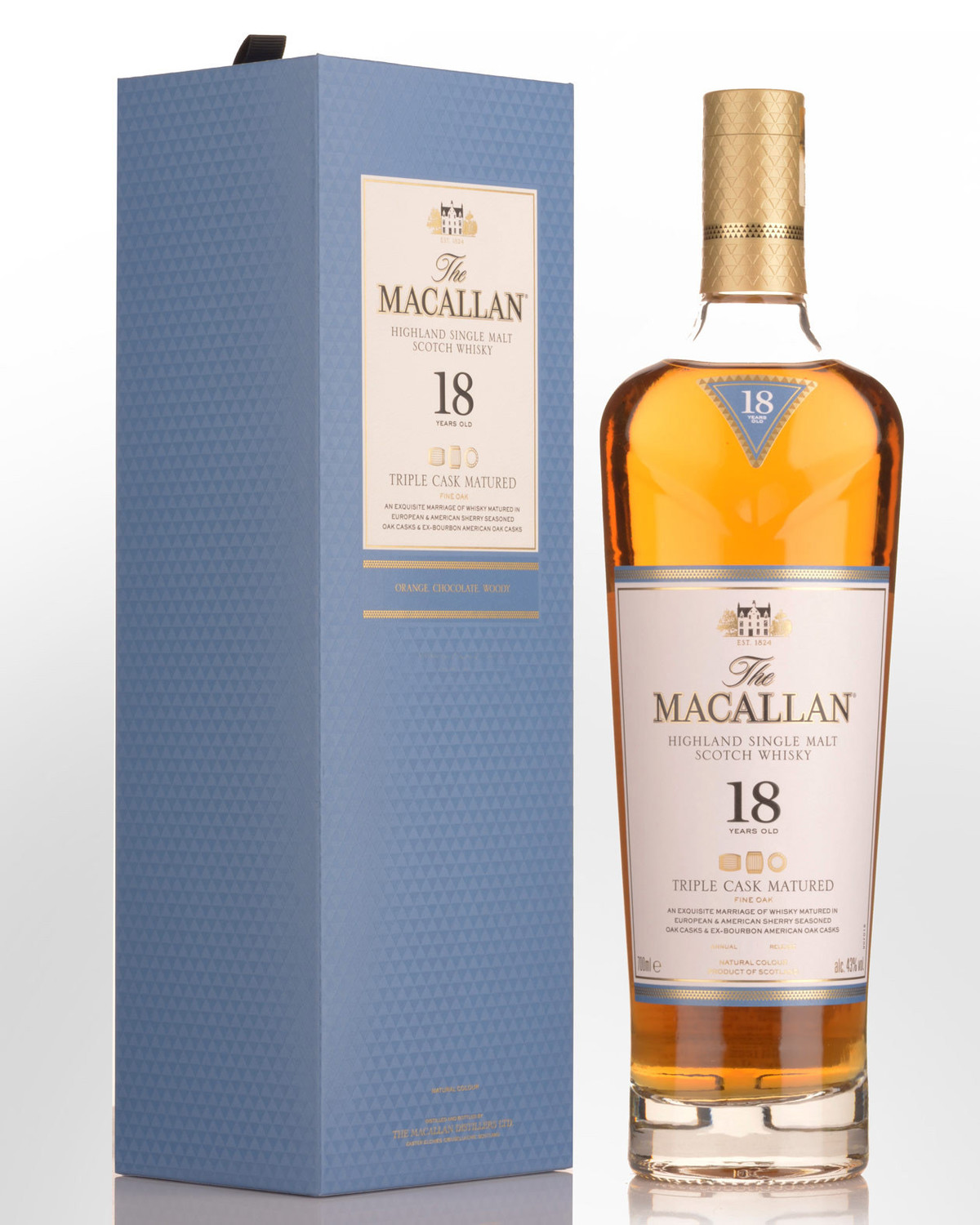 The Macallan Triple Cask Matured Fine Oak 18 Year Old Single Malt Scotch Whisky (700ml)
Speyside, Highlands,
SCOTLAND
Note: Vintages may vary.
Triple Cask is a new extension in the 'Fine Oak' range, replacing the Fine Oak 18 Year Old. Matured in a combination of Bourbon & Sherry oak casks, some now consider this the pick of the collection. The vintage on the label is now a year of release statement, rather than the year of distillation.
Other reviews... [2018 edition tasted] It's good that they wouldn't have kept this one at 40% - or we would have felt the need to send the Salvation Army to Craigellachie… Colour: pale gold (no caramel!) Nose: ah, for crying out loud, yesss! Fantastic cakes of various origins, especially peach pies, pecan pies, Linzertorte, panettone, etc etc etc. You get the idea. Some honeys as well (it's almost as if they had added a few hoggies of Highland Park while no one was watching), a touch of menthol, a wee hint of Cuban tobacco, and possibly some vanilla-ed chestnut purée. Obvious and luminous (S.!) Mouth: t.h.e.r.e. Well done. Malt, dried fruits, fresh ones, tobacco, proper milk chocolate, many cakes, and simply a feeling of joy. Finish: it's where it'll lose one or two points because of some kind of grittiness that's a little unnecessary. But I guess you cannot have all these oaks without suffering from a little over-oakiness. Comments: excellent. Now, four times the price of the 12 (for just six extra-years and three extra-degrees) and just one more point in my little book… There is no need to be a genius to understand that one should better buy… four bottles of the 12. Only in my humble opinion, as always.
88 points- Serge Valentin, whiskyfun.com