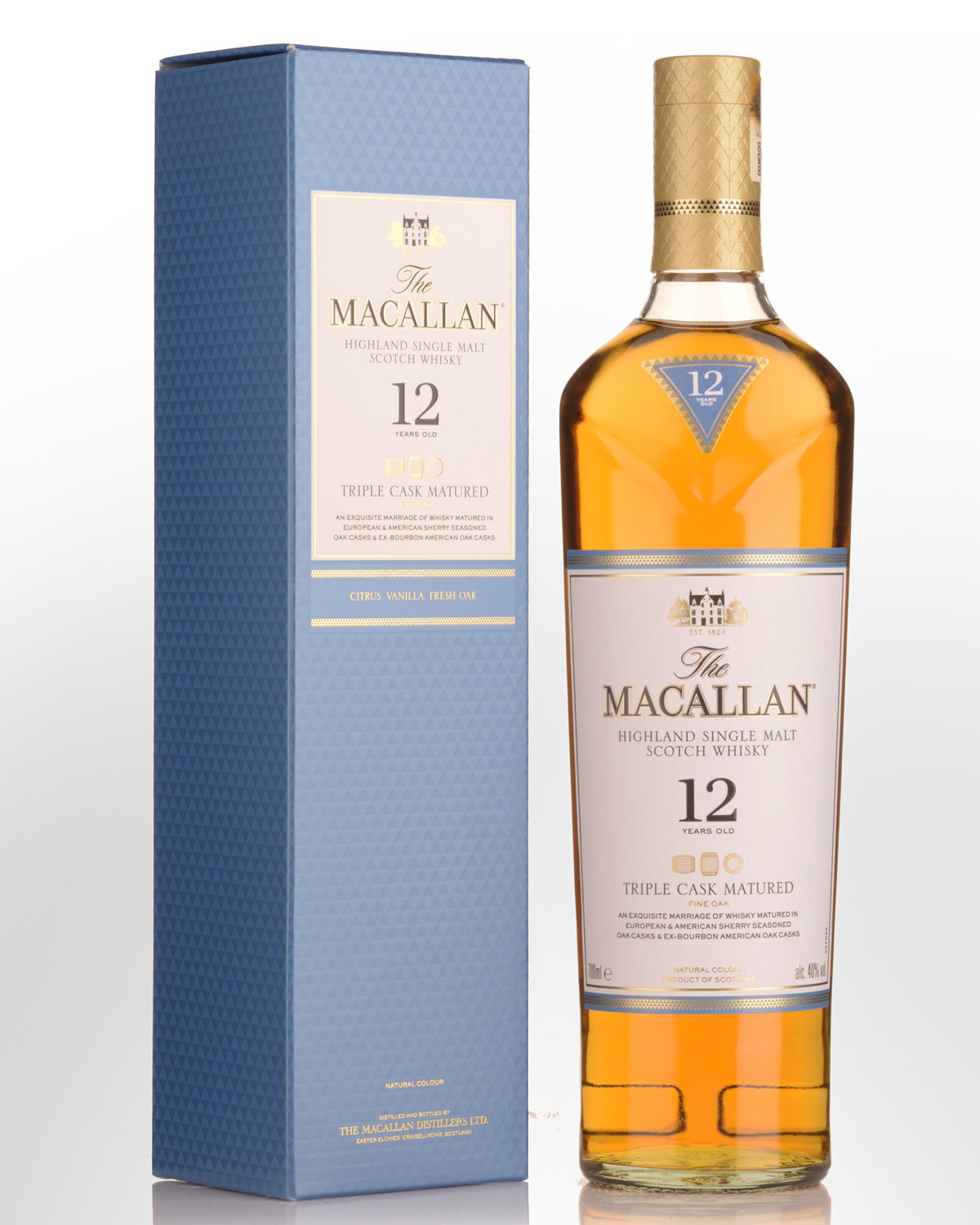 Limit Six per customer

Reduced
The Macallan Triple Cask Matured Fine Oak 12 Year Old Single Malt Scotch Whisky (700ml)
Speyside, Highlands,
SCOTLAND
"A whisky whose quality has hit the stratosphere since I last tasted it". - 95.5 points Jim Murray's Whisky Bible 2022
If ever there was a malt to make or break a distillery's reputation, it would probably be this. Affordable and widely available, Macallan knew they had to over-deliver at the entry level, and according to more than one report they've succeeded with aplomb: It's hard to believe, but one of the highest rated Macallans of recent times is this often overlooked twelve year old - even out-ranking the extraordinary $150K Lalique III 57 year old in Jim Murray's 2022 Whisky Bible. Expansive on the palate while retaining the expected distillery notes of oranges, marmalade and chocolate, the Fine Oak 12YO was introduced in one of the most significant product launches in Macallan's illustrious history and marked a completely new range matured in European and American oak casks. With both Sherry and Bourbon at play, it was a bold move into more 'contemporary' territory. Of the new selections, John Hansell of 'Malt Advocate Magazine' commented: "The Fine Oak range is...more approachable, and has the potential to be embraced by a greater percentage of whisky drinkers....cutting back on the sherry reveals more of the Macallan spirit, which is first-class."
Despite a recent increase in production capacity, Macallan continue to struggle to meet global demand. Stock is now allocated across the whole portfolio. To obtain quantities of any line is becoming increasingly unlikely. Given the value that this reperesents we've secured as much as we could. Arriving with a glowing recommendation from Jim Murray below, if you're yet to delve into Macallan, start now and start here.
Other reviews… A whisky whose quality has hit the stratosphere since I last tasted it. I encountered a disappointing one early in the year. This has restored my faith to the point of being a disciple. 95.5 points - Jim Murray's Whisky Bible 2022
...Triple Cask replaced Macallan's Fine Oak range in 2018, and was matured in a combination of European and American sherry-seasoned oak and American oak bourbon barrels. The entry level 12 year old offers a relatively light, zesty nose, with citrus fruit, vanilla, and ginger, while the palate yields more citrus fruit and vanilla, honey, sweet oak, and dark chocolate. Cantaloupe and wood spice in the finish. 88 points - whiskyadovate.com, reviewed by: Gavin Smith 2019
"The best balanced of the youngsters. Everything is beginning to fill out. A 'Drink Me!' malt. Rating: 8.5/10 - Dave Broom tasting notes, Issue 42, Whisky Magazine.