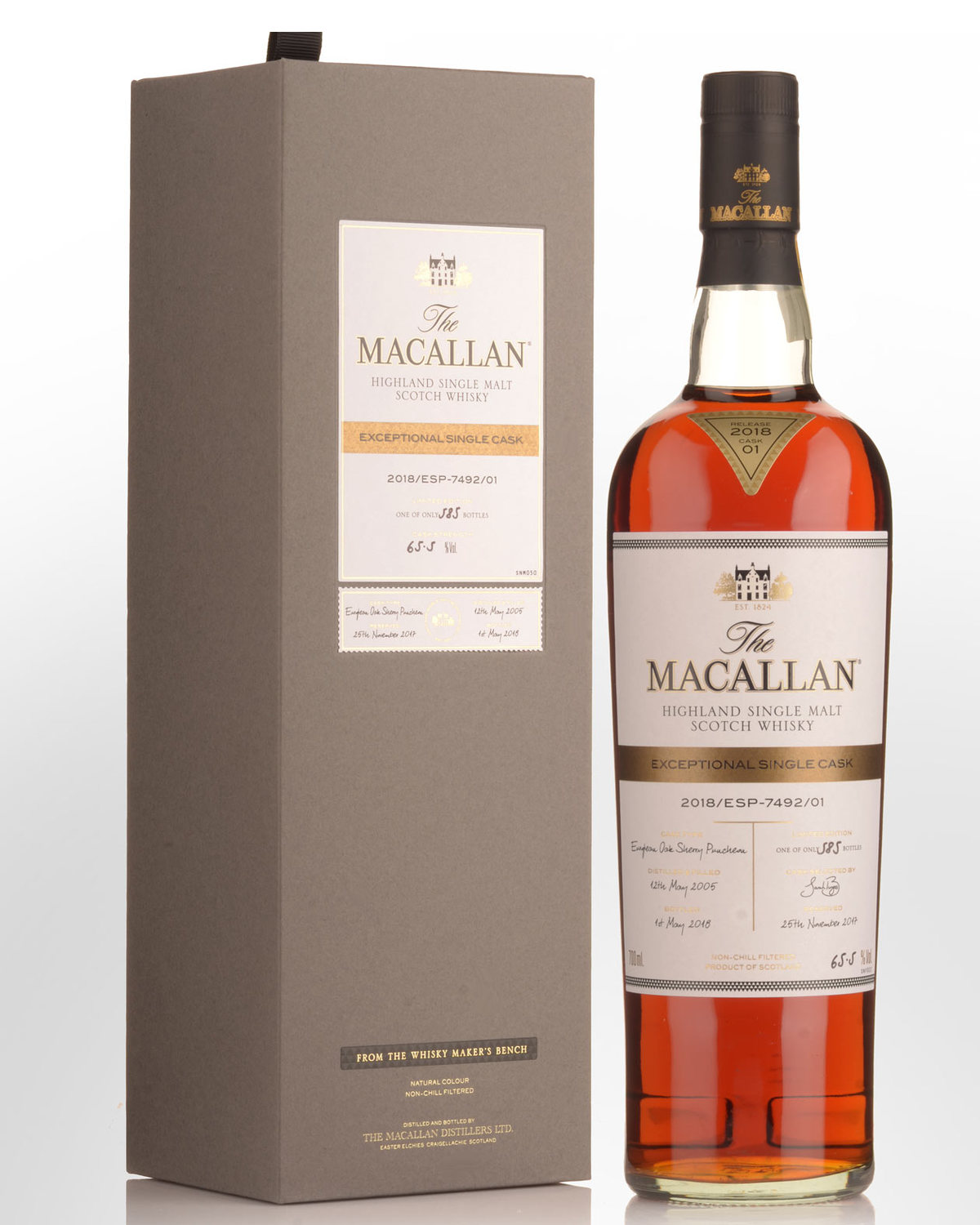 The Macallan Exceptional Single Cask 2018/ESP-7492/01 Limited Edition Cask Strength Single Malt Scotch Whisky (700ml)
Speyside, Highlands,
SCOTLAND
One cask. One chance only. An extraordinary opportunity to buy investment-grade Macallan below current market pricing.

Strictly one bottle per customer only.
A small parcel of all-natural Macallan with impeccable provenance has come our way at a remarkable price that subscribers and collectors should take advantage of. Sourced from a single European oak Sherry puncheon, 'Exceptional Cask 01' has already demonstrated significant upside since its release in 2018. Readers should note that at the time of writing, auction prices have the same bottling positioned between 2.5K to 3.8K. Meanwhile, an equivalent age statement from the 2017 Exceptional Cask collection recently sold at a major UK retailer for nearly 5K.
Drawn from cask '01', it also arrives with a staggering ABV of 65.5% - in fact, to our knowledge it's the highest ABV of any Macallan to dateplacing this firmly in the league of 'V12' malts. Non chill filtration adds further allure. With 585 bottles released globally, Cask 01 has all the credentials of Macallan gold. In short, if you have pretensions to collecting whisky but pass on this, we don't know what to say.
Distilled on the 12th May 2005 and bottled nearly 13 years later after maturing in single European oak sherry puncheon #7492 (Ref: 2018/ESP-7492/01) and selected by Macallan Whisky Maker, Sarah Burgess, the beautiful, mahogany to ruby-red colour suggests a highly active sherry cask and promises aromas and flavours of vanilla, marzipan, Christmas cake, polished oak, cherry pie, toffee, caramel and more.
Created for the United States and parts of Asia, the "Exceptional Single Cask" series was launched in 2017 with all whiskies entirely matured in Sherry-seasoned casks and ranging from 12 to 22 years old. Subsequent annual releases have followed. The range goes beyond age statements, honing in on the best of the best - outstanding single casks, and takes its name from a number of similar Macallans released during the 1990s, often described as some of "the greatest Macallans of them all."
More from Charlie Whitfield, manager of brand education and prestige whiskies, via a press release: "At the heart of The Macallan Estate sits the sample room, and within it the Whisky Maker's bench; the place where inspiration and dedication come together in the creation of The Macallan single malt," He adds, "Over years, and even centuries, an incredibly diverse range of whisky samples have graced the whisky maker's bench. This new range, bottled at cask strength, presents those particular cask samples which have taken our Whisky Makers by surprise. The Macallan's 'Exceptional Single Cask' range provides an opportunity to experience these moments."