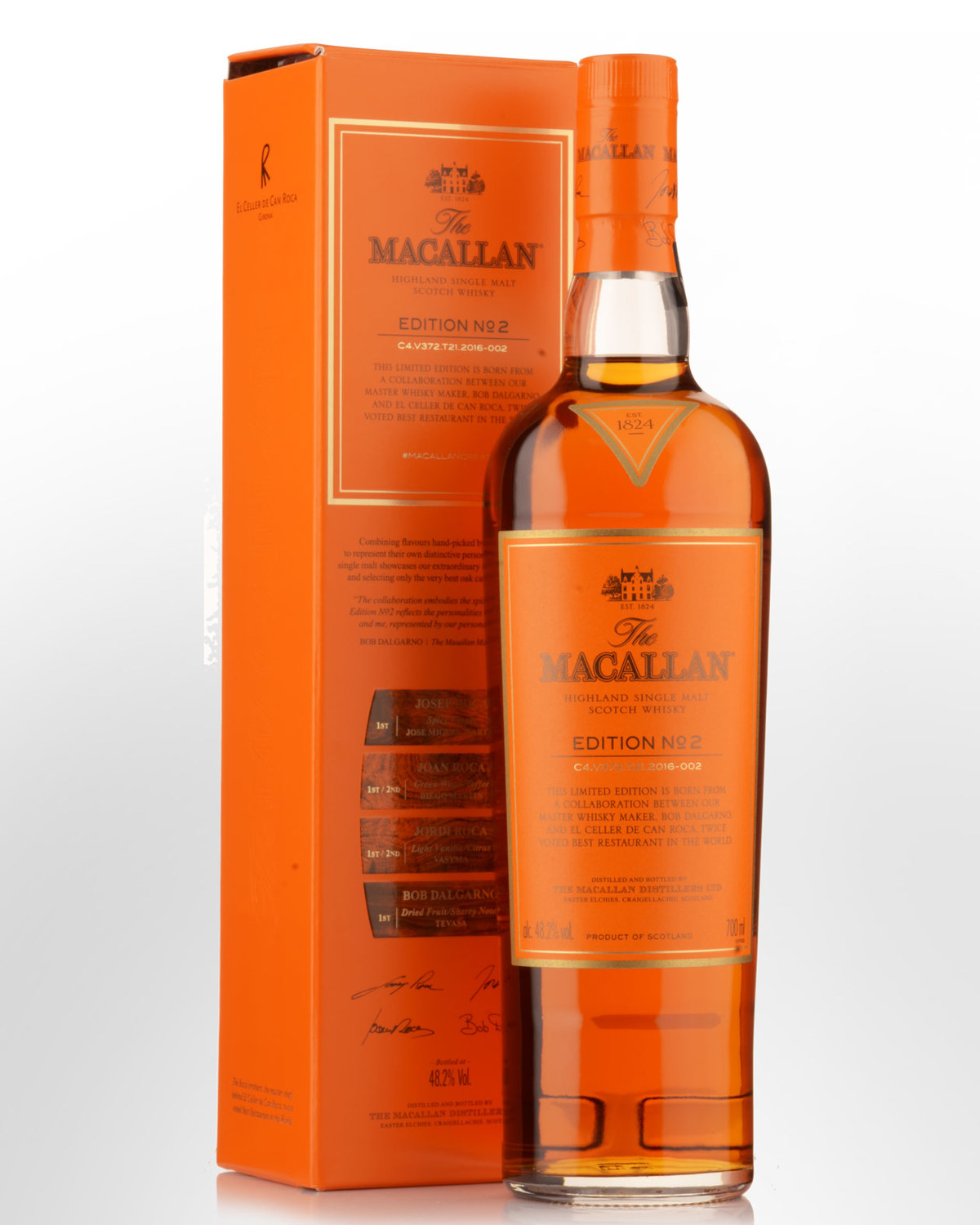 The Macallan Edition No. 2 Single Malt Scotch Whisky (700ml)
Speyside, Highlands,
SCOTLAND
Note: Product has come from a private collection and as such has some minor scuffing/scratches/handling marks. Actual product not shown.
Edition No. 2 follows on from the first edition, originally offered in 2015. This time the whisky employs a marketing concept that's currently in vogue: The "collaborative effort" (think Glenfiddich's Project XX). Master blender Bob Dalgarno has teamed up with Spanish chefs Joan, Josep and Jordi Roca and each contributor has handpicked a cask:
Joan Roca, head chef, picked 1st and 2nd fill Diego Martin casks for its rich green wood and toffee flavours.
Jordi Roca, pastry chef went with 1st and 2nd fill Vasyma American Oak casks to include light vanilla and citrus notes.
Joseph Roca, the sommelier, selected 1st fill Jose Miguel Martin casks with spicy ginger notes.
Bob Dalgarno picked 1st fill Tevasa cask, which conveys dried fruit and sherry notes.
This combination of sherry puncheons, butts and refill hogsheads has resulted in a "deliciously floral and fruity whisky with notes of tropical fruit, black pepper, liquorice and brandy snaps."
Other reviews... This limited release was aged in seven cask types—both American and European oak in a variety of sizes—from four Spanish bodegas: Vasyma, Diego Martin, Jose Miguel Martin, and Tevasa. Citrus fruits, ginger, black pepper, light smoke, and rubbery leather on the nose. Ultimately, carnations. The palate is rich, nutty, and sweet, with malt, toffee, sticky sherry, maraschino cherries, milk chocolate, and gentle spice. Long in the finish, with spices and creamy cocoa.
90 points- whiskyadvocate.com, reviewed by: Gavin Smith (Spring 2017)
... When you have no age, you ought to come up with a name, and a number's just easy to find, isn't it. It's strange though that they wouldn't have called it 'The Spanish Edition' or something, as this NAS vatting was done in collaboration with some Spanish chefs. And why not? Now I've been to some of those restaurants (such as the Rocas's), and I can assure you that they're totally great. Colour: gold. Nose: malt and sherry, obviously. Ovaltine, raisins, oak, vanilla, barley, toffee, chocolate, and a little mocha, then rather tangerine jam and fruity cornflakes. Fruity Loops, that's their name if I remember well. Well done so far. Mouth: okay, this is very good. Big malty arrival, totally in sync with the nose, then many full-flavoured pastries, cakes, and certainly some ginger cake. A spoonful of thick ale, or perhaps Guinness (I know that's a little un-diplomatic). Finish: long, firm, rather thick. Ginger cake and raisin rolls and some welcome lemon in the aftertaste. Comments: I like it that Macallan would collaborate with chefs and starred restaurants. That's good, worthy content (as long as the chefs have something to say and enjoy their whisky). 87 points- Serge Valentin, whisky-fun.com
...Stunningly pretty burnt sienna/bronze color; flawlessly pure. Oh man, there's oloroso sherry and honey written all over the very first aromatics, along with crème caramel, English toffee, and baked ham studded with cloves; secondary whiffs after more air contact discover delicate scents of dried tropical fruits (pineapple, banana), chestnut puree, cigar box, and pipe tobacco. Entry is surprisingly forward with astringent and trimmed flavors of oaky resins, cinnamon, and green tobacco; midpalate echoes the entry impressions as the flavor profile remains leaner than the aroma had implied it would be yet succulent all the same. Aftertaste sums up the experience nicely by promoting the deftness of the dried tropical fruits laced with dense spicy oak and black pepper. Not the robust Macallan of the Sherry series or even to some extent the Fine Oak series, but a nimble, intensely spiced Mac whose elegance wins the day and the Four Stars.
Highly Recommended - www.spiritjournal.com