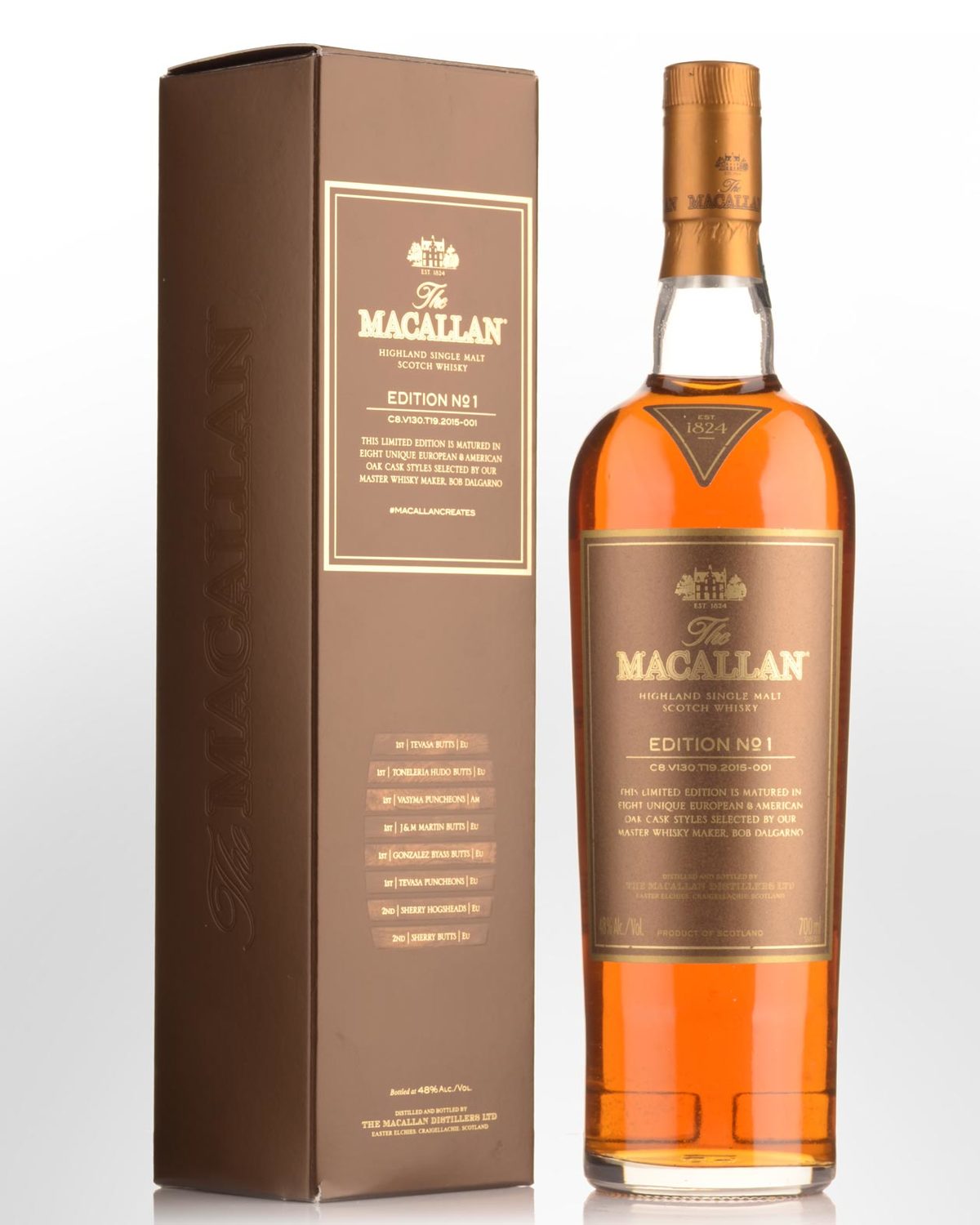 The Macallan Edition No. 1 Single Malt Scotch Whisky (700ml)
Speyside, Highlands,
SCOTLAND
Note: Product has come from a private collection and as such has some minor scuffing/scratches/handling marks. This one in particular has some light creasing on the bottom edge of both sides and the top edge of the front panel. Actual product not shown.
Released in 2015 and joining Macallan's stream of recent NAS bottlings is "Edition No. 1", targeted towards the U.S. market, and reportedly drawn from eight distinct European and American oak cask styles and sizes. Naturally coloured and bottled at 48% ABV (unusual for Macallan), the actual cask regime has been stated too: First-fill casks consisted of Tevasa Butts, Toneleria Hudo Butts, Vasyma Puncheons, J&M Martin Butts, Gonzalez Byass Butts and Tevasa Puncheons. The second-fill casks were Sherry hogsheads and Sherry butts. The only casks that used American White Oak were the Vasyma Puncheons, whereas the rest used European Oak. Some tasters have described the whisky as "a big step up" from Macallan's standard 1824 range.
Master Whisky Maker, Bob Dalgarno says to expect hints of orange, apple and dried fruit on the nose, leading into wood spices on the palate supported by nutmeg, cinnamon and hints of dried ginger and toffee and a medium to long and lingering finish.
Other reviews... People tend to moan about Macallan having lost its mojo. Not here. This is a vatting of different sized American and (mostly) European oak casks, so no surprise that it's oak-led, but Macallan is a heavy distillate and it needs oak to prosper fully. Here you get rosin, marmalade, green fig jam, and the power of concentrated oils. The palate is powerful and supple, with some clove, ginger, and yet more chocolate. Substantial and well worth checking out.
87 points - whiskyadvocate.com, reviewed by: Dave Broom (Summer 2016)