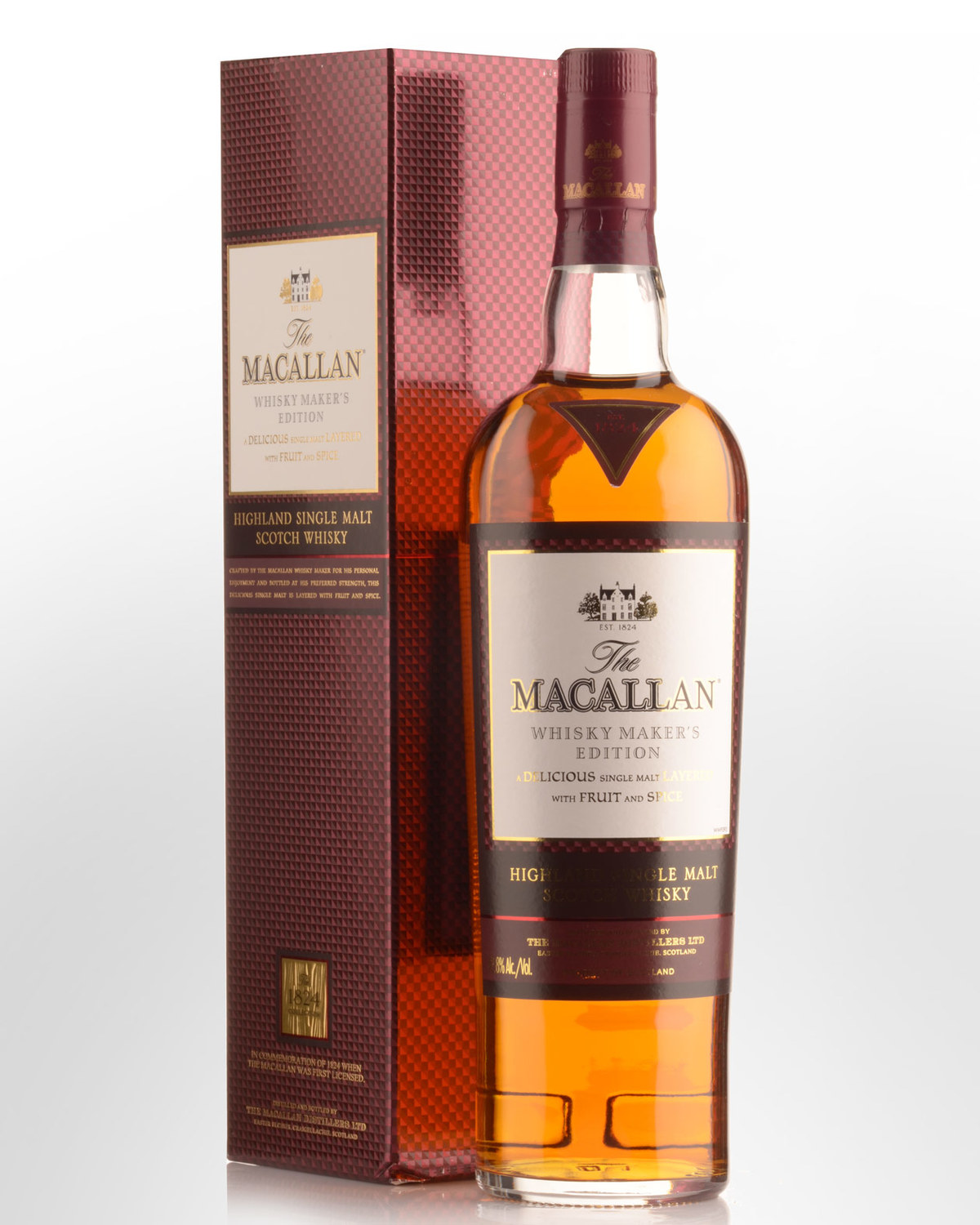 The Macallan 1824 Collection Whisky Maker's Edition Single Malt Scotch Whisky (1000ml)
Speyside, Highlands,
SCOTLAND
Note: This is sourced from a private collection so some allowance should be made for minor handling damage.
Macallan's "1824 Collection" consists of four expressions – "Select Oak", "Whisky Maker's Edition", "Estate Reserve" and "1824 Limited Release". They were created by Macallan's whisky maker, Bob Dalgarno, who's named this expression as 'his own', stating on the back label that it has been created "…for his personal enjoyment and bottled at his preferred strength..."
Dalgarno adds, "I'm a traditionalist at heart and 42.8% is the same as the old 75˚ Imperial Proof – the usual bottling strength before January 1st 1980, when it was dropped to 40%Vol...The bottle does not have an age statement, so I have greater liberty in balancing flavours from various ages - although I have not used any whiskies under about 12 years in this vatting, and there are some much older. Since it's a one-off, I don't have to worry about consistency with previous batches. It's also a challenge making something for Duty Free, where there is such a mix of consumers and palates"
Other reviews... Cadbury's Fruit & Nut Chocolate came immediately to mind when I first nosed this whisky, with distinct spiciness behind. The colour is polished mahogany, indicating the use of European oak casks, and setting up the expectation that it will be a 'traditional' Macallan. It does not disappoint! The label describes it as being 'layered with Fruit and Spice', and so it is – raisins and sultanas, black pepper and allspice - but all bound up with dry, even powdery, milk chocolate. Water freshens it considerably – oak shavings; tinned pears with sponge – then covers it with melted toffee. The texture is smooth; the taste, straight, is dry overall, after a trace of caramel in mid-palate and some lingering tobacco in the spicy finish. Water adds sweetness, texture and length: a medium to long finish, with some spice and an aftertaste reminiscent of Sticky Toffee Pudding, slightly burnt. - Charles Maclean, Whisky Writer.