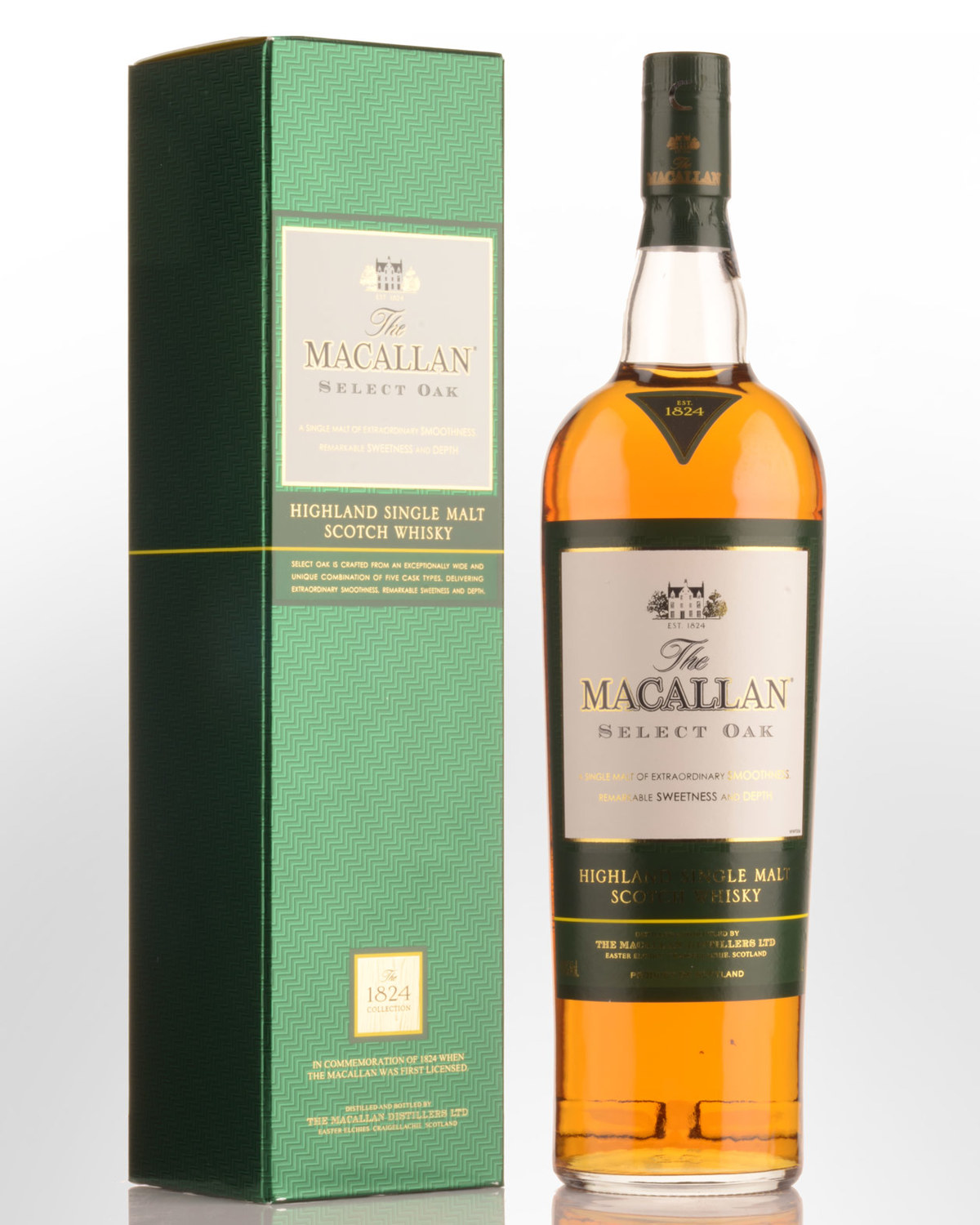 The Macallan 1824 Collection Select Oak Single Malt Scotch Whisky (1000ml)
Speyside, Highlands,
SCOTLAND
Note: Due to the gloss clear coat print Macallan have used for the gift boxes there are signs of rubbing/scuffing to some parts of the gift box. This stock, in particular, also have impact damage to the edges/corners.
Macallan's "1824 Collection" consists of four expressions – "Select Oak", "Whisky Maker's Edition", "Estate Reserve" and "1824 Limited Release". They were created by Macallan's own whisky maker, Bob Dalgarno, together with John Ramsay of Glenrothes fame (both distilleries are part of the same Edrington group).
Scheduled for duty free release only, and now largely sold out in Europe, this edition was aged in 5 different types of cask, including American oak seasoned with either sherry or bourbon, and first fill European oak sherry casks. 40% Alc./Vol.
Tasting note: Brilliant gold. Flawless clarity. An initial whiff of pickled onion blows off to reveal oatmeal biscuit and honey becoming more muesli-like in the second pass. Later inspection accents honey and vanilla over hints of dried fruit. Middle weighted and supple; mid palate features lovely biscuity/fruity malt (think spiced poached pear) plus a late dollop of honey sweetness. Mild pepper and struck match in the finish. Ends light, dry, finely tannic with hints of ginger bread and spice. 40% Alc./Vol.
Other reviews... The producer notes "Testament to The Macallan's knowledge and mastery of wood, Select Oak uses three cask types - American Oak seasoned with either Sherry or Bourbon and first-fill European oak casks seasoned with Sherry. Investing more per cask than any other single malt, each Macallan cask has been handcrafted and selected under the supervision of The Macallan's Master of Wood, George Espie. This very special whisky has a high proportion of first fill Sherry Oak casks." The nose is fragrant and sweet, with marshmallows and new leather. Developing fresh fruits. The palate offers fruit and nuts, with increasing sherry, leather and spice. Medium length and drying in the nutty, slightly peppery, finish. 3 Stars - www.whisky-pages.com
...Straw gold. Well rounded, with fresh vanilla, berries in cream, caramel custard, toasted oak, and gentle dried spice. A really nice everyday, anytime dram. The best price/quality ratio of the range.
85 points - whiskyadvocate.com, reviewed by: John Hansell (Summer 2009)