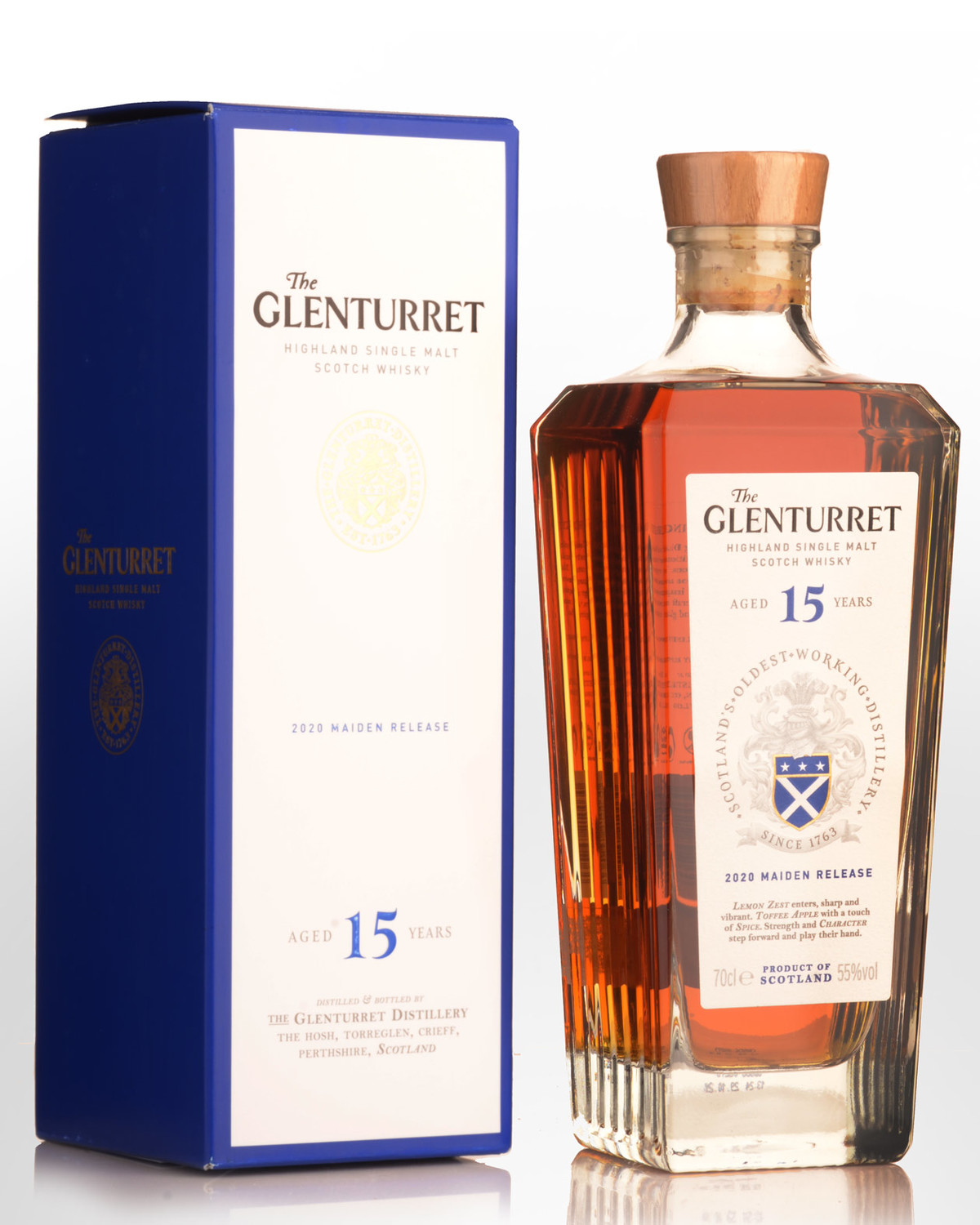 The Glenturret 2020 Maiden Release 15 Year Old Cask Strength Single Malt Scotch Whisky (700ml)
Collector's note: the boxes all have minor creasing. The front bottle labels show some lifting.
Despite the fact that Glenturret is the oldest working distillery in Scotland, single malt bottlings have been rare. There was an attempt to release three new editions in 2015, but that seems to have been delayed until late 2020. It was probably something to do with its sale by Edrington to the French luxury lifestyle company, Lilaque Group, together with one of its largest shareholders. Lilaque are, of course, the famous crystal makers located in the north of Alsace - which explains the extravagant new decanters. They've recruited none other than former Macallan colleague, Bob Dalgarno (Glenturret master blender) and Ken Grier as strategic consultant.
Glenturret's 15 year old is driven by refill wood. In other words, oak steps back and allows the original character of the spirit to sing. It offers slightly muted, off-key opening sniffs but develops with dried grass, plasticine, unripe pineapple sweetening over time to honey, toasted almonds and dark chocolate. A belter on delivery, this is all class in its full, rounded profile offering a considerable biscuity-malty-middle and a prolonged finish that reverberates with vanilla, dark chocolate, bitter orange and pulsing spices. What's more, it's all in good balance at 55%, and with minimal support from the oak. Nicely done! Bottled non chill filtered.
Other reviews... Apparently, this should be more 'refill', so perhaps rather distillate-driven. The old 15 from the 1990s was very average and pretty dissonant, in my opinion. Having said that, dissonance is not obligatorily a flaw, just think Thelonious Monk. Colour: light amber. Nose: marmalade, mead, heather honey, dried beef (Grisons meat – hoppla), then chocolate and praline, roasted chestnuts, buttered fudge… Quite strangely, this one's rather gentler and rounder, despite the higher strength. Let's see… With water: no, walnut wine, cinchona, Campari, Indonesian cigarettes (kretek) and whiffs of old books in an old library, with old leather armchairs. Mouth (neat): rather the 12, only with more honey and jams. Having said that, the spices keep biting you a wee bit. Touches of German strawberry wine (well, the only ones I've ever tried were German). With water: really close to the 12, with more Seville oranges and more green spices. Rather a lot of turmeric, green peppercorns... Finish: long, similar. Some earthy fruitiness in the aftertaste plus probably quite some umami sauce. Comments: my heart is torn between the 12 and the 15. 85 points - whiskyfun.com
Notes from the producers... Vibrant LEMON ZEST sings, harmonising with TOFFEE APPLE and notes of SPICE. A soft baritone of OAK in the background, STRENGTH steps forward and adds its voice.