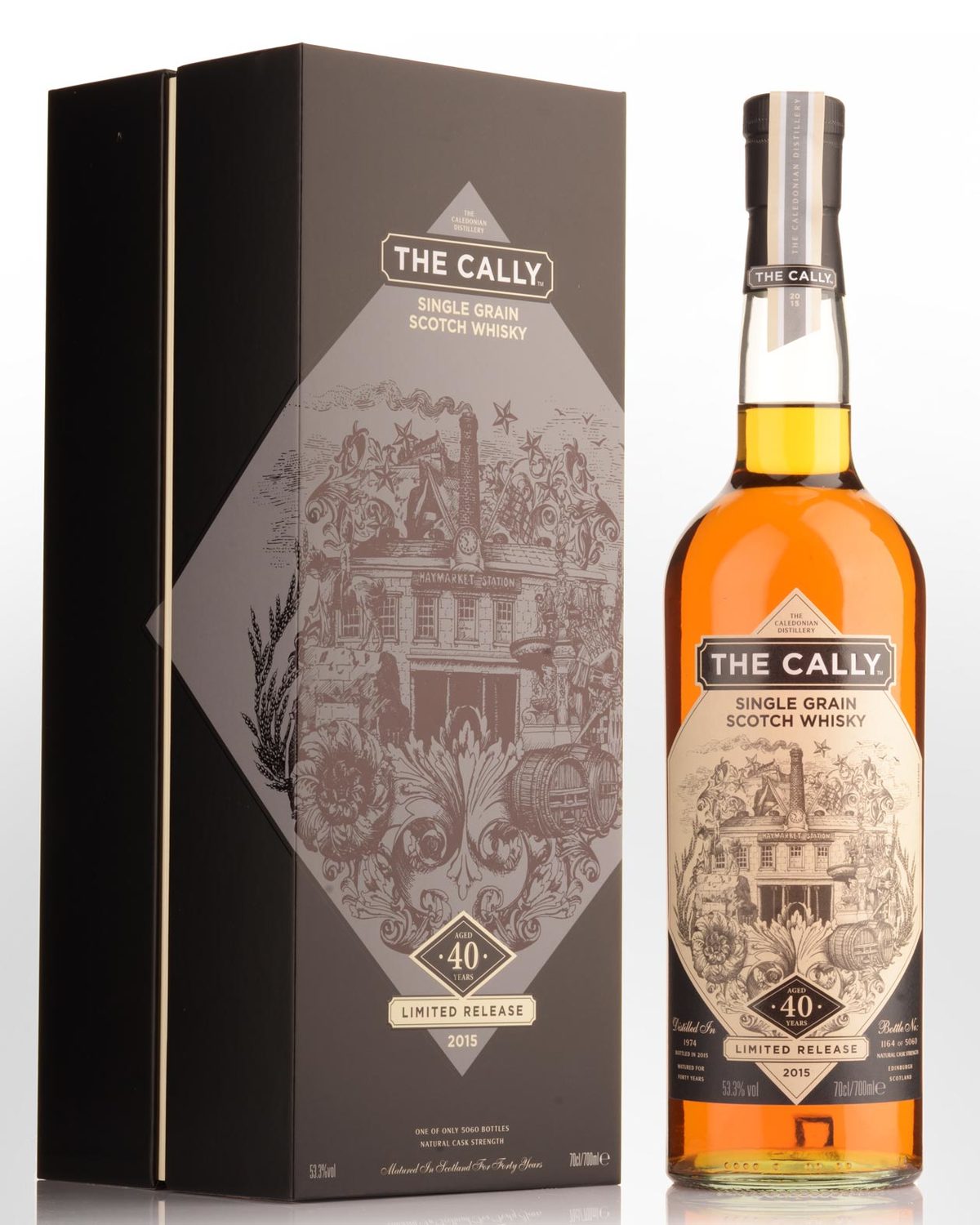 1974 The Cally 40 Year Old (Special Release 2015) Cask Strength Single Grain Scotch Whisky (700ml)
40 year old whisky. Closed distillery. An incredible opportunity to purchase one of the oldest and most expensive Grain Whiskies ever released.

The Cally (as the locals called it) makes its debut as part of Diageo's Special Releases in 2015. This extraordinary 40 year old is also one of the oldest expressions ever offered from this dark horse distillery, otherwise known as "The Caledonian", based in Edinburgh and closed in 1988. Not surprisingly, bottlings of any kind are rare. This edition was distilled in 1974 (likely from majority corn) followed by maturation in refill American oak hogsheads. Bottled at natural strength, just over 5000 bottles are available worldwide.
Tasting note: Bright brassy gold. Impressive lift with dense, sweet opening aromas reminiscent of rock lolly / dark chocolate / toffee apple. Aeration broadens the bouquet suggesting strawberry sponge cake / icing sugar. Five minutes shifts the emphasis to vanilla, honeycomb / crunchie bar. Gorgeous purity. Big vanilla / cinnamon / sponge cake delivery framed by vibrant spices; mildly oily to finish with salivating malt and cascading sugars. Luxurious grain. So much age yet never falls short on balance or freshness. 53.3% Alc./Vol.
Other reviews... If your glass is half empty, you might overlook this because it is the most expensive single grain Scotch whisky released to date. If your glass is half full, you will relish sweet toffee popcorn, coconut, fresh fruits, linseed oil, and some spicy and nutty notes. Makes sense, as South African white maize was heavily used in the production in the early 1970s. It's mouth filling, dark and brooding, with plenty of chocolate, oak tannins, char, and layered spice. Sumptuous. 90 points- www.maltadvocate.com, Reviewed by: Jonny McCormick (Spring 2016)
Lovely half-pre-Castro-Cuban, half-Alfred-Barnard-era label. The whisky industry will soon call a guy named Gutenberg at the current rate ;-). Nah, Da Vinci's too expensive. More seriously, we haven't tried many Caledonians so far, let's simply remember that the Haymarket distillery (Edinburgh) was closed in 1987. So, as far as grains are concerned, this is a historical bottling. Colour: gold. Nose: ha, now we're talking! And we're talking… Irish. Seriously, you'd think this is pure pot still whiskey, with overripe apples, butterscotch, and this very peculiar metallic side that just works in this context. And of course there's plenty of vanilla and coconut. Fresh and vibrant, certainly not '40 years'. I quite like this so far. With water: I like it even more. Some kind of softer bourbon, perhaps. No rye, though. Mouth (neat): very good, I think. It's not malt whisky, obviously, but it's got depth and structure, and all this tropical stuff (Irish indeed) just works. Mango chutney covered with buttered caramel and coconut liqueur, plus mandarin liqueur and perhaps Turkish delights. Goody good, and the oak never comes in the way. Meringue. With water: really very good. No oaky ventures, only stewed fruits and various pastries, including oriental ones. Finish: quite short, as expected, but clean, fruity, and praline-like. Comments: I haven't checked the price, but if it's fair(ish), it's a good bottle to own to show your friends that grain whisky's not always only oak-flavoured ethanol. I really like it very, very mucho. 89 points. - www.whiskyfun.com