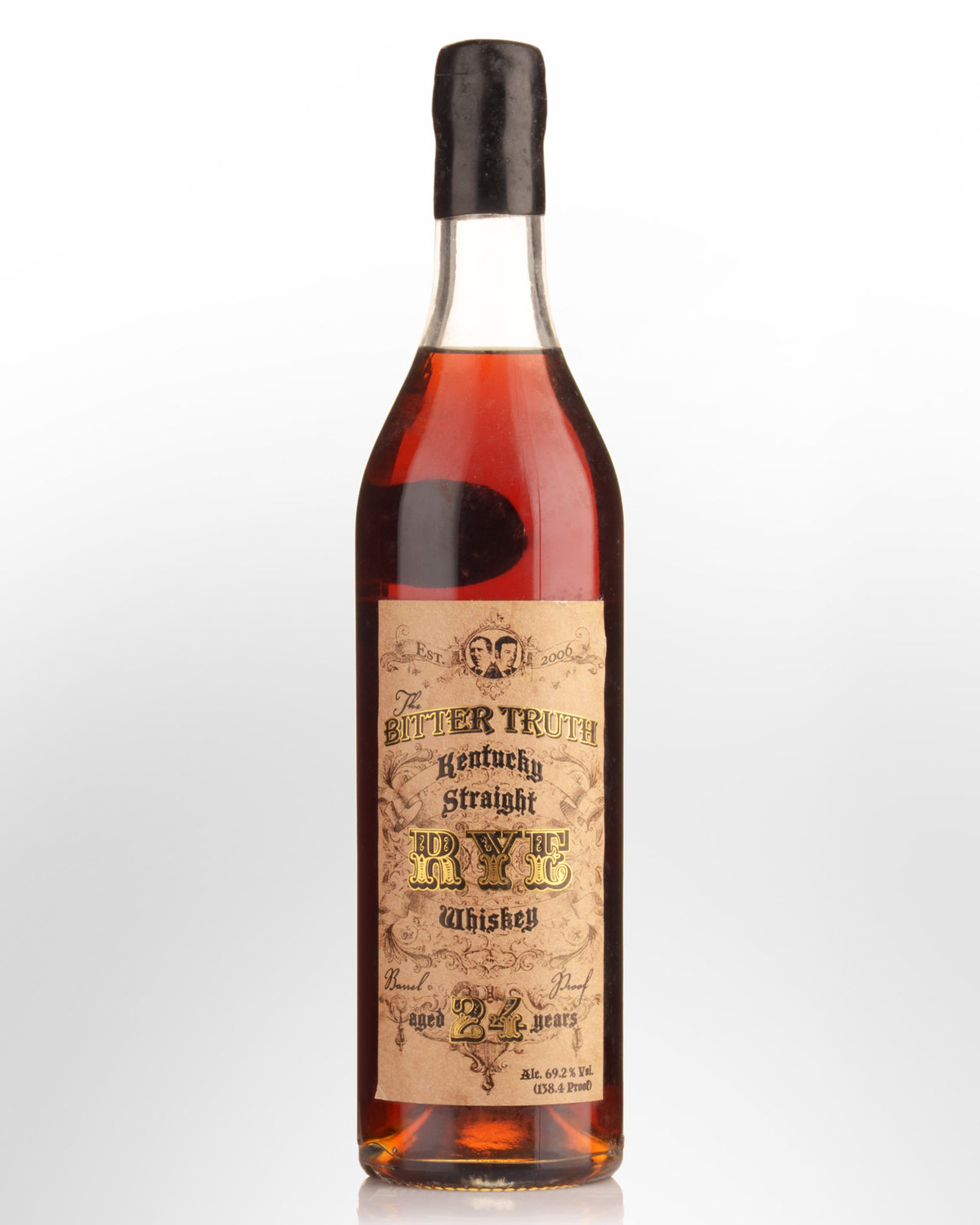 The Bitter Truth 24 Year Old Straight Rye Whiskey (700ml)
One of the 1980s ryes from old Bernheim (or Willett Distillery, depending on your source) bottled by The Bitter Truth, a German bottler (est.2006) now better known for their bitters. This is a natural strength, non chill filtered and now extremely rare release. We were lucky enough to coax a very small sample from a private whisky enthusiast and collector - it certainly left a strong impression.
The bottlers describe it in their own words, "On the nose a decent dose of wood and leather, with a mild underlying sourness and a medium heat. In the mouth you get a hefty dose of wood which is followed by some sourness and then a mild sweet fruitiness. The finish is long with a lingering sourness, some leather and mild citrus notes, and a medium heat."
One bottle only to sell. There is a small crack to the wax seal and some very minor lifting to the labels, otherwise excellent condition.
Other information...The old Bernheim Distillery in Louisville was not one of the more treasured distilleries of its time. Operated by the Schenley company after prohibition, it was the home to IW Harper and Old Charter bourbons until it was torn down in 1991 to make way for the new Bernheim distillery which is now Heaven Hill.
The Bernheim distillery also made rye, which is popularly referred to as Cream of Kentucky rye, though it was a very limited release and most of the rye they made went into various blends (Schenley was one of the largest whiskey companies of the time).
Midway through the first decade of the twenty-first century, a number of Kentucky Bourbon Distillers independently bottled ryes distilled in the mid-1980s started appearing on the scene and making waves. There were Willett bottles by Doug Phillips, the Velvet Glove and Iron Fist Willetts that are still available in DC, the Red Hook Rye bottled for LeNells in Brooklyn and Rathskeller Rye, bottled exclusively for the Seelbach Hotel in Louisville. These were huge, spicy, cask strength ryes. They are without a doubt, some of the best ryes I've tasted.
Eventually, it came out that many and possibly all of these whiskeys had their origination at the Old Bernheim distillery. What they were doing to the rye at Old Bernheim in the 1980s, I don't know, but it was something amazing.
- recenteats.blogspot.com.au