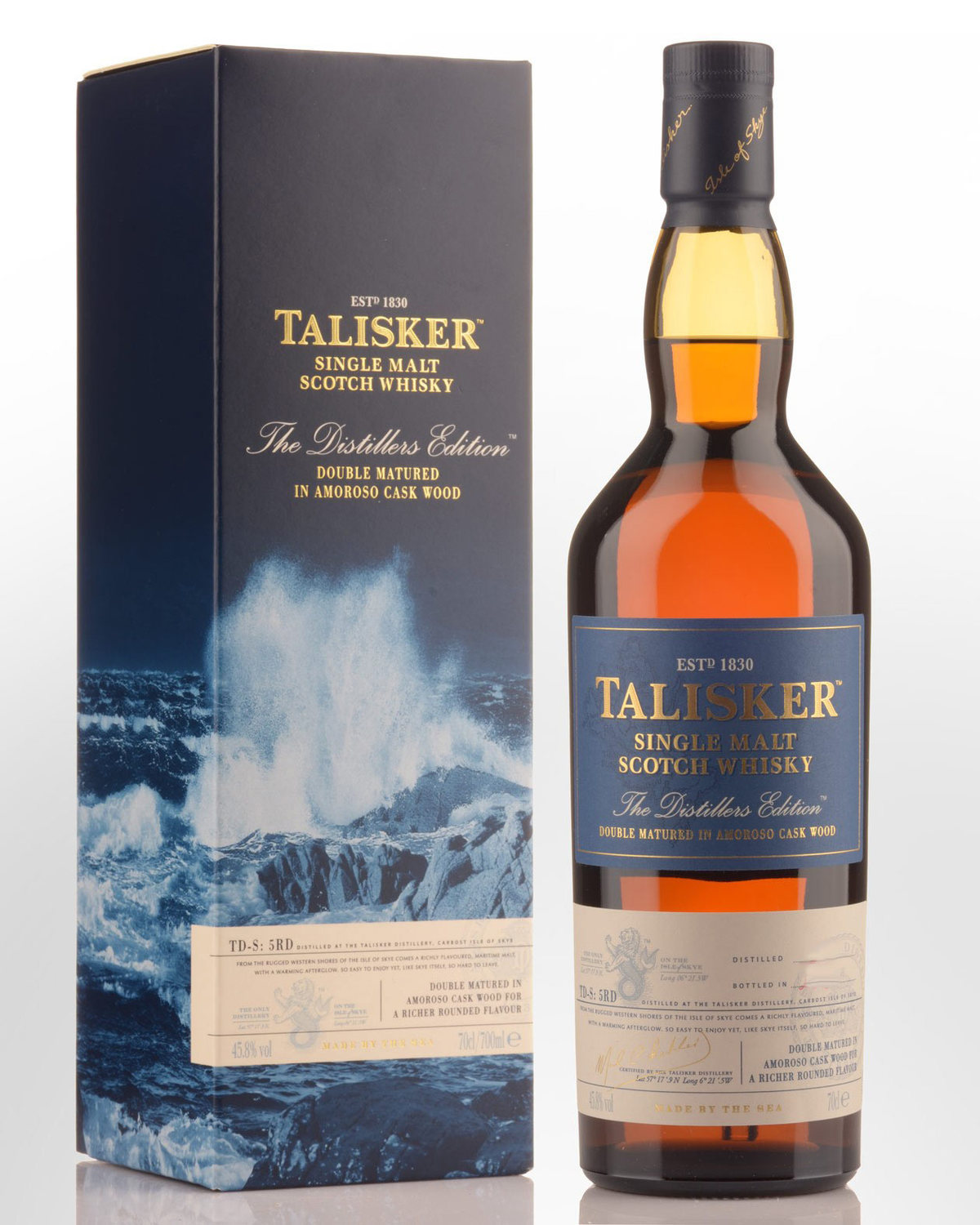 Distilled/bottled dates may vary

Nick's Import
Talisker Distillers Edition Double Matured Single Malt Scotch Whisky (700ml)
Talisker, which combines the island style of distinctive peatiness with its own individual notes of spice and pepper, has accented its character by finishing in sweet Jerez Amoroso cask wood, amplifying Talisker's sweetness and rounding off its 'rugged' island edges.
Tasting note: Copper penny colour. Sweet peat references pipe tobacco, white pepper, then lanolin becoming more salty and dried seaweed like; 3-4 minutes in the glass finds the smokiness in retreat revealing hints of dates and dried banana. Delicious, zesty, salty delivery is enhanced by lashings of sooty, sweet peat- the latter carrying white pepper through the finish. Lanolin, spice and ginger bread aftertaste sees the sugars more reigned in. Talisker is classic with sushi, but this 'worked' expression lends itself to the end of a meal - creme brulee? 45.8% Alc./Vol.
Other reviews...
The immediate shore-like blast suggests that the sweet amoroso casks haven't been overly enthusiastic in their embrace. What seems to have happened is that while giving some date and prune they have added an extra layer of oak — giving a charred element — and, like Lagavulin, hints of tar. The smoke is obscured and the pepper is Javanese. It's a polite Talisker, but the absorption of the smoke means it has lost something integral to its being.
45.8% Alc./Vol.
86 points
- www.maltadvocate.com (Vol. 21, #2) Dave Broom