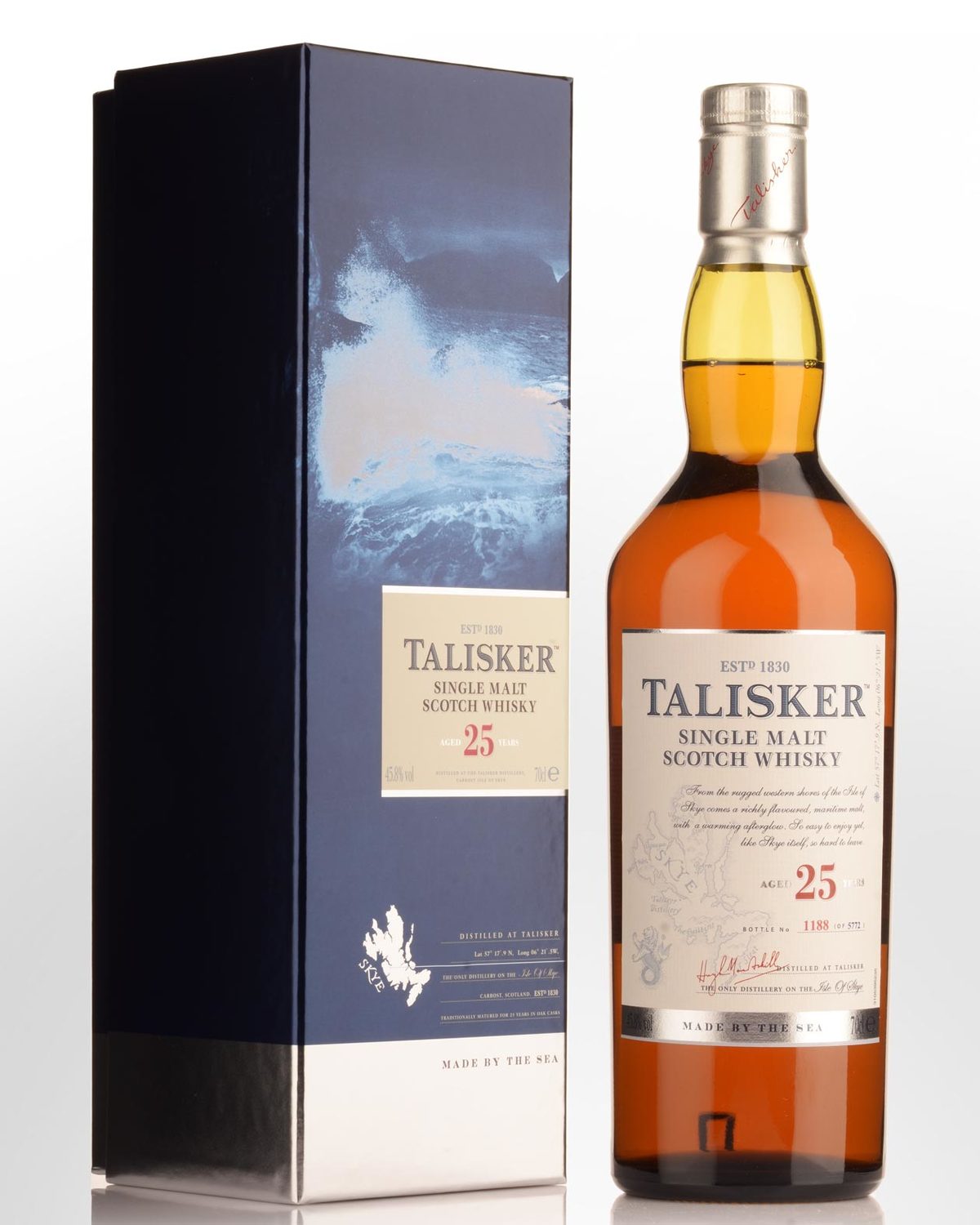 Talisker 25 Year Old Single Malt Scotch Whisky (700ml)
One of the most seductive, seamlessly integrated and softly textured peated expressions from any island distillery.
Since 2011, Talisker's 30 and 25 year old expressions were bottled at 45.8% as opposed to natural strength. Brine and pepper lift gives way to peach and vanilla followed by hints of liquorice and smouldering cedar wood. Exposure emphasises the ripe orchard fruit aspect. Semi-sweet and briny in the mouth with an oily peat and fruit fusion. Finish turns beeswaxy, mildly peppery, (Fisherman's Friend lozenge) and beautifully rounded off by sooty, creamy peat. Text book balance. Talisker at its most accessible? Tasted from a 15ml sample. 45.8% Alc./Vol.
Other reviews... A malt of magnificent complexity that generously rewards time and concentration. So for some, it may not be easy to get through the forests of oak early on, but switching your senses onto full alert not only pays dividends, but is no less than this great old malt deserves and demands. 96.5 points - Jim Murray's Whisky Bible 2022
...I think this was the first 25yo bottled at Talisker's usual lower strength instead of the previous 'high strength' levels. The last earlier version that we've tried was the 2008 at 54.2%, brilliant stuff (WF 91). Colour: full gold. Nose: a completely different planet after the Dark Storm, this is smoother of course, but also more complex, with some lilac, tangerines, roses, almonds, this very 'tropical' smokiness that only old peaters can display, beauty cream, brine, oysters... It's a lovely nose, delicate and subtle. Mouth: once again, a slightly smoother version of an old Talisker but power is there. It's no straight brute as older versions could be (remember the 62% vol? Or was that the 20yo?) but it's not lacking oomph. Smoked overripe apples and lemon curd plus brine and kippers. There. Finish: long, maybe a notch woodier, with this feeling of strong green tea but also a perfect brine. Little pepper this time. Comments: I know some whisky lovers and Talisker aficionados were shocked by the drop in strength and in theory, I should be shocked too, but let's be honest, this remains a mightily powerful dram. 90 points - Serge Valentin, www.whiskyfun.com