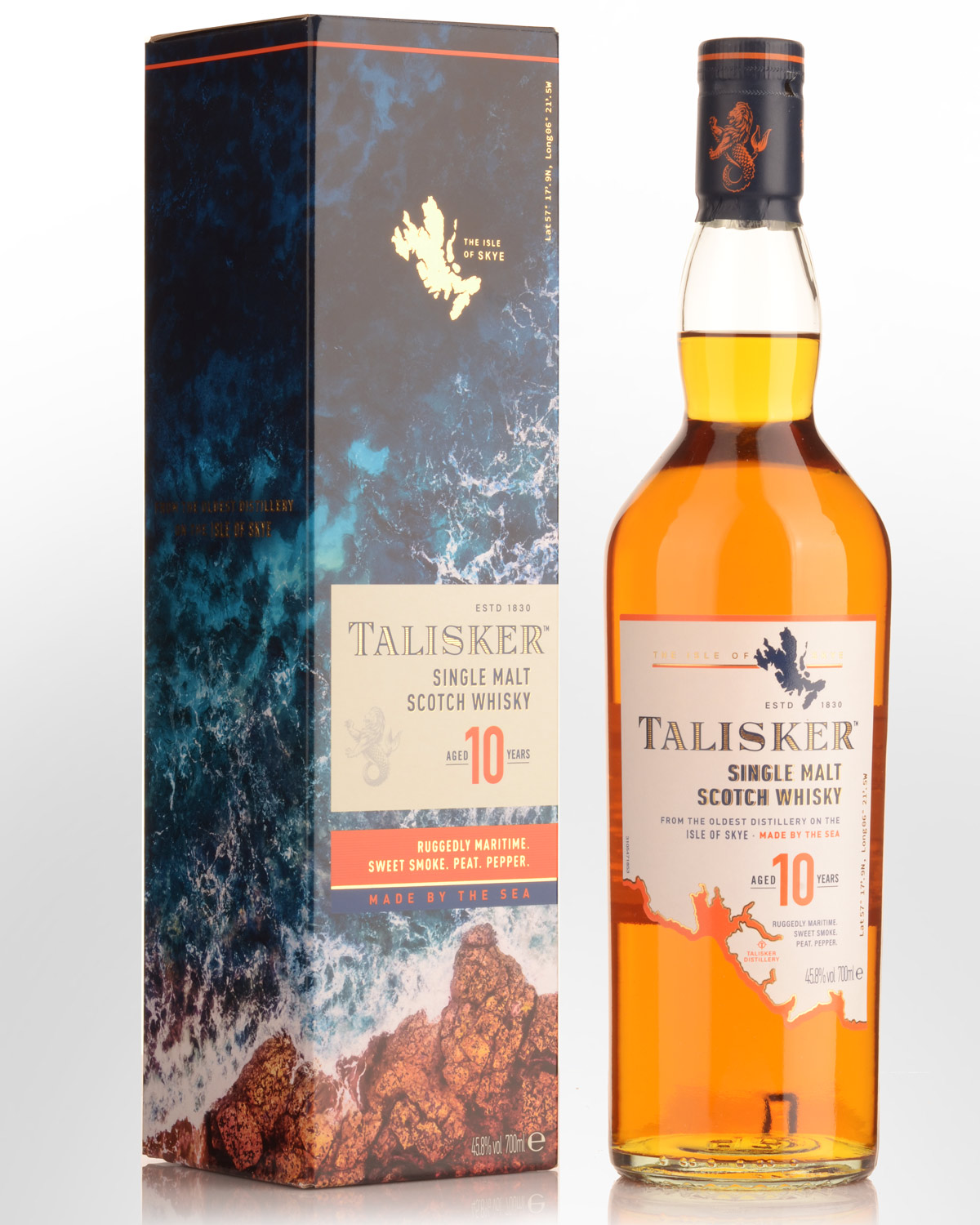 Talisker 10 Year Old Single Malt Scotch Whisky (700ml)
'The lava of the Cuillins'
- that is how Talisker, the Golden Spirit of Skye was described by one poetic taster. This is indeed a turbulent Gaelic malt ; the only single malt from a spectacularly beautiful island of wild moorlands and dramatic mountain peaks known as the Cuillins. Built in Carbost in 1831 near 'Talisker House', the distillery has entertained such personalities as Boswell & Johnson. Another celebrity who enjoyed his Talisker was author, Robert Louis Stevenson, describing it in 1880 as 'king 'o' drinks'. Stevenson rightly recognised it as bearing similarities to both the Glenlivet and Islay malts. However, by taking 'the best of both worlds' so to speak, Talisker had achieved a new, unique style of whisky.
In 1892 Roderick Kemp, a part owner sold his share to establish the now immortal Macallan distillery, however, the distillery has continued strong since.
Tasting note: Rich amber gold colour with golden hue. Pungent-yet-fresh with Islay-like seaweedy, smokiness and sweet fruity maltiness. A great sniff. Bold maritime influence on the palate too, perfectly complemented by a spicy, very peppery, long lingering finish. A little honey threads its way through the beautifully balanced spirit - not harsh but warming. Fine, individual malt. Remains an island classic. 45.8% Alc./Vol.
A quite stupendous malt to be enjoyed at any time. But especially at night.
93 points
- Jim Murray's Whisky Bible 2019
...Another that should need no introduction. The thing to look for in Talisker, as with all smoky whiskies, is sweetness that gives the requisite balance to the drying effect of smoke. Underneath Talisker's smoke, which ain't as all-pervading as Lagavulin, is a sweet pear-like quality. When young there are notes of the land: heather, moor, sweet seaweed, and a finish that has a distinctive cracked black pepper hit.
90 points
- whiskyadvocate.com, reviewed by: Dave Broom (Summer 2012)
… Nose: A razor-sharp spiciness lances through Demerara sweetness and rich peat. Absolutely magnificent. Palate: The enormous build up of spice adds to the multi-layered peat. The sweetness is almost like freshly crushed grist. Wave upon wave, layer upon layer of complexity. Finish: Massively warming and still spicy. The peat lingers while the spice bristles. Comment: A dram to be savoured and celebrated. Rating: 95  - www.whiskymag.com.