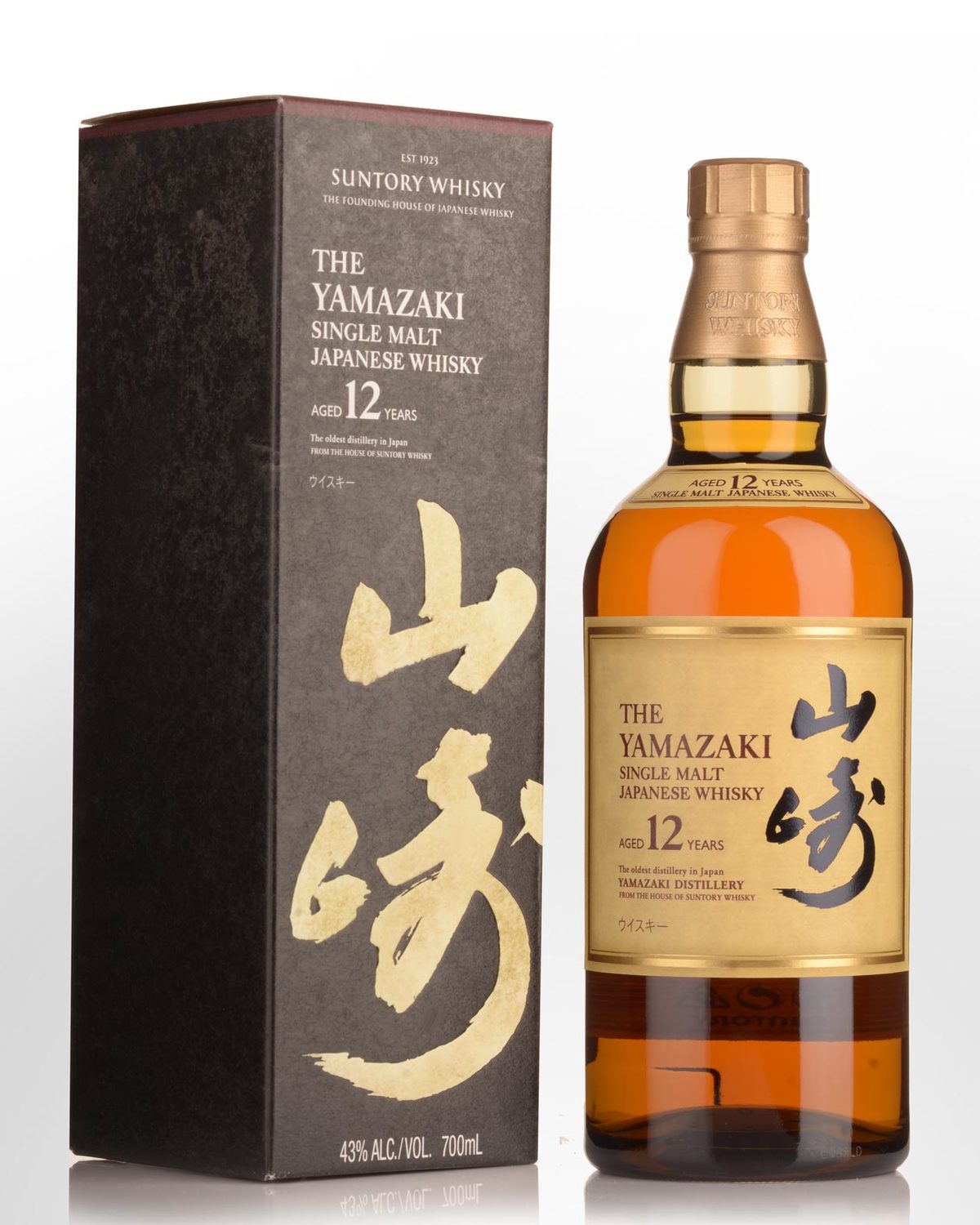 Suntory Yamazaki 12 Year Old Single Malt Japanese Whisky (700ml)
Note: Product has come from a private collection and as such has some light creasing/scuffing/scratches/handling marks.
Shinjiro Torii, the founder of the Suntory company, was a pharmaceutical wholesaler importing liquor from the West before he was inspired to create a uniquely Japanese whisky. In 1923 he built the country's first malt whisky distillery (in fact, the first of its kind outside of Scotland) on a site in the Vale of Yamazaki outside Kyoto where pure water, a diverse climate and high humidity made it an ideal environment for whisky production and maturation. To complete the formula, Torii hired Masataka Taketsuru of Nikka fame, who had studied the art of distilling in Scotland. In 1929, the company introduced Suntory Shirofuda (Japanese for white label), Japan's first genuine domestically produced whisky. Kakubin (square bottle), a premium Japanese whisky, was born in 1937. The whiskies have become more and more sophisticated over the decades, in particular the older bottlings under the Yamazaki label.

Made from 100% malted barley, this 12 year old expression is produced in copper pot stills and aged in casks of three different kinds of oaks: American, Spanish and Japanese.
Tasting note: Brassy gold. A mild prickle to the malt; develops with aromas of stewed pear / apple tart, fine chocolate and vanilla. After five minutes aeration this becomes more sponge cake-like. Medium weight, stewed orchard fruit profile suggests a thread of peat. Builds in the mouth with a depth and texture reminiscent of Linkwood or Glenlossie at their best. 43% Alc./Vol.
First tasted 2010 (Tasted from a miniature. The Yamazaki has been noted for batch variation. The batch No. here is unknown.) Bright pale gold appearance with a water like hue. Somewhat restrained. At first honeyed barley and pine wood like scents. With time in the glass subtle dried fruit notes emerge that are almost berry like. Unusual. A big, warming, spicy flavour-wave that subsides to reveal sweet barley, confectionary and vanilla notes accompanied by a trace of smokiness. Creamy back palate. Relatively abrupt aftertaste of dry, cedary oak with a subtle toffee fade. Pleasant. 86 points
Other reviews...Deep amber/18-carat gold color; impeccable purity. This seductive opening aroma is gently spicy, malty and almost brown rice-like; the secondary aromatic profile is fully integrated, dusty dry, slightly woody/sappy and delicately spicy; understated, deep and enticing aroma of the first rank. Entry is firmly structured, moderately oily/viscous, nutty and candy bar-like; midpalate stage shows off a richness that's world-class, toffee-like and woody/resiny. Ends richly, understated, nutty/nougaty and drier than the other two Suntory whiskies tasted for this issue. Excellent quality. Highly Recommended www.spiritjournal.com