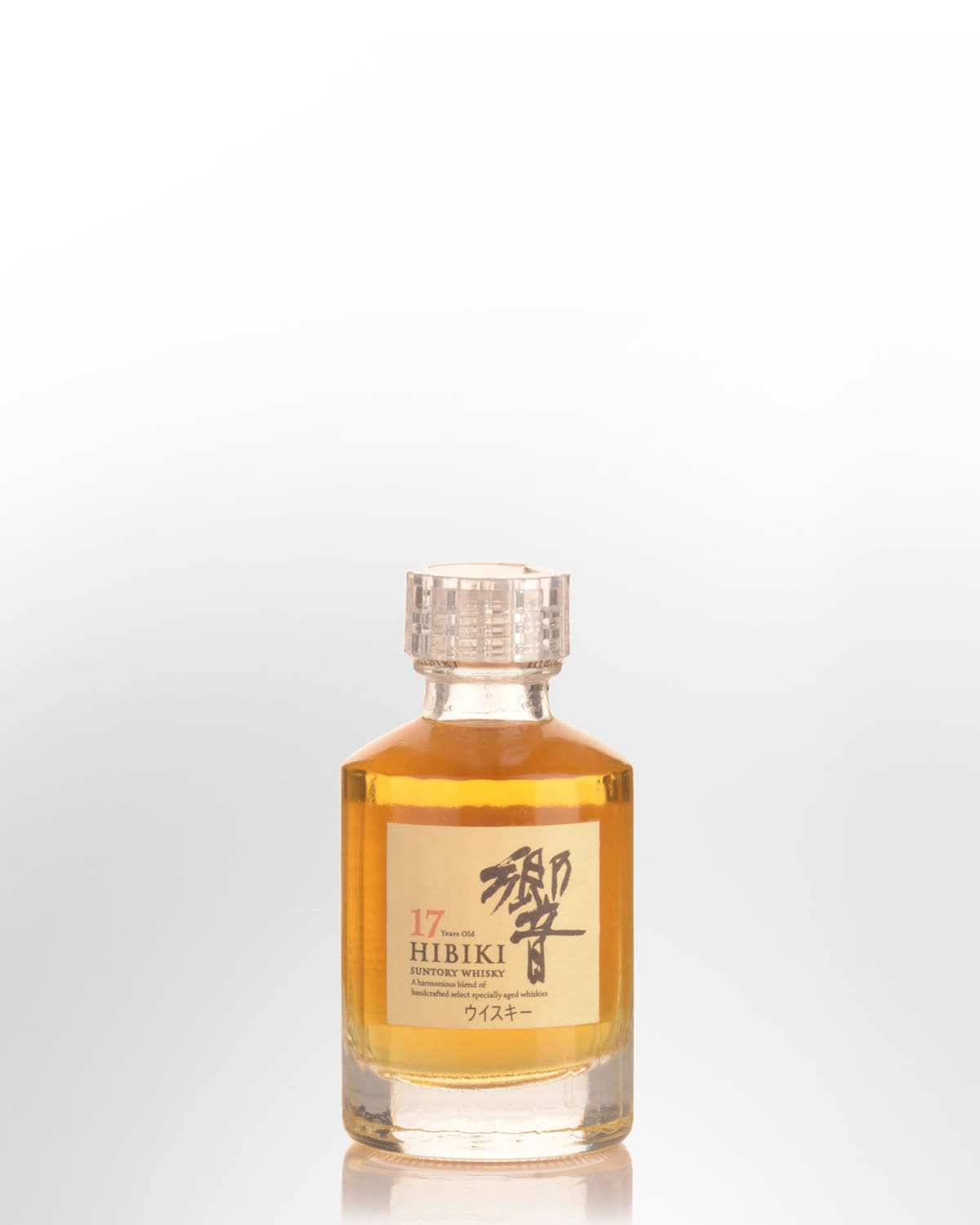 Suntory Hibiki 17 Year Old Blended Japanese Whisky (50ml)
Note: Box has come from a private collection and as such may have some minor scuffing/scratches/handling marks.
Additional note: Presentation box may differ from current image.
Considerable progress has been made by the Japanese in popularising their own whiskies which very often contain a large proportion of Scotch Malt whisky to enrich the flavour. Investment in the Japanese industry is large and major brands such as Suntory and Nikka have become very popular in their home market. We must say this has not been the case in Australia for one obvious reason: their prohibitive price in relation to the genuine article. This frustrating reality ensured we only ever sold one bottle of Japanese whisky for the many years that we stocked them – and that bottle was to a Japanese tourist! The situation is now changing and our latest shipment makes a range of these world class offerings more accessible than ever.
Apart from Single Malts, Suntory also produce a premium series of blended whiskies under the label 'Hibiki' (meaning 'harmony'). However, the Hibiki 17 year old contains an unusually high proportion of Single Malt for a blend, upwards of 50% according to one of the company's blenders. Thirty different malts are employed from Suntory's three distilleries, most with an age well above 17 years. The Hibiki was recently awarded a Gold 'Editor's Choice' award from Whisky Magazine, picking up the top prize in its category at the World Whisky Awards in 2010.
Tasting note: Bright gold. Fairly subdued showing hints of almond and dried grass. Great balance as this glides through the mouth with flavours of almonds, sweet cereals and cocoa followed by a light fruitiness towards the finish. A thread of peat through this? Being overly shy on the nose slightly detracts from what's otherwise a delicious whisky. 43% Alc./Vol.
Other reviews... A multi-award winning blend, Hibiki presents a fragrant and floral nose, with orange blossom, almonds and spices. Full bodied and creamy on the palate, with a beguiling blend of stewed fruits and spices. Long, fruity and spicy in the finish, with pleasing oak notes and a final touch of vanilla. A rich, confident blend, full of class and elegance. Scotch watch out! 43.0% - www.whisky-pages.com