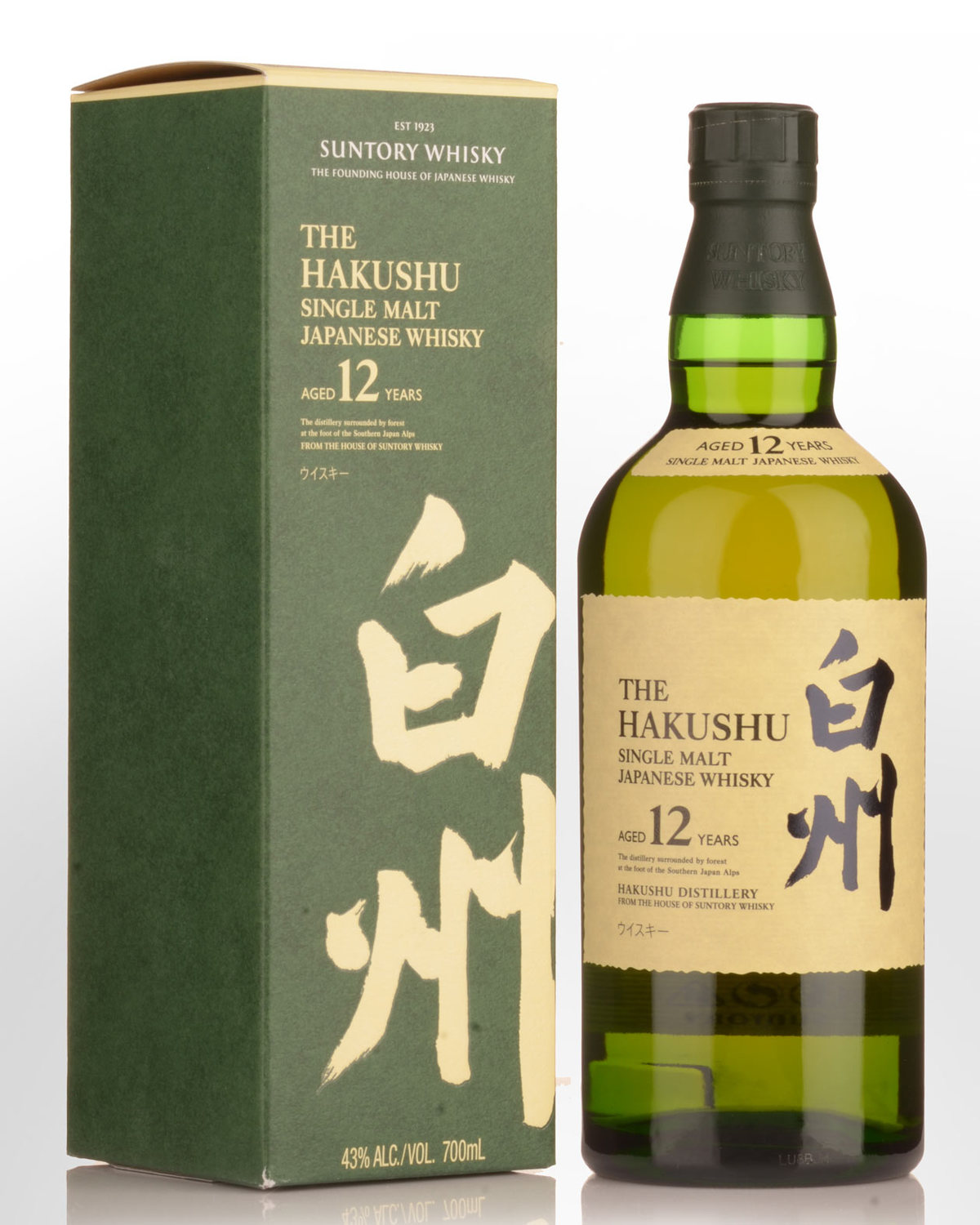 Suntory Hakushu 12 Year Old Single Malt Japanese Whisky (700ml)
Note: Product has come from a private collection and as such has some light creasing/scuffing/scratches/handling marks.
At the 2010 World Whisky Awards, whiskies from Japan won prizes in two of the top three categories for Scottish-style whisky. No one was surprised; Japanese whiskies have been snapping up awards at international competitions for the last decade. The problem has been keeping up with international demand, with the majority being consumed within Japan. This situation is slowly turning around, with Suntory exporting 106,000 cases last year, up 17 percent from 2008. It hopes to increase sales by more than 20 percent in 2010
Production wise, Suntory's Hakushu distillery (pronounced "Hack-shoo") is the largest malt whisky distillery not only in Japan, but in the world. Built in 1973 coinciding withe Suntory's 50th anniversary, it's set amidst spectacular pine forests close to the Japanese Alps. Suntory also purchased the distillery surrounds to protect water quality and conserve the local environment. In fact, water from the district is considered the best in Japan, something Suntory have capitalised on by bottling and selling it throughout the country.
All the barley required for single malt whisky production here is imported from Scotland or elsewhere (including countries like France, England and Australia). The resulting whiskies make a significant contribution to Suntory's large number of malts and blends. Due to the distillery's height above sea level (700m), low pressure distillation occurs naturally, said to contribute to the light, fruity style of the whiskies. The 12 Year Old Hakushu expression is considered a good introduction to Japanese styles for those who enjoy smokey malts, though the degree of smokiness is said to vary from batch to batch.
Tasting note: [43.5% Alc./Vol. Batch tasted] Bright gold. Restrained aromatics; faint suggestions of toast and honey. Several minutes does little to stimulate the bouquet adding muted scents of sponge cake without budging the intensity. A semi-sweet, juicy delivery features lipsmacking, biscuity mid palate malt, hollowing towards the finish with some late sweetness and delicate oils entering. Ends more aperitif-like - clean and crisp with the biscuity malt lingering. Youthful and vibrant, but not peaty.
Other reviews...A floral nose, slightly smoky, with some brine. Huge flavour in the mouth, toffee, fruit and peat smoke. This could almost be Caol Ila. The finish is medium, smoky, with drying notes of oak. An extremely well structured, traditional malt whisky. - www.whisky-pages.com
...Light amber/marigold color; excellent purity. Smells of sawdust and pecans in the opening sniffs, plus a bit of summer flower garden (carnation) and spice (nutmeg); there's an acute nuttiness to the aerated bouquet that becomes more like candle wax with further exposure to air; intriguing and unique. Entry taste is cocoa-like, bittersweet and nicely textured, almost oily (a plus); midpalate stage reveals an intensely grainy core flavor that's both astringent, slightly sweet and caramel-like. Concludes in a stately manner that's bittersweet, honeyed and refreshing. A superb blended whisky. Highly Recommended www.spiritjournal.com