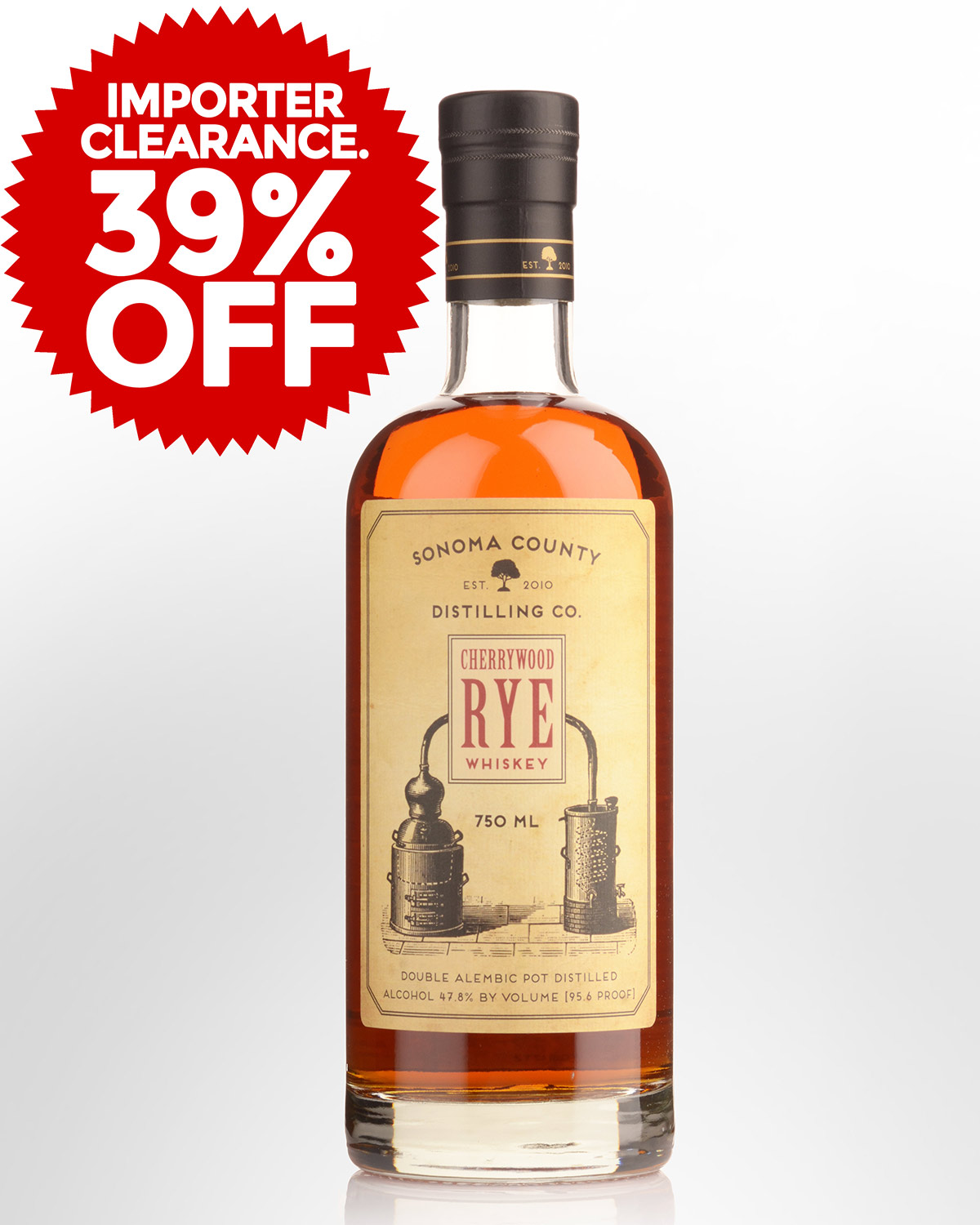 Sonoma County Distilling Co. Cherrywood Rye Whiskey (750ml)
Sonoma, California,
UNITED STATES
"When the rye pops through, it rips..." - Jim Murray's Whisky Bible.
The Sonoma County Distilling Company was founded in 2010 in the heart of the County with a ''grain to glass' approach to production. Every aspect is handled in-house including the mashing and fermentation of grains, direct-fired copper alembic pot distillation, American oak barrel aging, bottling and labeling. It's a philosophy that resonates with many small Australian distillers. Perhaps not surprisingly, several tasters have found strong resemblances here to Belgrove's 100% Rye whiskies from Tasmania.
For this edition, the mash bill is made up of unmalted Canadian rye and wheat, complimented by a hint of Cherrywood-smoked barley from Wyoming. Expect notes of dried figs, toasted almonds, brandied cherries and new leather. Unfiltered and hand bottled, the producers describe it as "...an inventive whiskey meant for those who enjoy the flavours of a classic Manhattan cocktail."
Other reviews... ultra crunchy grain with a Demerara bit... the mouth-watering grain busts through the oaky caramels like Superman ripping off his clothes to reveal his identity; just a little oily and flat. When the rye pops through, it rips... 91 points - Jim Murray's Whisky Bible 2020
...Double distilled in pot stills.... Initially, I encounter mildly alluring scents of dried cherry/prune/black raisins that underscore a dry oakiness that's almost roasted/toasted/charred; secondary whiffs encounter traces of seeds, grain kernel, old saddle leather, black peppercorn. Entry is fresh, acidic, dry to off-dry, raisiny, very cherrywood influenced; midpalate adds tasty flavors of sweetened cereal grain (Grapenuts especially), maple syrup, saltwater taffy, toasted marshmallow. Aftertaste is creamy, lush, bittersweet. Nice job with this one. Highly Recommended. 4 Stars.
- spiritjournal.com, F.Paul Pacult - March 2017