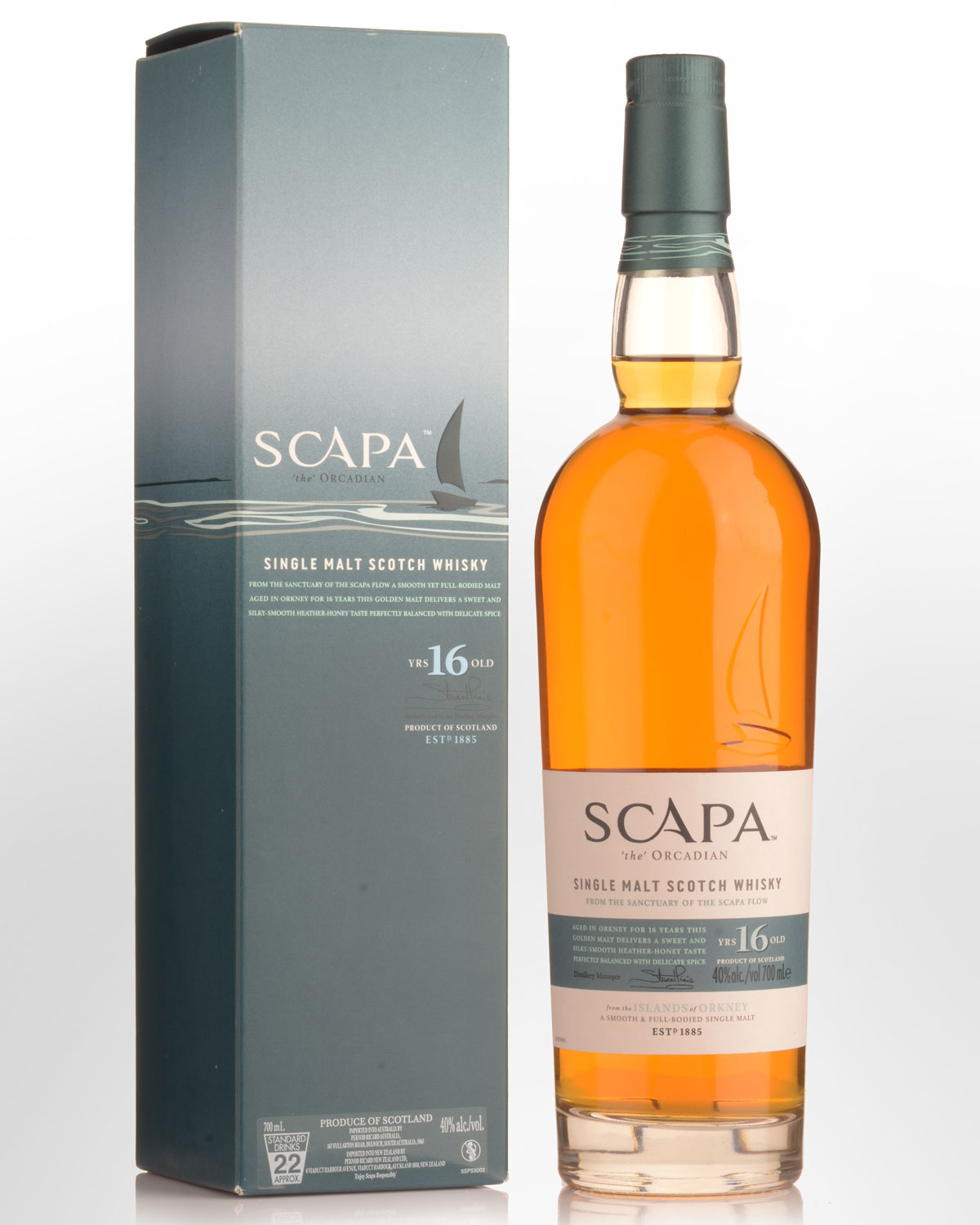 Scapa 16 Year Old Single Malt Scotch Whisky (700ml)
Note: Box has come from a private collection and as such has some minor scuffing/scratches/handling marks.
Off the market for several years now with no signs of coming back, we've secured one bottle of this Orkney gem.
Located on the mainland of Orkney, one of a group of islands off Scotland's northern coast, also home to one of Scotland's most revered distilleries, Highland Park. Scapa's unique flavour profile has been attributed to their water source, one that contains peat, but also involves a comprehensive pipe system from source to distillery which reduces exposure to contaminants on the water's journey from the source. Scapa's barley is malted without the use of peat smoke, yet some peat influence can be found in the whisky, though not in a smoky form, rather it comes across as added depth, richness or sweetness, and sometimes with an almost oily mouth feel. The whisky is matured in warehouses that are very close to the sea, which in some minds gives Scapa it's unusual salty tang. Although this is disputed.
For many, however, Scapa's idiosyncracies have been lost following Pernod Ricard's change of direction for the brand. What was once a charming and unusual whisky appears to be re-positioning itself as a "luxury" label, heavily filtered, and bottled at a lower strength, proudly proclaiming it's bold and smooth characteristics. For some, this new styled Scapa is appealing, for others, a tragedy.
Tasting note: Attractive pale gold appearance. The aroma is almost floral offering up soft scents of dilute honey and a cantaloupe like fruitiness, anticipating an easy going whisky - which this is. Plenty of honeyed malt on entry leads into a medium bodied profile featuring stone fruits, dilute honey, hints of marzipan and cocoa. Gently spicy, buttery mouthfeel on the finish. Aftertaste is clean and deliciously fresh though somewhat brief, fading with traces of toasty malt, dried fruits, hints of brine and soft spices. A departure from the brawnier Scapa we fell in love with a decade ago. 40% Alc./Vol