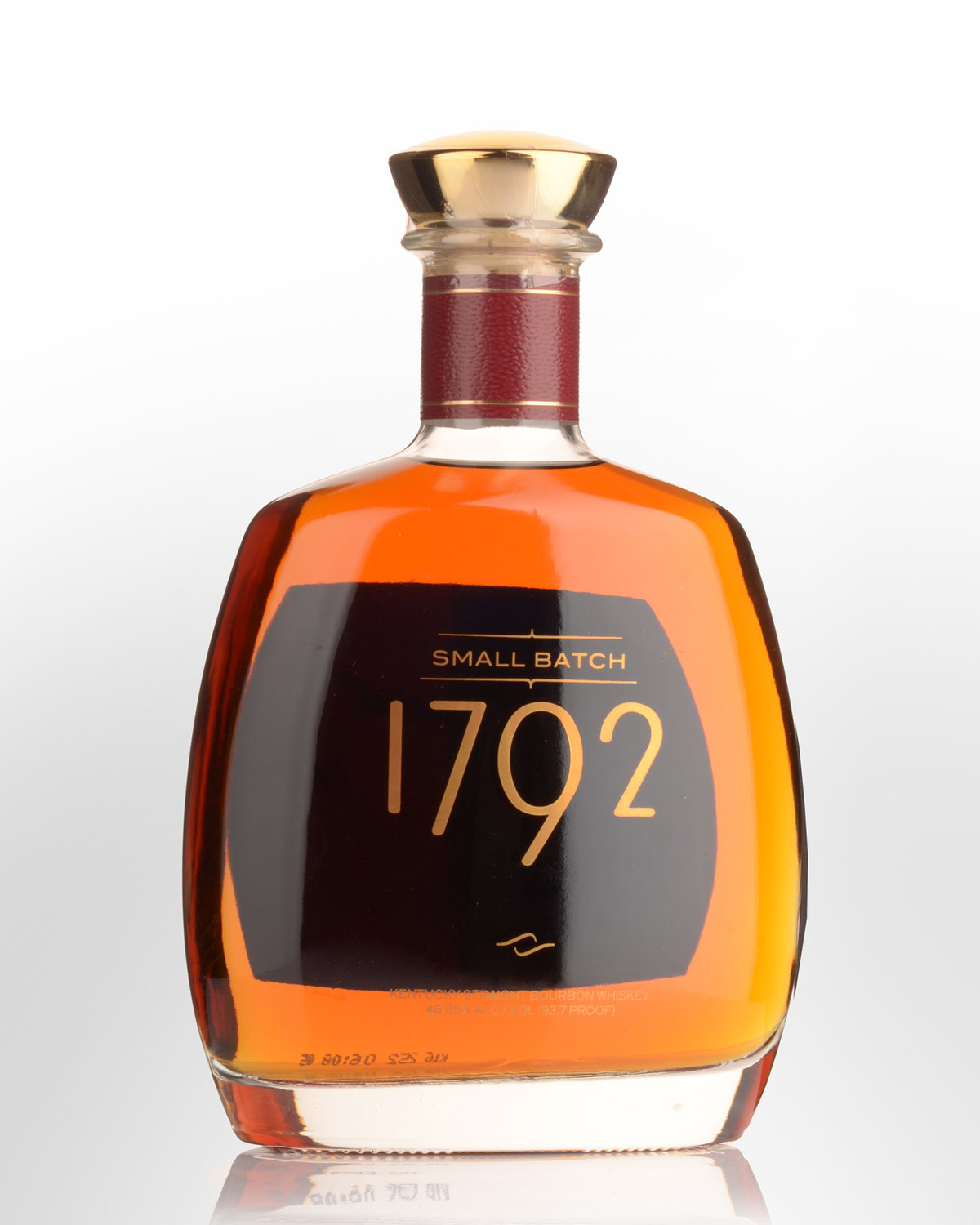 1792 Small Batch Bourbon Whiskey (750ml)
The lower proof version of Jim Murray's World Whisky of the Year 2020.
2020 marks the 17th edition of Jim Murray's controversial Whisky Bible. This year Kentucky claims a triple crown: The "World Whisky of the Year" goes to the 1792 Full Proof Kentucky Straight Bourbon from the Barton 1792 distillery, a whiskey Jim Murray describes as "melodious, mysterious and slightly exotic" with a nose of "near-perfect proportions" and with an "unfaltering" finish.
While stocks of the full proof version are currently unavailable, you can taste the second prize in this more affordable lower ABV bottling. Also very highly rated by Murray et al, it's as close as you're likely to get to the World's finest whisk(e)y of 2020. The mash bill is reported to be high rye (15-25%).
The 1792 brand is named in honor of the year Kentucky joined the United States.
Tasting note: Honey gold colour. The initially dry, leathery, nutty/oaky bouquet gives way to sweeter, softer scents of vanilla wafer, popcorn, oak shavings and peppermint chocolate. A cut above your mainstream Bourbon profile: Sleek and effortless with the sugars reigned in. Nice concentration too. At mid palate there's a noticeable injection of oily rye and cinnamon, being medium dry, crisp, lip smacking rather than caramel or vanilla-heavy. The finish is low-key but deliciously textural, oily, with minty rye, pepper and cocoa. Extra oomph through the final stages would make for an instant classic. As it is, this whiskey displays a degree of elegance and integration that, in its own right, sets it apart in the sub $100 category. A worthwhile addition to every Bourbon lovers collection. 46.85% Alc./Vol.
Other reviews… Now here is a whiskey which appears to have come to terms with its own strengths, and, as with all Bourbons and Malts, limitations. Rarely did whiskey from Barton reach this level of maturity, so harnessing its charms always involves a bit of a learning curve. Each time I taste this it appears a little better than the last… and this is no exception to the rule. Excellent.
94.5 points - Jim Murray's Whisky Bible 2017
1792 Small Batch is Barton's flagship bourbon. Having undergone naming changes over the years from 1792 Ridgewood Reserve, to 1792 Ridgemont Reserve, and finally to 1792 Small Batch... While still branded as 1792 Ridgemont Reserve, the 8 year age statement found on the back of the bottle was removed in late 2013. 1792 Small Batch isn't a great bourbon, but it still offers character within its price range where many other bourbons seem to be blending together into an indistinguishable mob. It lacks the depth of its 8 year age stated predecessor, but the comparison is a moot point. Compared to what's on the shelves right now in the price range, it offers enough of a unique experience to make it worthy of your attention. And its character is both a gift and curse - some will like it enough to make it a staple in their bar while others may downright hate it... If you haven't given 1792 Small Batch a go yet what are you waiting for?
- breakingbourbon.com
...Initially it's a nut-filled experience with toasted walnuts, pecans, and Brazil nuts, but an atypical spice appears that's just lovely. Smoked hatch chiles mingle with rounded notes of cinnamon, créme brûlée, Bananas Foster, orange, canned peaches, caramel chew, and toffee. The pepper spices reappear for a grand finish.
90 points - whiskyadvocate.com, reviewed by: Fred Minnick (Summer 2018)