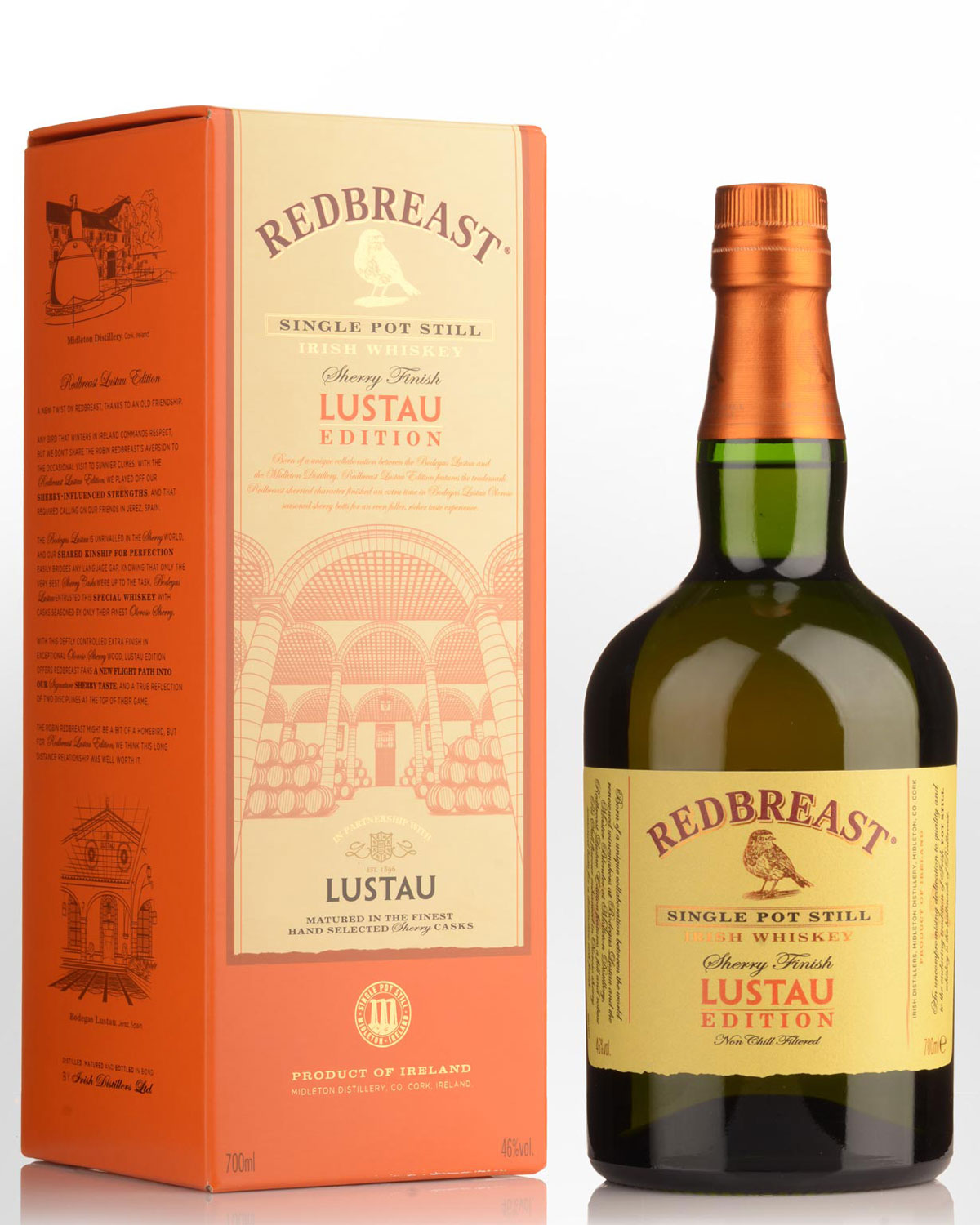 Redbreast Lustau Edition Sherry Finish Single Pot Still Irish Whiskey (700ml)
"A complex pot still of dazzlingly varied texture and intensity - Faultless sherry casks at work." 95 points - Jim Murray's Whisky Bible 2021
Initially matured in traditional bourbon and sherry casks for a period of 9-12 years, this unusual Irish was finished for an additional year in first fill, hand selected sherry butts seasoned with Oloroso sherry sourced from the prestigious Bodegas Lustau in Jerez.
Tasting note:
Shimmering bright gold. On the nose, the pot still character gets an added injection of sherried richness: Fruit cake, toasted marshmallow and muted cinnamon follow through on the palate with dense dried fruits augmenting the barley. Excellent balance; plump, but never overly sweet, the distillery character shining through on the finish.
46% Alc./Vol.
Other reviews…
A complex pot still of dazzlingly varied texture and intensity - plenty of Demerara sugars and chocolate raisin too.... The barley, though, is always on hand. Faultless sherry casks at work.
95 points
- Jim Murrays Whisky Bible 2021
This robust newcomer is a collaboration between the master blender at Midleton Distillery and winemakers at Bodegas Lustau; the whiskey spends time in former oloroso Sherry barrels. Big, spicy flavors sweep over the palate in waves: vanilla, waxy honey, apple butter, dried apricot and dried fig, drying to chamomile tea and oak midpalate, and winding into a rich honey finish.
46% Alc./Vol.
91 points
- wineenthusiast.com
The 120 year old sherry house Lustau originally operated as an almacenista, but now produces a broad portfolio of wine styles in Jerez. The nose is intensely fragrant, bursting with fat dates and squidgy prunes, red apple and Battenburg cake. It's fruity, yet bone dry, with oak, walnut, and spices. This is full-bodied yet refined Redbreast: the Spanish oak sherry butts shaping the red berry fruits, apples, marzipan, and creamy yet oily consistency. Clean, sweet oloroso finish. Qué delicioso!
93 points
- maltadvocate.com , Reviewed by: Jonny McCormick (Winter 2016)
...Medium golden amber color. Floral, fruity aromas and flavors of geranium, roasted almond, fresh melon and ripe red apple, and semisweet baking chocolate with a slightly chewy, dry-yet-fruity medium body and a hot, delightful, medium-long rice pudding with cinnamon and amontillado sherry, banana leaf and coriander chutney, bananas foster and cherry candy, and candied yams and Italian leather finish. A strong and sherry influenced pot still whiskey that will be a great player in cocktails or as a sipper.
88 points
- www.tastings.com