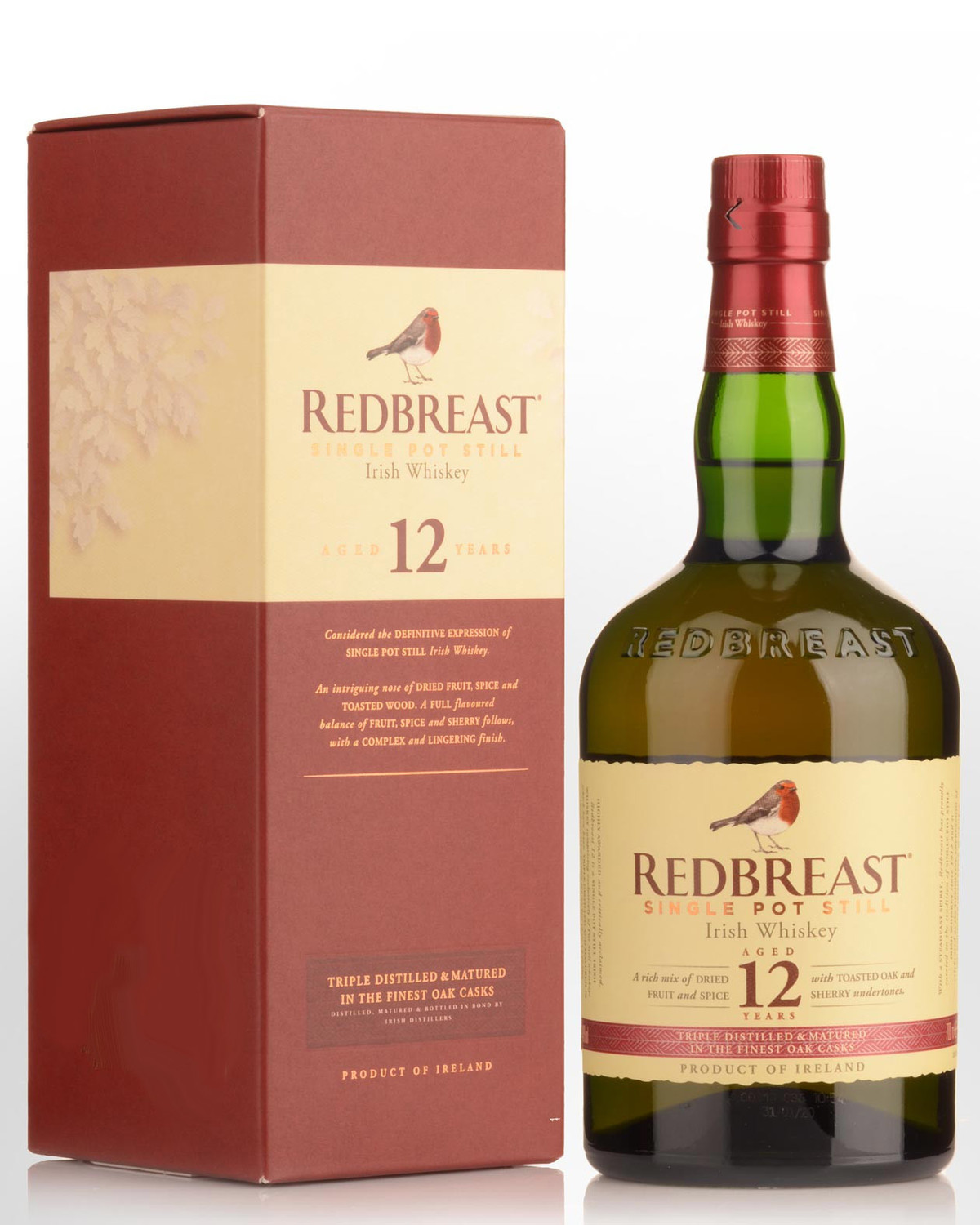 Redbreast 12 Year Old Single Pot Still Irish Whiskey (700ml)
This is the World's Best Whisky!

Drinkstrade.com.au have reported that Redbreast 12 Year Old has won the World Whisky Trophy at the International Wine and Spirit Competition (IWSC) 2019. The competition awarded Redbreast 12 an impressive 98 points, narrowly beating world whisky competitors from Australia, South Africa, Denmark, India, Taiwan and Switzerland, among many others.

The judges said: "It starts with a gorgeous nose, a fantastic composition of aromas all complementing each other. Think of roasted coffee, toffee apples, malt and warm Christmas spices. The palate is bold but very elegant with a nice balance and all in order to a great finale with dried fruits, candied oranges and sweet spices."
For decades, serious whiskey drinkers drank Irish "blended" whiskey, mixing it with cola or adding a dash to coffee. But, John Hansell, editor and publisher of Malt Advocate magazine, says that's changing. "The line between Irish whiskey and Scotch whisky has become blurred," says Hansell, since Irish whiskey companies like Bushmills and Jameson have expanded their range to include deluxe whiskies from aged blends to pure pot stills and their own brand of single malts. "The top Irish whiskeys are just as good as many single-malt scotches. It's too bad more people aren't aware of how complex some of these whiskeys have become."
Here's a case in point. From Irish Distillers Ltd, Redbreast is a 'Single' unblended, pure pot still Irish whiskey made with malted and unmalted barley which has been triple distilled.
Tasting note: Deep, bright brassy gold. Powerful, sensuous aromatics, at first reminiscent of creamy soda then vanilla wafer and sweet cereals enter giving this a Bourbon slant. Entry is soft and light. Mid palate turns deliciously creamy with semi sweet, toasty cereals and brandy cream sauce flavours superbly counterpointed by spicy, drying oak. Finishes pure, crisp and dry with terrific length as the vanilla wafer biscuit again emerges followed by a late creme-caramel fade. An Irish with soul and distinctive style, this also offers a mouthfeel that's uncommon. Its lightness of body combined with depth of flavour make for a terrific aperitif. 40% Alc./Vol.
Other reviews...Very elegant, complex, and stylish. Honeyed and silky in texture, with toffee, toasted marshmallow, nougat, maple syrup, banana bread, and a hint of toasted coconut. Bright fruit and golden raisin blend in nicely with the layers of sweetness. Impeccable balance and very approachable. Classic Irish whiskey! (Value Pick) 96 points
- maltadvocate.com, (Vol. 19, #4) Reviewed by: John Hansell
... Probably the softest Redbreast delivery of all time... a Cadbury's chocolate and fruit and nut finale with grain being surprisingly reticent; lots of toffee and vanilla late on. One of the most docile and pacific Redbreasts I've encountered in the last 30-odd years. Lovely, though.
93 points - Jim Murray's Whisky Bible 2021