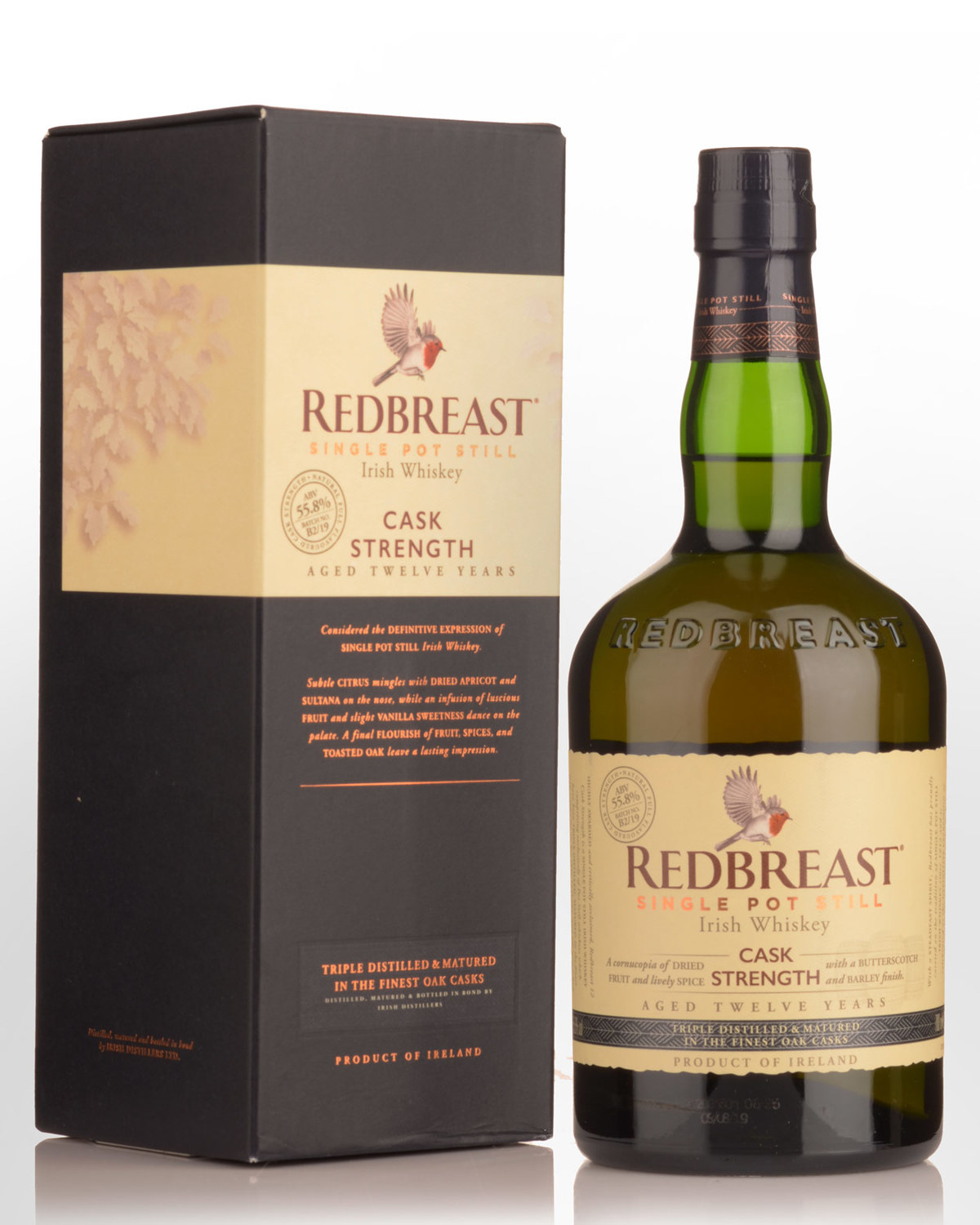 Redbreast 12 Year Old Cask Strength Single Pot Still Irish Whiskey (700ml)
"...blarney-free Irish perfection. worth hunting this bottle down for something truly special." 96 points - Jim Murray's Whisky Bible 2021
NB: Alc % will vary from batch to batch
Other reviews... Irish Distillers has already released two 90+ pot still whiskeys this year, but this is the knockout blow, an immense take on the wonderful Redbreast. The nose gives little away, all damp autumn leaves and fermenting forest fruit, but on the palate it's a fireworks display, a colorful mix of apple and pear, berries, vine fruits, chocolate liqueur, and oily pureed fruit. ...I can't think if I've ever tasted a better Irish whiskey. 96 points -whiskyadvocate.com (Vol. 20, #4) Reviewed by: Dominic Roskrow.

...Just about the ultimate in Irish whiskey noses...This is Irish Pot Still on steroids... 96 points
- Awarded: 'Irish Whiskey of the Year 2013', Jim Murray's Whisky Bible 2013.
Scotch whisky is no longer king. Where not long ago 20 cases of it sold for every single case of Irish, in the first six months of 2012, Irish whiskey outsold single malt Scotch on the US market for the first time since the 1930s. Jameson has recently ranked amongst the top 30 of the world's biggest selling drink brands, as well as been the world's fastest growing drink brand, with a sales increase of 750 percent since the late 1980's.
Irish whiskey is undeniably big. Yet it remains attached to some small minded misconceptions. Is it really different at all?
Almost anyone could be forgiven for making the naive generalisation that "Irish Whiskey is smoother than Scotch". That's because the vast majority of Irish Whiskey made and consumed (around 90%) is of the blended kind - mostly unpeated and triple distilled. Just like their blended Scotch counterparts, these are inherently smoother and lighter in style. "Smoother & Lighter" is also the message that leading marketers of Irish Whiskey have been ramming into our heads since the 1960's.
If you've only experienced entry level Jameson's or Tullamore Dew, you're not going to have much perspective on the matter. But even seasoned whisky drinkers remain ignorant of key facts. Like most other whisky producing countries, there's more than one category been made in Ireland. Apart from the blends, there are Grain, Single Grain, Single Malt, and Single or Pure Pot Still whiskies. One of these styles is unique to Ireland. Ironically, it's the very preponderance of blended Irish in the market that has been the primary cause behind several Irish Whiskey misconceptions. Here are three. There are others.
1: Irish Whiskies are always triple distilled (and so lighter in flavour). Not all of them. (What is true is that the more times one distills, the spirit tends to retain less of the congeners (or flavouring elements), so the whiskey seems lighter to the palate). Some Irish distilleries double distill, not triple (likewise some Scotch distilleries employ three distillations, rather than the more common two). Don't let anyone try to tell you that all Irish whiskey is triple distilled, and all Scotch is double distilled; both are incorrect.
2: Irish Whisky is never peated. According to Jim Murray, author of "Classic Irish Whiskey', this is firstly historically inaccurate. "As much of Ireland is covered in peat, it's hardly surprising that in the 19th Century, smoky whisky from inland distilleries was not uncommon. Like Scotland." Secondly, in the present day, there has been a quiet resurrection of this arguably 'Traditional' Irish style. If you're partial to smoke, try 'Connemarra' at Cask Strength.
3: Irish Whiskey is never a Single Malt. It's true that the market for Irish whiskies that aren't blends is relatively small. But some of the more exciting Irish releases of the last few decades have been Single Malts (Connemara, Knapogue Castle). Like their Scotch equivalents, these are produced entirely from malted barley distilled in a pot still. A delightful Single Grain Whiskey now sells under the Greenore label.
There are other subsidiary and less prevalent Irish Whiskey myths - such that, all Irish is matured in Sherry casks (not true). Or that Ireland predates Scotland in whiskey production (unclear). However, there's really only one answer to the question "Is Irish really different at all?" The point which clearly differentiates some Irish from whiskey produced anywhere else in the world is straightforward: The only whiskeys that are emphatically and uniquely Irish are of the 'Pure Pot Still' variety (also referred to as Single Pot Still).
In Scotland, a practice of using malted and unmalted barley in order to pay less tax on malted grain had persisted for some time. When this ceased in Scotland, the Irish carried it on. Irish Pure Pot Still whisky is simply that - made from a mixture of malted and unmalted barley, completely distilled in a pot still. They can be good - at times astoundingly so. In fact, if you want to try some of the UK's most brilliant new drams, you cannot go past the likes of Redbreast or Greenspot. It's not just our opinion, but one resounded amongst whisky writers around the globe. (Jim Murray and John Hansell - of maltadvocate - are in rare agreement here).
Irish Pure Pot Still whiskies are not only a category to themselves, they are amongst the hidden gems of the whisky world, and by world standards, remain relative bargains to boot.