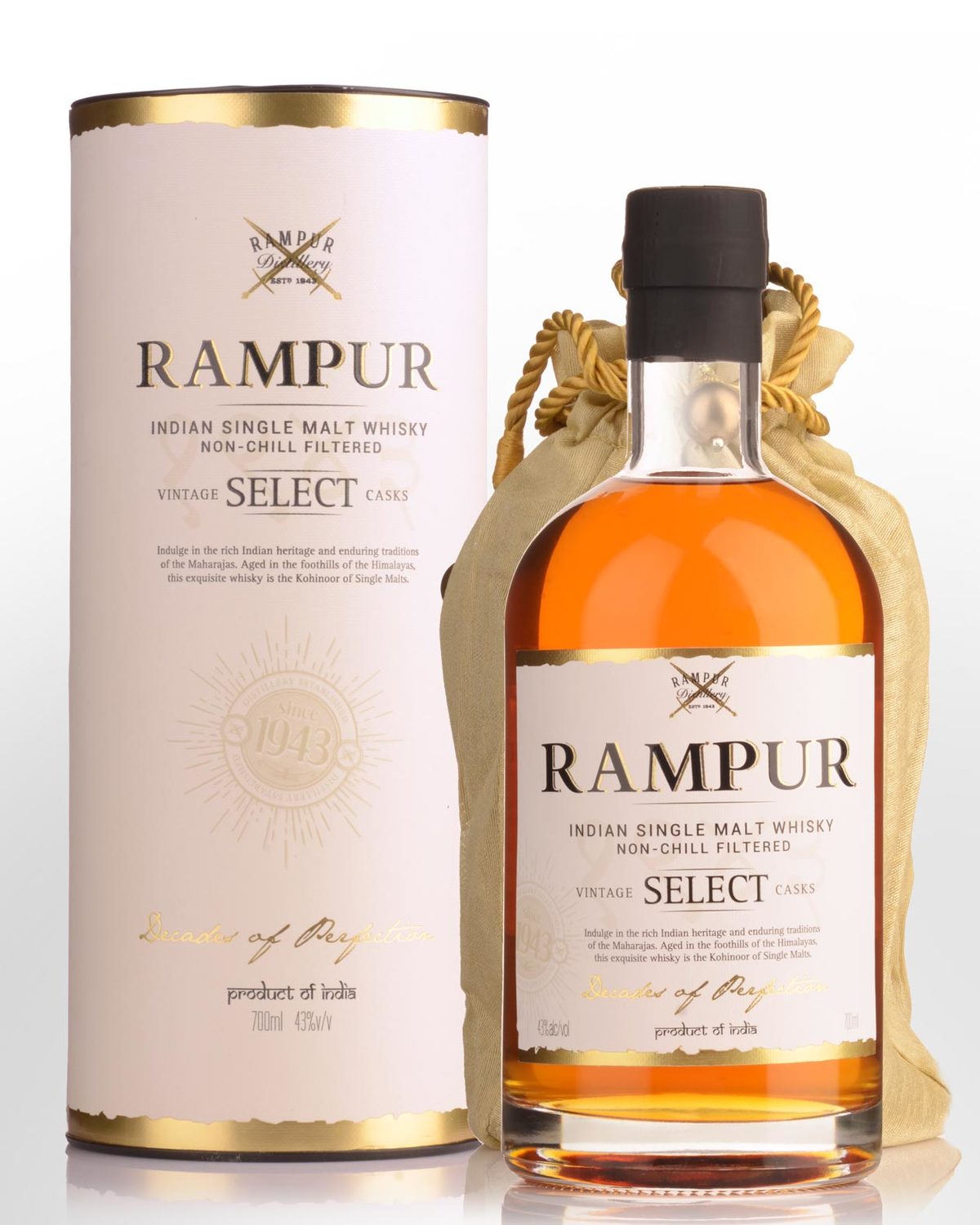 Rampur Single Malt Indian Whisky (700ml)
INDIA
A new arrival from one of the largest distilleries in India and also the country's oldest, dating back to 1943. Based in the foothills of the Himalayas, Radico Khaitan follow traditional Scottish production methods with the final whisky bottled non-chill filtered. This further cements India's place as a world class producer. Tasting note: Deep brassy gold. It sounds almost like auto suggestion to find tropical notes and exotic spices in a whisky from India, but that's what you get here: Varnish, then hints of dried tropical fruits and a touch of feijoa in a floral-soft bouquet. 3-4 minutes highlights plush malt, Turkish Delight, cinnamon and vanilla. The unusual aromas are followed in a rounded, semi-sweet delivery suggesting plum, dark chocolate and vanilla, ending clean and fresh. Again, feijoa? Hints of nectarine? Peppers up through the aftertaste. As an introduction to premium Indian whisky, you won't find better. 43% Alc./Vol. Other reviews… The distillery, founded in 1943, lies in Uttar Pradesh in the Himalayan foothills where they have been making whisky for 25 years. Chocolate, coffee, dried cranberry, and dark toffee notes. Across the tongue, chocolate-dipped dried fruit and citrus peel, apple, strawberry, raspberry, malt, and glimpses of cinnamon, ginger, and star anise. Great quality whisky, the flavor plateaus through to a medium-length finish of ginger with bitter cocoa notes.
91 points - whiskyadvocate.com Reviewed by: Jonny McCormick (Spring 2017) ...a curiously scented malt, as though it has run from stills through the wardrobe of a millionaire and into the cask. Mainly malty, but the gentle fruits, mango in particular, are quite a sexy surprise.
89 points - Jim Murrays Whisky Bible 2018 93 points Double Gold at the 2017 World Spirits Competition. ... Indian-grown six-row barley provides biscuity malt aromas that undergird a cornucopia of tropical melon, papaya, and soft yellow jackfruit. The oily palate coats the mouth with cocoa, grilled pineapples, hibiscus blossoms, and tingling spices. With its exceptional, long finish, Rampur may set America on a path to truly appreciating Indian whisky's style and terroir. —Susannah Skiver Barton More about Rampur... Launched in Las Vegas, USA in 2016, this Indian brand is now available in over 20 countries including Canada, UK, France, Sweden, Germany, China, Hong Kong, New Zealand and Singapore. Rated amongst the Top 20 Whiskies of 2017 at #5 by Whisky Advocate, the team at Rampur have never been in a hurry to launch a Single Malt. The distillery manager comments, "Only once confident of having a very fine product and adequate stock, did we decide to venture into our own Branded Single Malt Whisky. The name was no brainer – it had to be RAMPUR. But a lot of thought went in to the packaging. We wanted to have a simple yet elegant pack. We are very proud of the fact that it is an INDIAN product and we wanted to highlight the Indian origin in our packaging as well. While the product itself says "Indian Single Malt", there is subtle usage of Devnagari script, Silk pouch with embroidery adds to the Indianess. We are not making any age claim on the product though it is matured for a very long time in harsh Indian weather conditions. (Even Scots admit aging in India is ~ 4 times faster than Scotland!!!) We feel age is just a number and should not cloud the consumer opinion. For us the most important thing is that the consumer should like the liquid and desire to have it repeatedly."