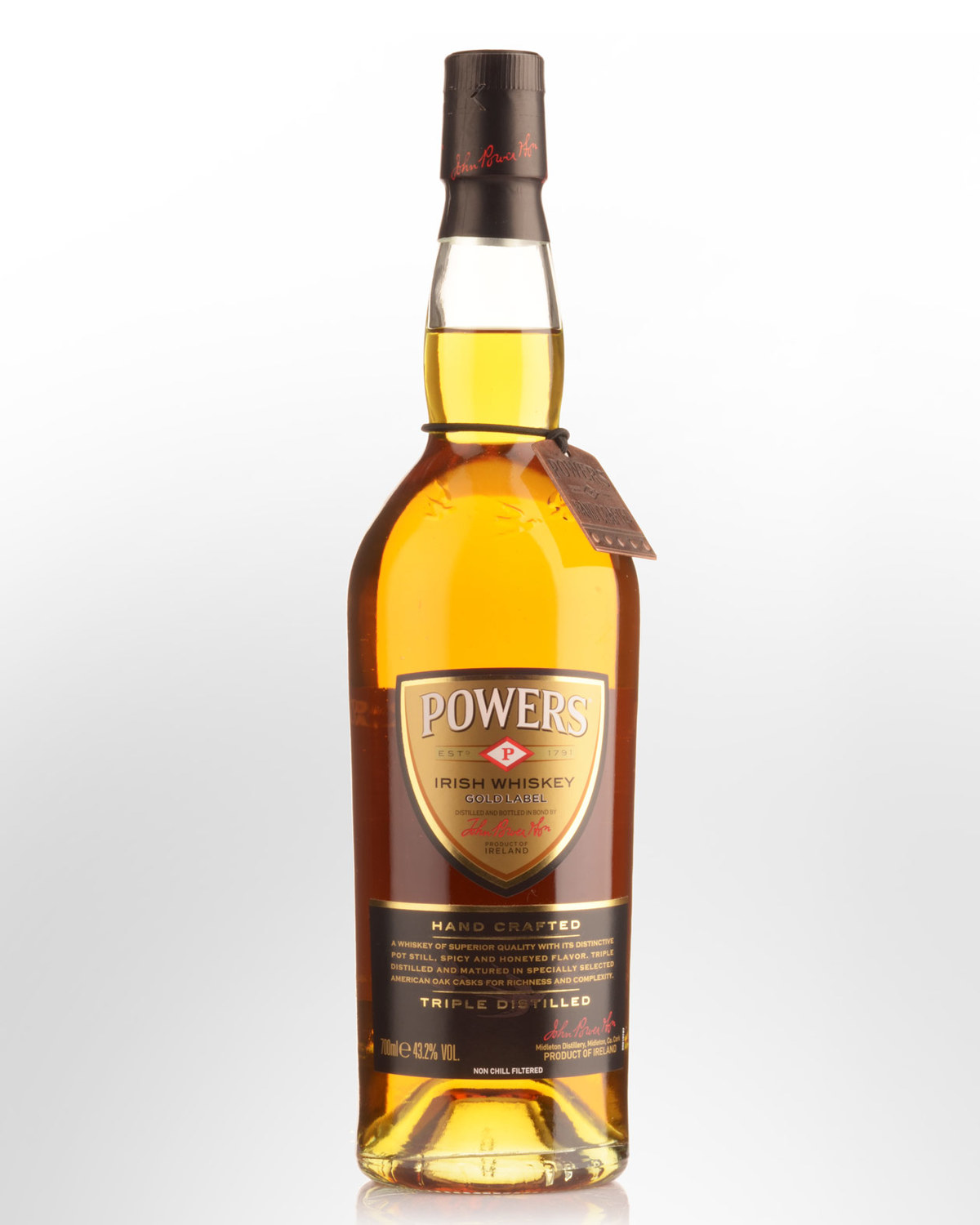 Powers Gold Label Irish Whiskey (700ml)
"Make no mistake: This is truly classic Irish!"
96 points - Jim Murray
Other reviews...
Nose: rugged pot still and beefed up by some pretty nippy grain. Taste: pulsing spices and mouth watering rock hard pot still. The sweetness is a bit unusual but you can just chew that barley...Classic stuff!
96 points
- Jim Murray's Whisky Bible 2020
... Ground cinnamon, coriander seed, nutmeg, mustard seed, spiced meat, and the saltiness of sand-encrusted seashells combine with a powerful honey note, fresh pear, golden sultana, and Cox's apple. Quaker Oats, golden syrup, and chocolate-covered graham crackers with cherries set the scene, though spices quickly engulf them. Perfect harmony is reestablished as it fattens out with cinnamon toffee. Bold, robust, and triumphant: just add a Dublin pub weekend crowd and you're all set.
90 points
- whiskyadvocate.com, reviewed by: Jonny McCormick (Fall 2019) James Power was originally a coaching innkeeper of Thomas Street in Dublin,  when in 1791 he founded a small distillery by converting the hostelry into a distillery. By the turn of the century James was joined in the business by his son John. By 1809 the business had become a limited company under the name of John Power and Son with the father remaining in charge. In 1871 the distillery was rebuilt in classic Victorian style occupying almost 7 acres. It was one of Dublin's most impressive sights employing approximately 300 people. The last member of the Board with the Power name was Sir Thomas Talbot Power who died in 1936, although ownership remained in the family through his sisters. Powers remained a leading player in the industry until 1966 when they merged with the only two remaining distillers in the Irish republic, Cork Distillers Company and their long time rivals John Jameson & Son. Together these three distilleries formed the Irish Distillers Group. In 1989 the Pernod Ricard empire successfully bid against Gilbey's and Guinness-Cantrell-Cochran to become the new owners of the Irish Distillers Group which also includes Bushmills Distillery in the North of Ireland bought by the group in the 1970's. On Pernod Ricard's success the last four members of the old distilling families of Dublin and Cork resigned.
Powers was the first Whiskey company to sell their whiskey in miniature bottles called 'Baby Powers'. Today, Powers is one of the top selling Irish whiskeys sold in Ireland. Originally a pure pot still it is now produced at the Midleton Distillery in County Cork as a blend of triple distilled pot still and grain whiskeys.