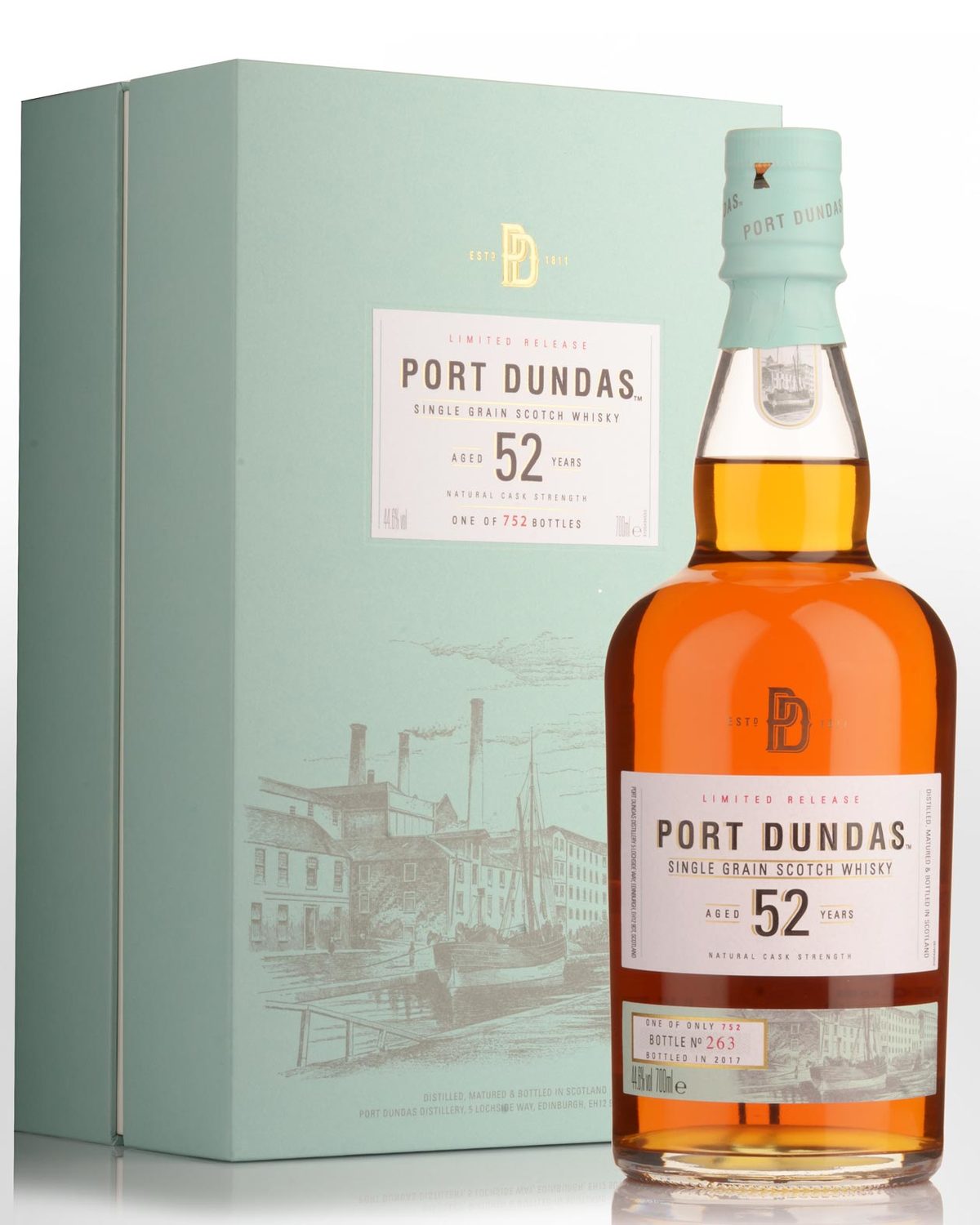 1964 Port Dundas 52 Year Old (Special Release 2017) Cask Strength Single Grain Scotch Whisky (700ml)
A luxurious Irish-meets-Bourbon-meets-Rum style that's a landmark release for the Single Grain category.
One of the highlights of the 2017 collection that takes Single Grain whisky to the next level.
Based in Glasgow, the historic Port Dundas distillery was a big contributor to blends like Bell's, Black & White, Haig, J&B and Johnnie Walker, amongst others. It closed in 2009 after Diageo moved the majority of its grain whisky production to Cameronbridge. For historical context, this remarkable bottling was distilled and filled to barrel in 1964 - the same year the Beatles exploded, the Rolling Stones launched, Cassius Clay won the Boxing World heavyweight championship and the Vietnam War escalated. Limited to just over 700 bottles worldwide
with major UK retailers now sold out
, it is the oldest Port Dundas on record, as well as one of the oldest single grains ever bottled as well as being the oldest whisky to ever be included in the Special Release series (surpassing the Glenury Royal 50 Year Old from 2003). A collector's must.
Tasting note:
Matured in refill American oak hogsheads.
Deep polished brass colour / forms great legs. Stunning depths to the bouquet, redolent of dried coconut / bounty bar in the opening phase; Swirling and air contact develops further richness, drawing out apple strudel, caramelised peaches, cup cakes and vanilla wafer. A luxurious Irish-meets-Bourbon-meets-Rum style evocative of oak shavings, crème caramel and ripe stone fruits with a nectarine-like succulence, the sweetness perfectly countered by drying oak, coconut and delicate spices in a knockout finish. The sustained, high-pitched caramel-vanilla fudge top note is simply sublime.
Extremely limited.
44.6% Alc./Vol. 752 bottles.
Other reviews…
This 1964 distillate has a nose of rich toffee, weighty oak, allspice, antique hardback books, dried apple, cracker bread, and banana chips. A fairy tale taste of red apple perfection, as if Snow White polished it on her skirt. This ripens to encompass gumdrops and lollipops. Golden syrup, lime zest, caramel, and vanilla bleed into a conclusion of nutmeg, oak, and apple peel. An auspicious moment for grain whisky.
90 points
whiskyadvocate.com, Reviewed by: Jonny McCormick (Winter 2017)