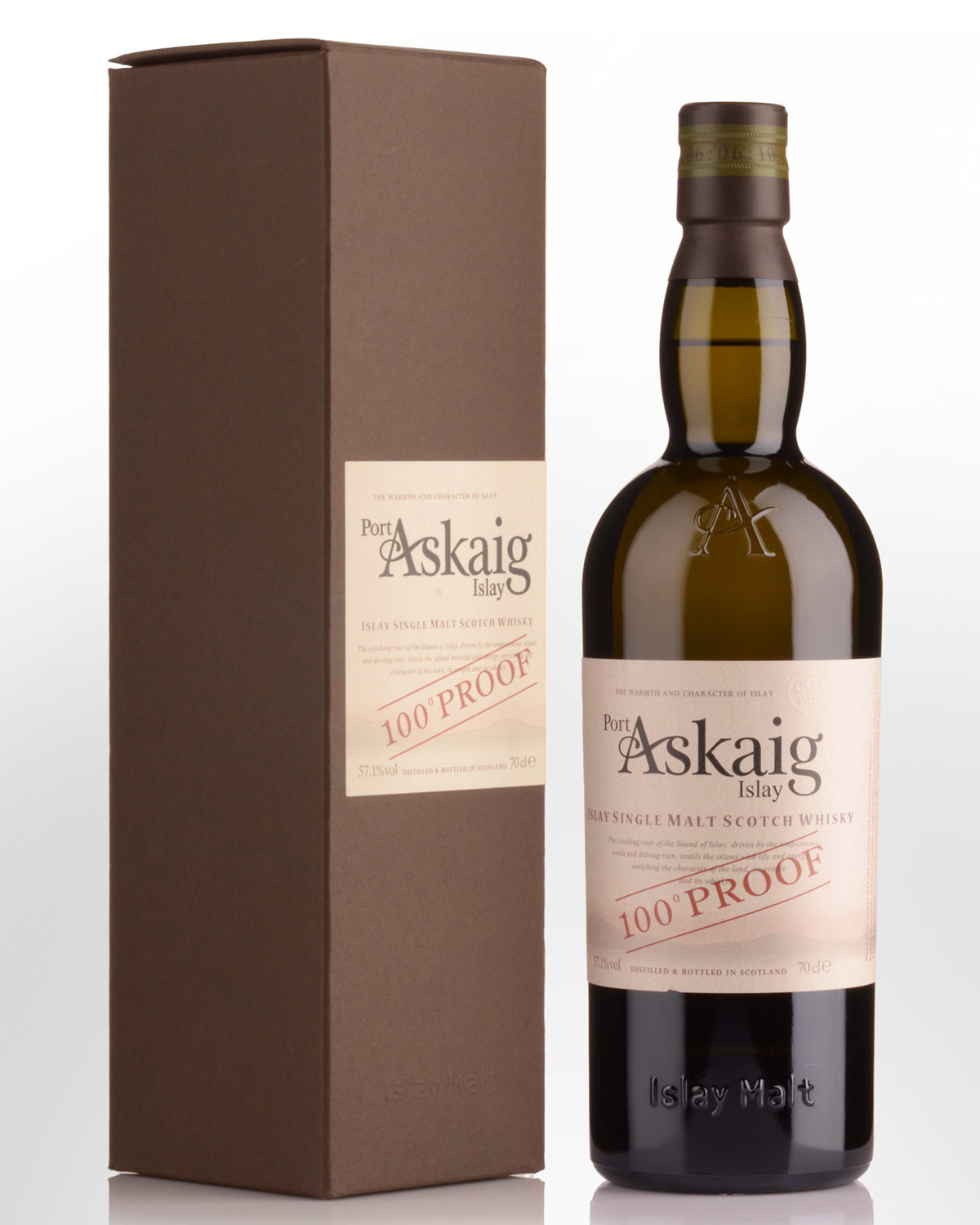 Port Askaig 100 Proof Cask Strength Single Malt Scotch Whisky (700ml)
Jim Murray's 2017 Runner up for Best No Age Statement Whisky of the year (Multiple casks). 96.5 points.
We first tasted whiskies under the Port Askaig label several years ago and found them to be immensely appealing. These fruity-smokey styles are sourced from an "unknown Islay distillery" (presumably Caol Ila) and bottled by Specialty Drinks Ltd. who are also responsible for the "Elements of Islay" indie bottlings. A 100 proof edition was launched in 2015 and has just arrived in Australia ("100° Proof" refers to the traditional system of alcohol measurement - the actual abv here is 57.1%.) As there is no distillery called Port Askaig, this dram has been named after the ancient ferry port and fishing harbour situated on the East coast of Islay. The whisky was matured in refill ex-bourbon casks and bottled without an age statement, though the youngest component is reported to be seven years old. The rest will be considerably older.
Tasting note:
Very pale straw-gold appearance is almost water-like. Nosing detects a sultry amalgam of smoke-infused brine / pepper combined with baked citrus and latent creamy vanillas. The oily, mouth coating delivery sets this apart...the peat perfectly tuned with the thick malt. Viscous and saline to finish, this powers on; the oils oozing sooty peat, hints of cured meats and late jaffa in the aftertaste. Near 60% but you'd never know it. Pick of the bunch.
57.1% Alc./Vol.
Other reviews...
what perfect oak must have been deployed here. No off notes or buzz. Just the insistent and steadying hand of vanilla / butterscotch to add a gentle counter to the spice and smoke. ; just exemplary, high quality Islay; a must experience malt. If you find a more beautifully paced, weighted and elegant Islay this year, I'd really like to hear about it."
96.5 points
- Jim Murrays Whisky Bible 2018
Very enjoyable, and definitely great value for money. The finish falls off a little, and it's not overly complex, but if you dig these flavours (like I do), it's definitely a winner! Pure, unadulterated Caol Ila, but nicely amplified and concentrated over the regular official bottlings. Lovely. I must admit I sometimes shy away from independent and/or mystery bottlings that I'm not familiar with, but there's no reason to do so in this case. These guys clearly know what they're doing. If you're a fan of Caol Ila but you wish they'd turn up the volume, or you've had your fill of the standard bottlings, this is a sure-fire way to satisfy that desire.
3.5 Stars
- peatedperfection.blogspot.com.au