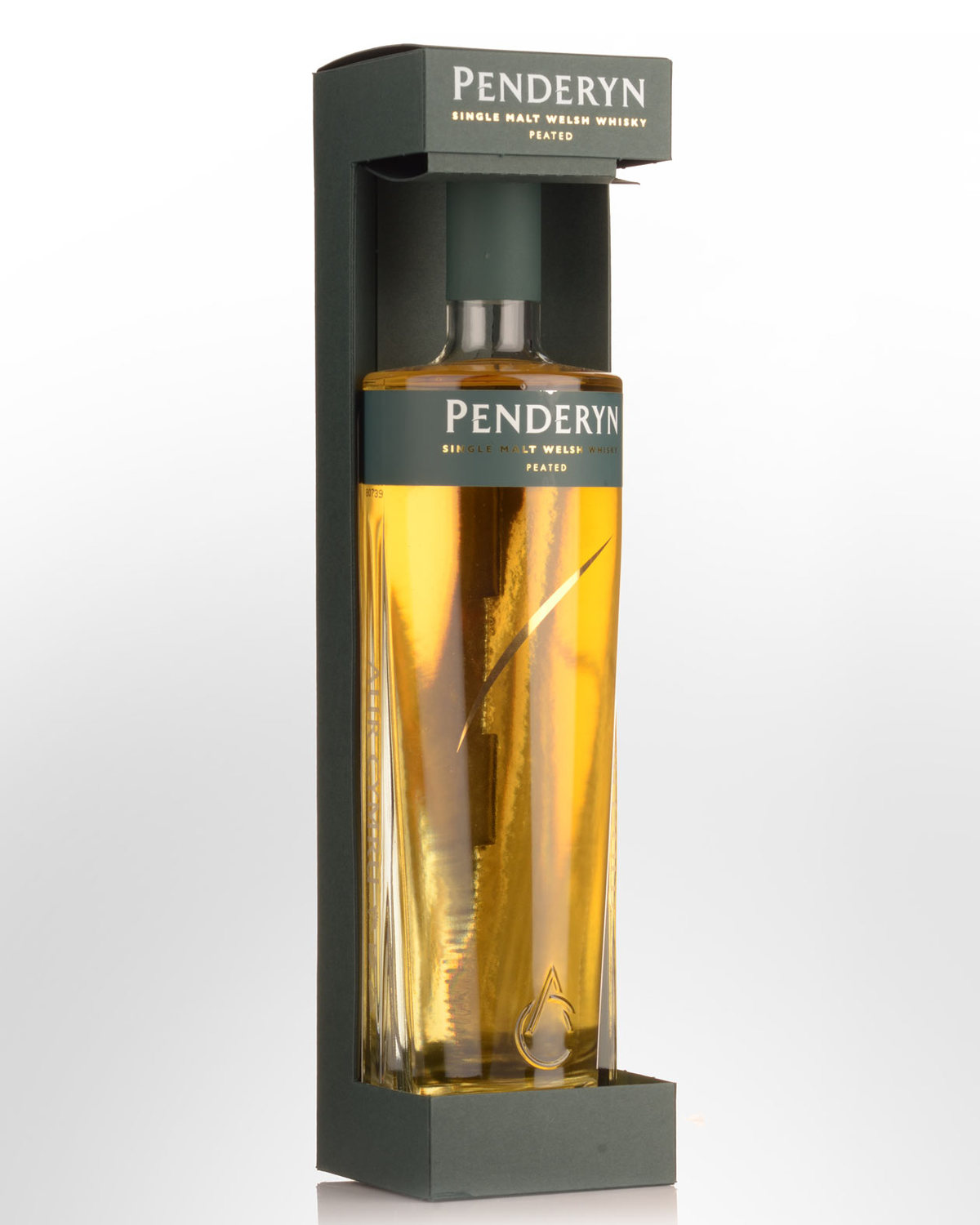 Penderyn Peated Single Malt Welsh Whisky (700ml)
"...stunning delivery... amazingly delicate finale." -
94.5 points, Jim Murrays Whisky Bible 2020
Penderyn Peated is released regularly in small batches (around 5,000 bottles annually) therefore each bottling will vary slightly.
Other reviews...
stunning delivery... amazingly delicate finale... the smoke covers this malt like a satin negligee over the contours of your favourite body.
94.5 points
- Jim Murrays Whisky Bible 2020
This rather good after-dinner dram is finished in peated Islay whisky casks. It is not a peated Welsh whisky, but don't let that stop you. With its refreshing aromas of lemon floor polish, pine needles, gentle antiseptic, smoked fish, and breezy beach bonfires, we can cheerfully drop the pedantic objections to its name. This successfully delivers a wallop of spicy smoke, lemon, and vanilla biscuits, a bit like consuming creamy rice pudding beside a smoking peat kiln.
90 points
- whiskyadvocate.com, Reviewed by: Jonny McCormick (Winter 2019) Like the other Celtic nations, Wales has a long history of distillation dating back to the 4th century with a man known as Reaullt Hir distilling on Bardsey Island off the North Wales coast. The ingredients of this early spirit, known universally as "aqua-vitae" or 'gwirod' in the Welsh language, was a mix of barley, yeast and honey distilled to make a basic raw spirit. Much later in 1705 a small commercial distillery at Dale in Pembrokeshire opened. This was owned by Evan Williams's family who later emigrated to the USA and helped found the Kentucky Whiskey Industry. (His name is attached to a number of high quality bourbons to this day). In September 2000, history was made when the first distillation was carried out at The Welsh Whisky Company's 'Penderyn Distillery'. Launched on St David's Day to huge critical acclaim from both "ordinary" consumers and acknowledged whisky experts, including whisky writer, Jim Murray, who had the privilege of been the first person outside the company to analyse the new product.
"I told them they were tasting not just a historic malt whisky, but one that deserved the highest praise in its own right."
The Welsh Whisky Company uses a unique design of still - a single 'pot' beneath a tall rectifying column was developed by a team led by Dr David Faraday (a descendant of Sir Michael Faraday, discoverer of the electrolytic cell). Whilst Scottish distilleries generally use two conventional stills for their production, and the Irish three, the technology developed at Penderyn enables an extremely 'clean' and flavourful spirit to be produced from the single still. The design is also extremely energy efficient. Malted barley wash to Welsh Whisky's specification is obtained from the well-known Welsh regional brewer, S A Brain & Co. The majority of the whisky is matured using casks sourced from Jack Daniel's, Evan Williams and Buffalo Trace, and typically bottled at 46% without chill filtration.