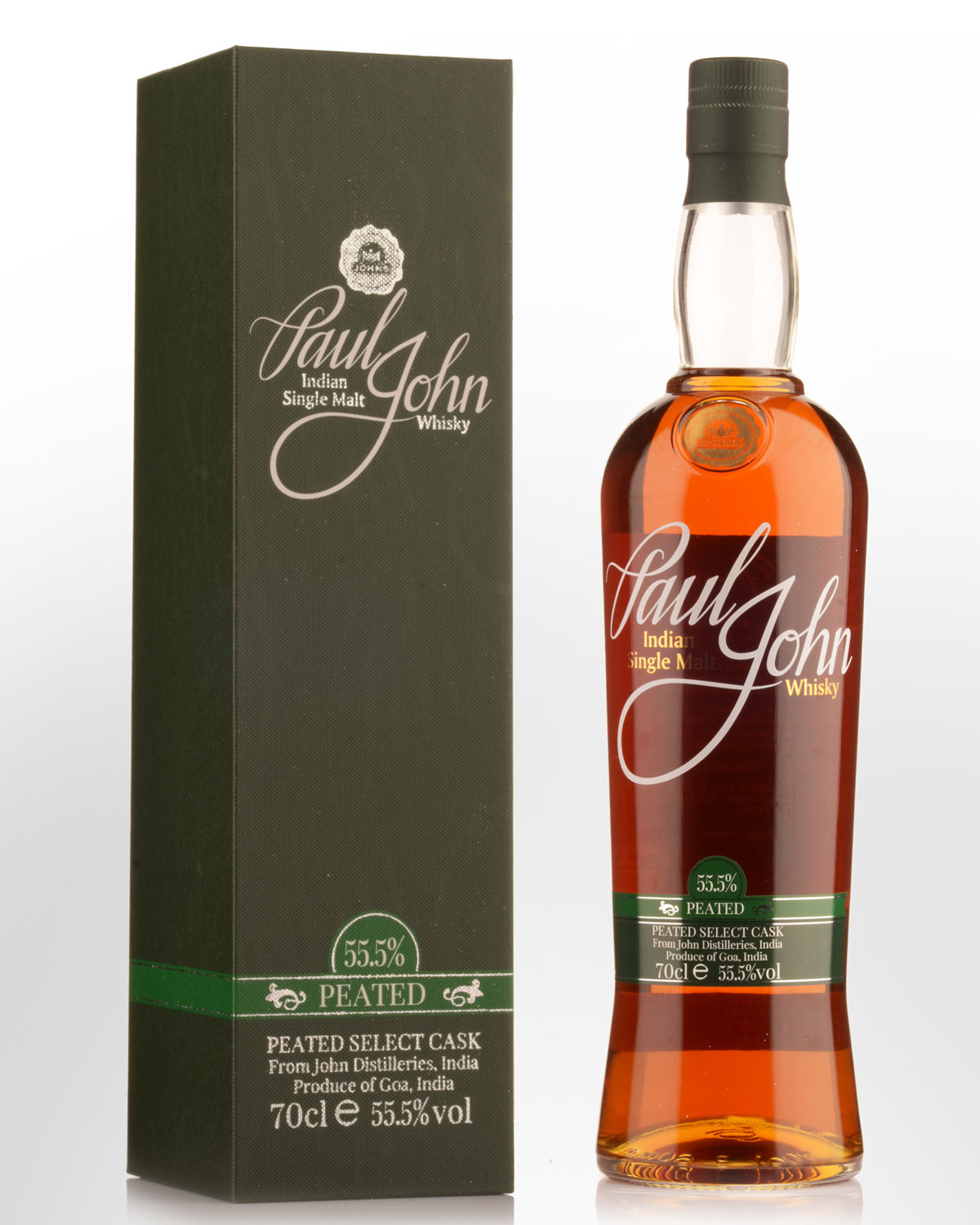 Paul John Select Cask Peated Cask Strength Single Malt Indian Whisky (700ml)
INDIA
Fans of all things peaty will find this difficult to resist. Not only brilliant whisky, but a new bargain in its genre.
Located in the tourist region of Goa, John Distilleries have been producing huge volumes of blended whisky since 1992. Original Choice, one of their top brands, sells over one million cases a month. The Distillery entered the single malt scene in 2008 as a 'pet project' that like Amrut before it, has quickly gained world wide attention. Distiller Michael John employs local ingredients, although, the peated releases source peated malt from Scotland. The maturation periods in India are reminiscent of those in many Australian distilleries. After only three years, a hogshead has 150 bottles left in it (compared to around 350 in a Scottish equivalent). Not surprising given that the average temperature in Goa is around 31 degrees celsius.
Paul John's cask strength variations are sold under his "Select Cask" label. The quality is fabulous - so are the prices. We recommend tasting both straight before adding a tiny amount of water (literally a few drops) in order to get the most out of them.
Tasting note: Bright brassy gold. Lovely sweet, cocoa edge to the peaty bouquet; second pass finds wet wool and barley sugar combining to great effect. Further aeration highlights oatmeal and honey interchanging with earthy peat. A farmyardy aspect follows as lucerne mulch and hints of manure, and later still, cough lozenge and faint citrus. Mouthwatering, sweet entry leads into a superbly integrated, concentrated, peppery profile; Winds up with with Fisherman's friend, liquorice root, dried fig and salivating, creamy malt. Peat lingers in the fade. Complex, poised and powerful, this precocious effort seems to only get better each time you taste it - fans of all things peaty will find it difficult to resist. Not only brilliant whisky, but a new bargain in its genre. 55.5% Alc./Vol.
Other reviews... A peated malt whisky which will make a few people sit up and take even further notice of Indian Whisky. World class. 96 points - Jim Murray's Whisky Bible 2021
Peat, biscuit, fir tree sap, oil and fruit cake, a tightly woven fabric, smoke pumped through a mesh of sweet, rich, alcohol sodden raisin. All power to the black fruit bomb. A mouth filling whopper of a whisky, the smoke riding the sweet as it billows up and back, the finish is ever so long, a fragment of cinnamon tempering the sugar. It's Christmas less the glitz. It's a winter love bomb, a mulled beauty, a deep and hearted pagan of a drink. Category Winner - worldwhiskiesawards.com
...Earthy notes, with plain chocolate nibs, malt drinks, and a little leather. There's a subtle smoky air; nothing too astringent or overpowering. It's great to try if you're new to peaty whiskies or were put off by a peat colossus from Islay. Fig, plums, and soft prunes, though it's mouth-puckering neat, so cut it down. Then, the fruit rounds out beautifully, allowing some gentle spices to shine through with some coffee bean notes at the end. Terrific stuff.
88 points
- whiskyadvocate.com (Summer 2015) Reviewed by: Jonny McCormick