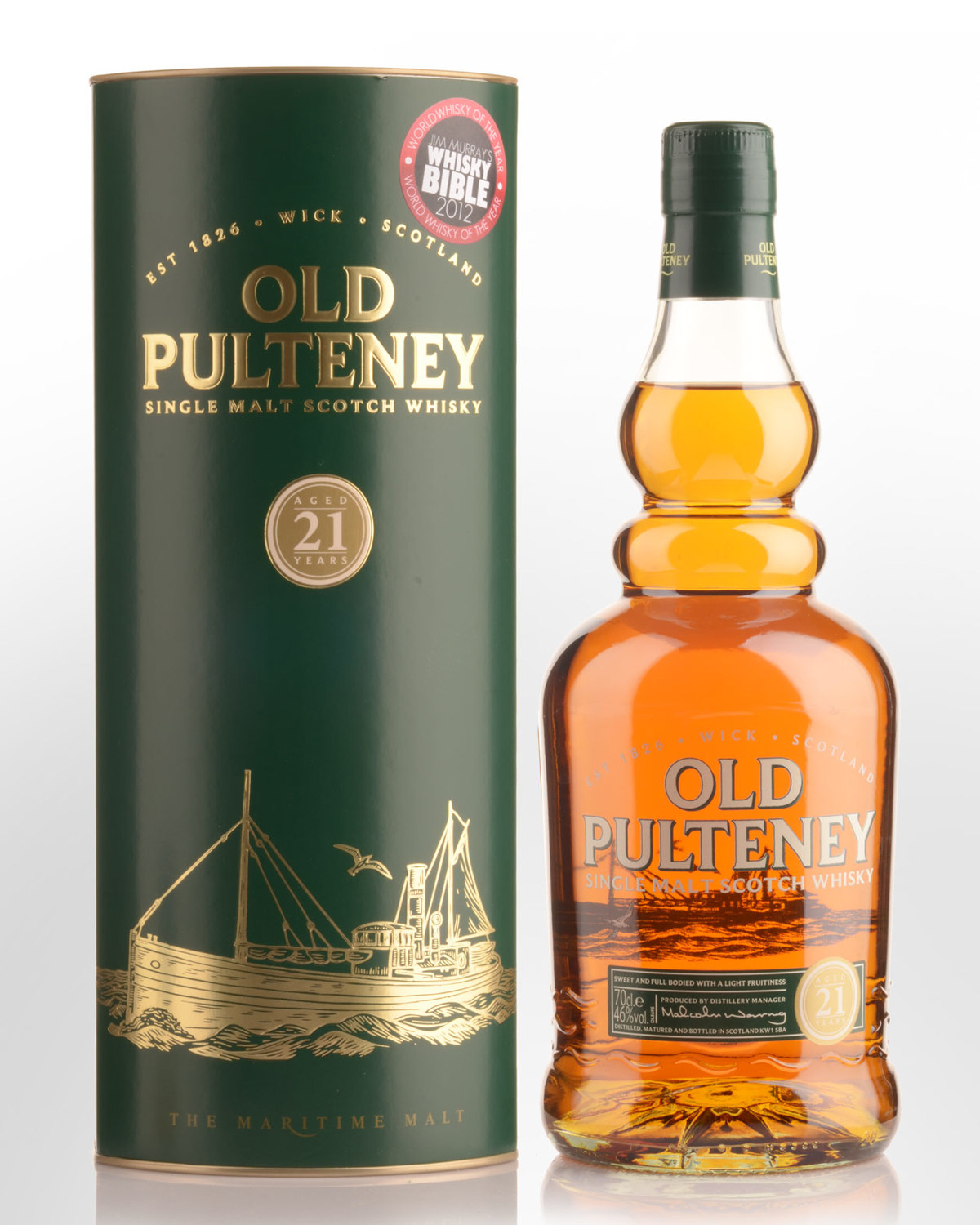 Old Pulteney 21 Year Old Single Malt Scotch Whisky (700ml)
DISCONTINUED.
Note: Boxes have come from a private collection and as such may have some minor scuffing/scratches/handling marks.
Scoring a record-equalling 97.5 points out of 100, this is only the third time that a single malt has ever won the prestigious award, and Pulteney is just the second Scottish distillery to do so.

Pulteney distillery dates back to 1826, and has always been prized as a blending whisky. Yet, it's still relatively unknown as a single malt. Mr Murray, who has long admired the Highland malt, hopes that will now change - though he is the first to admit that even he was surprised when he encountered the 21-year-old.
He says: "I was on the home straight after four months of continuous tasting. By that time I was pretty sure I knew what the winner was going to be. With what I still had to taste it needed something exceptional to knock the leader off its perch. But that's exactly what happened. To be honest, I was amazed. I knew the Old Pulteney 17-year-old was likely to be exceptional, and it was. However, I had never come across a Pulteney 21-year-old like it. Talk about coming out of left field…I first went to Pulteney nearly 25 years ago and I have never known them to produce anything other than top rate malt. Owned by a relatively small company, without the financial muscle of the major whisky barons to market their malts on the global stage, I hope that this award helps Pulteney to become better known around the world; that is the whole point of my Whisky Bible, after all".
As with the 17 year old, this expression is matured in ex-bourbon wood and ex-sherry wood casks. The latter being of American oak which mostly previously held Fino sherries.
Tasting note: [2011 bottling] Bright gold appearance with some very fine sediment evident. Opening aromas offer a seductive amalgam of honeyed malt, cocoa and vanilla. Aeration brings forward a delicate fruitiness (grape / pear) and later honeycomb. The palate is initially disjointed and spicy and benefits from some time in the glass, becoming more fruity, luscious and mouthfilling. Honey and sweet malt repeat at mid palate, followed by a trace of peat. There's a faint suggestion of sulphur. Finish is dry and restrained, followed by a delicious butterscotch note that trails off into the drying aftertaste. Intriguing whisky, but moreso than the other Pulteneys, this is definitely one that rewards tasting and re-tasting to get the most out of it. 46% Alc./Vol.
"The 21-year old Old Pulteney absolutely exploded from the glass with vitality, charisma and class." - Jim Murray 2012
Other reviews...Rich golden amber color. Rich aromas of spicy apple and peach pies and buttery praline follow through on a round, satiny entry to a dry-yet-fruity full body with superb depth and vitality. Finishes with cascading waves of lavish brown spices, heather, mossy stones, and pepper. A robustly flavorful, velvet brick of a whisky.
International Review of Spirits Award: Gold Medal
RATING: 94 points (Exceptional) www.tastings.com
Click here to learn more about Scotch Whisky