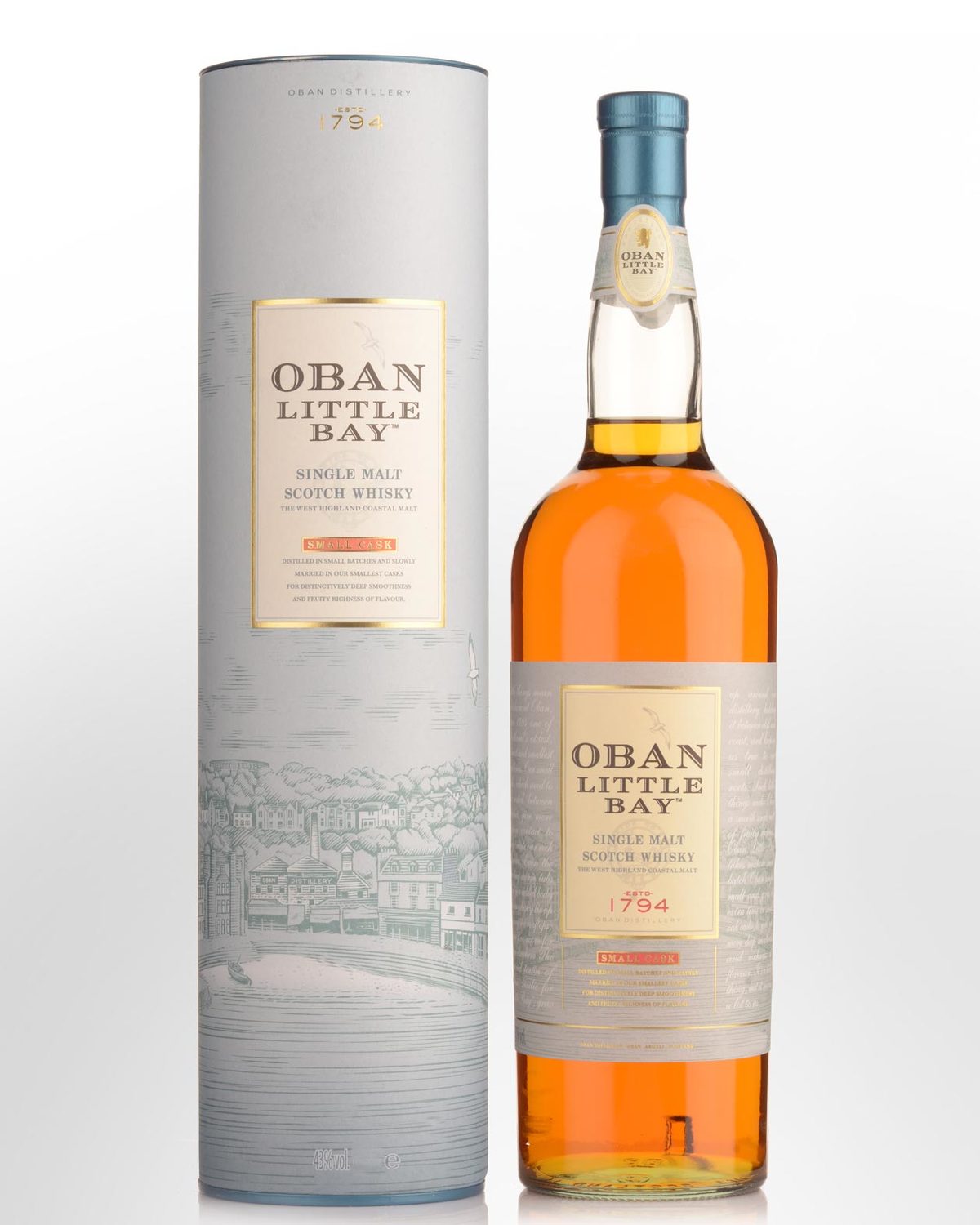 Oban Little Bay Single Malt Scotch Whisky (700ml)
"Finally, an unimpeachable counterpoint to the rally cry against no age statement whisky....Stunning."
Compared with other Diageo owned brands, Oban hasn't been given much attention. With the recent success of NAS releases from several other distilleries (such as Talisker), it seems the marketing team now have their eyes on this West Highland gem. Surprisingly for some, the general consensus is that 'Little Bay' is as good as (or even better) than the ubiquitous 14 year old age statement!
Tasting note:
Married in the smallest casks available at the distillery (200-litre ex-bourbon barrels) for extra richness. Bright amber. Borderline floral with a wonderful medley of ripe summer stone fruits (peach / nectarine / apricot) combined with beeswax and a whiff of maritime freshness. Air contact introduces notes of ginger snaps, muted white pepper and juicy malt. A peaches'n'cream delivery; Butter-textured with flavours of honey drizzled weet-bix, beeswax and pepper. Purring spices add depth and vibrancy. Finishes tangy, salted cracker-like with the fruity-malt thread seamlessly integrated through the final stages. A treat from a distillery that's been otherwise limited to just two bottlings. Sign us up for more!
43% Alc./Vol.
Other reviews...
Finally, an unimpeachable counterpoint to the rally cry against no age statement whisky. Oban Little Bay is everything that Oban 14 is, and more. A rich, fruity, malty nose showcases dried apricot, dark chocolate, and salt. On the palate, Little Bay explodes with flavour, combining malt with orange, chocolate, and blackberry. Clove and oak spice join the party in the mid-palate, which shows superb balance and integration. A long, slightly dry, citrusy spice finish caps off a stunning whisky.
92 points
- Geoffrey Kleinman (Fall 2015), www.maltadvocate.com
A pleasant, refreshing simple dram. Clean and juicy in part and some wonderful oak-laden spice to stir things up a little. Just a little too much chewy toffee towards the end, though.
87.5 points
43% Alc./Vol.- Jim Murray's Whisky Bible 2017
This new offering is made with whiskies "married in our smallest casks" to entice more fruitiness. The end result mixes vanilla and fresh apple aromas, though neither carries forward to the palate. Instead, flavors of resin and menthol dominate, though there's a pleasing peachy note on the dry, relatively hot finish. Adding water coaxes out a mellow vanilla note.
87 points
- www.wineenthusiast.com
The unblemished purity is showcased by the richness of the bronze color; a very pretty malt. First nosings detect a smattering of marine saltiness that is almost smoky but eventually is more like salted caramel; secondary passes after more aeration discover sea breeze, sweet grain, malted milk, root beer, and oaky sawdust. Entry is succulent, ripe, fruity, candy shop-like in its toffee leaning; midpalate highlights the sweet maltiness that's accented by a controlled saline aspect that carries the flavor profile deep into the roasted meat-like finish that flashes a touch of tomato paste. My favorite Oban right now.
Highly Recommended
- www.spiritjournal.com