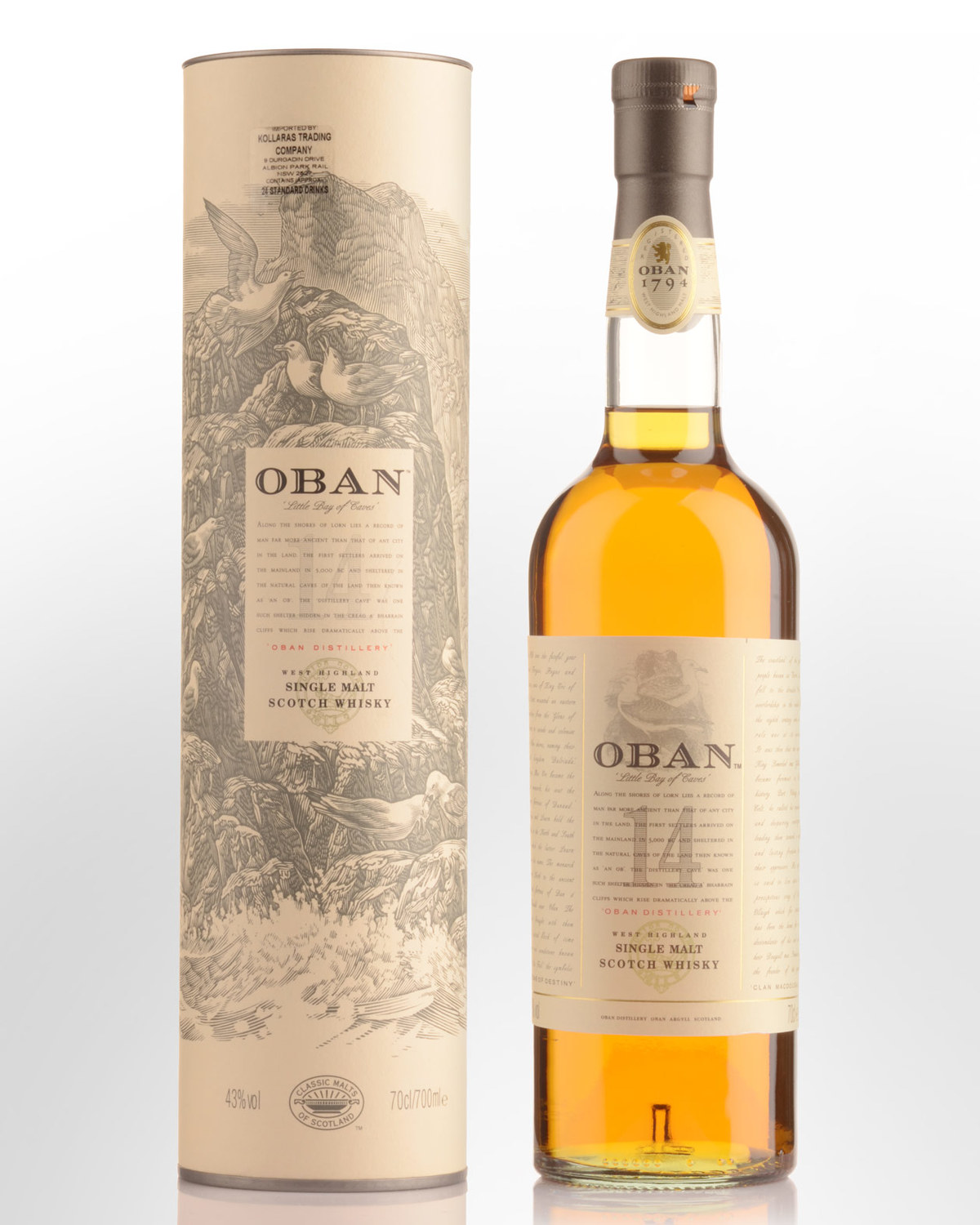 Oban 14 Year Old Single Malt Scotch Whisky (700ml)
A compromise between the power of Islay and the elegance of Speyside making it one of the more charismatic of Scotland's distillates.
'Those who prefer malts with a sheen, sweet and with enormous fruit depth' says Jim Murray of Oban, 'won't be disappointed.' Oban (meaning 'Little bay of caves), the gateway to the Isles, is a sheltered and sparsely populated West Highland harbour town steeped in Gaelic history. The town's distillery was reputedly built in 1794 and remains one of Scotland's smallest operations. It includes its malt in a number of blends such as Glen Garry and Glen Royal. The towns waterfront (where the distillery is situated) is indeed a mish-mash of architecture from varying periods and styles, only surpassed in peculiarity by a replica Roman Colosseum that sits perched above the township. Commisioned by a local banker called McCaig, the monument serves as a signpost to the Western Highlands - a region which enjoys its reputation for malts that offer the 'best of both worlds.' Indeed, a sip of Oban evokes a cliff-side coastal village where a hint of sea mingles with the slightly smoky flavour of peat, and simultaneously embodies something of the sweetness and elegance of classic Highland styles. It falls into a very small category of distilleries on the Western edges of Scotland that include Ben Nevis, Springbank and Glen Scotia - all generally amongst the more distinctive and charismatic of Scotland's distillates.
Other reviews... The nose is floral, with honey, toffee, cereal, and a hint of smoke, but subtle maritime notes are also present. The palate is rich and relatively complex: spicy, with citrus fruit, more cereal, seaweed, peat smoke, and oak. Lengthy in the finish, with toffee, new leather, and perpetual spice. A long-standing favorite with a very distinctive profile. 43% alc./vol. 88 points - whiskyadvocate.com, reviewed by: Gavin Smith (Fall 2019)
...Colour: gold. Nose: what a great distillate. At a measly 43% it would still rock and kick, with these trademark mustardy notes, followed with sweeter orange-y notes, then hand cream, basalt, leather, and walnuts. There's a wee dirtiness in the background, which is all for the better. Fruit peelings, a little mud perhaps. Mouth: extremely good, with some sweet mustard, fino sherry, walnuts, bitter oranges, and a touch of cardamom. The walnuts and the bitter oranges are running the show. Finish: incredibly long given the strength, and with more and more salt. Comments: wowie, what a great whisky! 88 points [2016 bottling] - Serge Valentin, whiskyfun.com
The early aroma is a combination of malt, wood and sea breeze; the later bouquet is a deliciously harmonious, even creamy marriage of maritime atmosphere and malted barley. Palate entry is chock full of biscuity, peaty, tobacco leaf tastes; the midpalate stage is sweet. Concludes strong, firm, slightly hot, pungent and briny. The best-kept secret of Scotland's Western Highlands. 85-89 points - wineenthusiast.com