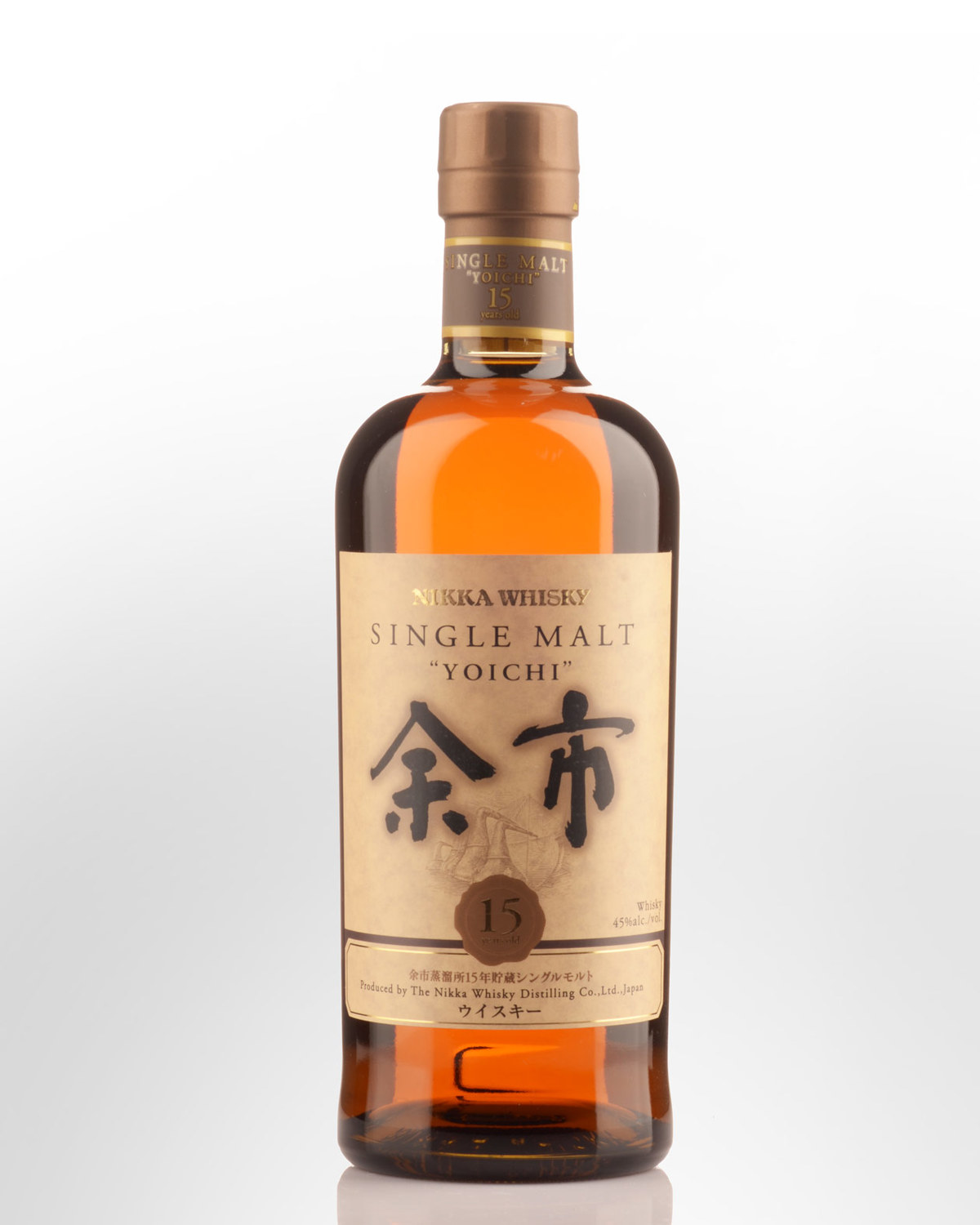 Nikka Yoichi 15 Year Old Single Malt Japanese Whisky (700ml)
Note: These have come from private collectors and as such may show some handling marks, scuffing, or even slight damage to the labels.
Whisky is big business in Japan with Scotch whisky being especially popular, yet with their own history of brewing and sake production, it's only logical that the Japanese are now making whisky too. What began as a conscious imitation of Scotch, now has a style all of its own, and since commercial production began in the early 20th century, the quality has been steadily improving.
Today, most of the malt whisky produced in Japan is for blending but Japanese distillers generally don't trade casks in the manner that Scottish distillers do. Consequently, it's up to each distillery to produce a diversity of styles that will form the base components of 'house blends' that offer unique and complex flavour profiles. Some Japanese blends will even include a percentage of Scotch whisky, rather than whisky from rival local distillers. This jealous reluctance to exchange whiskies is considered one of the major obstacles holding the industry back from the prominence it deserves: In a number of blind tastings recently organised by Whisky Magazine, which have included Japanese single malts in the lineup along with malts from distilleries considered to be among the best in Scotland, on more than one occasion, the results have had Japanese single malts scoring higher than their Scotch counterparts.
After a long absence from the Australian market, we've finally managed to secure some world class Japanese whiskies from the Nikka distillery, Japan's second largest whisky producer after Suntory. Now owned by the brewer Asahi, the company was originally set up by Masataka Taketsuru, who built Yoichi distillery in 1934, having previously spent two years studying the art of distilling in Scotland. (He also developed the now famous 'Yamazaki' distillery in Kyoto for Suntory which he managed for ten years).

Yoichi typically produces rich, peaty and masculine malts. The whiskies get their distinct aroma and body from direct heating distillation, in which the pot stills are heated with finely powdered natural coal - a traditional method that's hardly used today, even in Scotland.


'...the kind of whisky that propels a distillery into super league status.
A Classic!'
- Jim Murray.
Tasting note: Brilliant gold. Powerful opening scents of caramel fudge followed by light vanilla malt and a whisper of smoked fish. Second pass adds hints of linseed oil, cocoa and dates. Very nuanced. Great complexity. Just beautiful in its poised and textured delivery - juicy and seamless. Delicious, creamy, vanilla laced malt takes center stage countered by a delightful vibrancy on the finish as lively spices fan out at length; hints of biscuit, quince paste and sweet smoke in the fade. Complete and perfectly rounded. Impossible not to like. 45% Alc./Vol.
Other reviews... Nikka's first distillery is located in the eponymous town on the western coast of Hokkaido. Here, power is the key. Deep and rich with a distinct oiliness — somewhere between linseed and cod liver — there's also plenty of smoke in the mix as well, and a little hint of black olives in brine with ripe apples lurking behind. I hate making comparisons between Japanese and Scotch single malt but if I was forced to, Yoichi reminds me most of Springbank (edging into Longrow). Water dampens the personality too much for me; best have it full-on and uncompromising. Rather than the palate showing a slow procession of flavors along the tongue, this is a layered whisky; coal-like, oily, and richly fruited with a distinct saltiness on the sides, ably demonstrating that Japan has almost as much variety on offer as scotch. 95 points - Dave Broom, www.maltadvocate.com