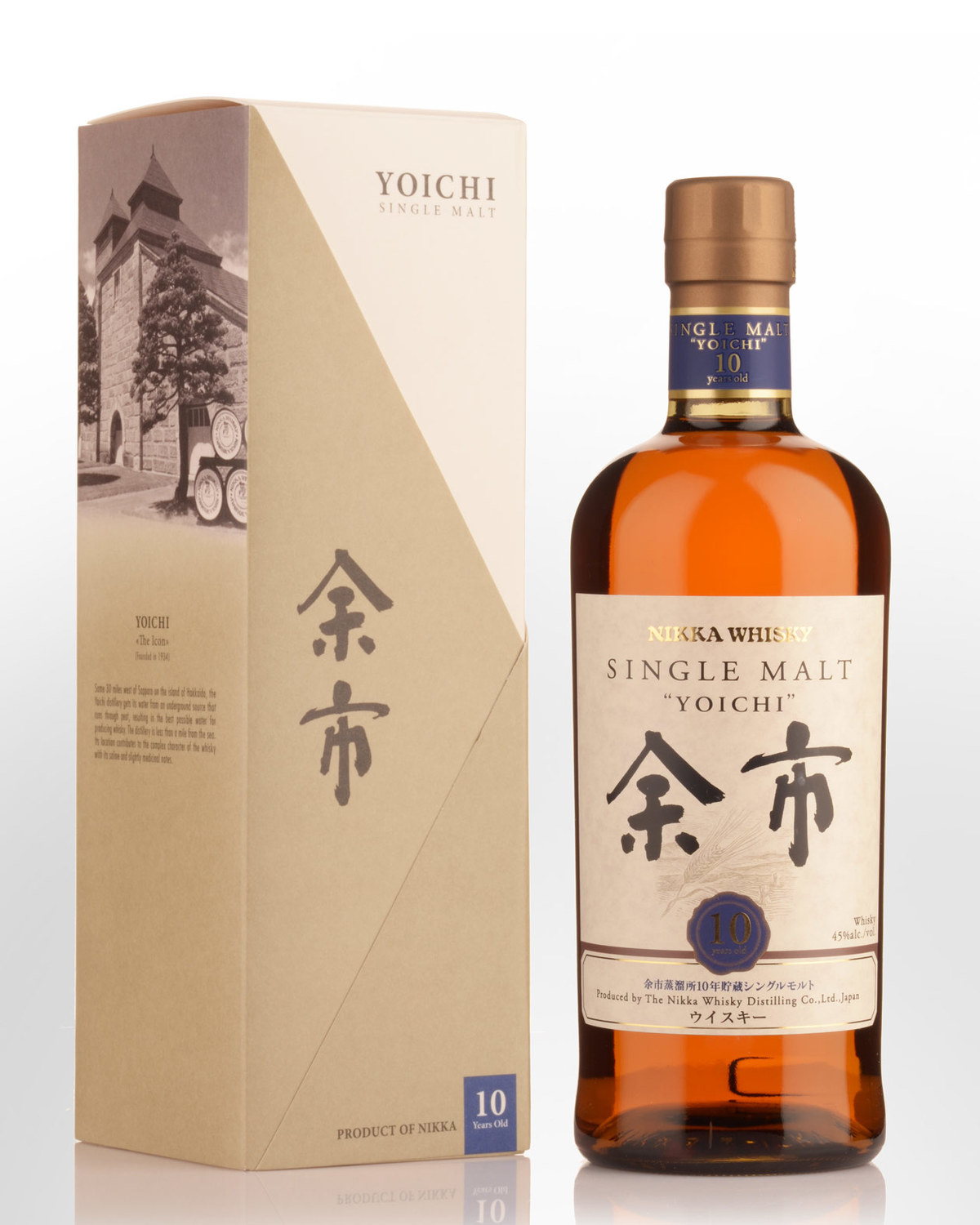 Nikka Yoichi 10 Year Old Single Malt Japanese Whisky (700ml)
Whisky is big business in Japan with Scotch whisky being especially popular, yet with their own history of brewing and sake production, it's only logical that the Japanese are now making whisky too. What began as a conscious imitation of Scotch, now has a style all of its own, and since commercial production began in the early 20th century, the quality has been steadily improving.
Today, most of the malt whisky produced in Japan is for blending but Japanese distillers generally don't trade casks in the manner that Scottish distillers do. Consequently, it's up to each distillery to produce a diversity of styles that will form the base components of 'house blends' that offer unique and complex flavour profiles. Some Japanese blends will even include a percentage of Scotch whisky, rather than whisky from rival local distillers. This jealous reluctance to exchange is considered one of the major obstacles holding the industry back from the prominence it deserves: In a number of blind tastings recently organised by Whisky Magazine, which have included Japanese single malts in the lineup along with malts from distilleries considered to be among the best in Scotland, on more than one occasion, the results have had Japanese single malts scoring higher than their Scotch counterparts.
After a long absence from the Australian market, we've finally managed to secure some world class Japanese whiskies from the Nikka distillery, Japan's second largest whisky producer after Suntory. Now owned by the brewer Asahi, the company was originally set up by Masataka Taketsuru, who built Yoichi distillery in 1934, having previously spent two years studying the art of distilling in Scotland. (He also developed the now famous 'Yamazaki' distillery in Kyoto for Suntory which he managed for ten years).

Yoichi typically produces rich, peaty and masculine malts. The whiskies get their distinct aroma and body from direct heating distillation, in which the pot stills are heated with finely powdered natural coal - a traditional method that's hardly used today, even in Scotland.

Tasting note: Nose: Pronounced, astonishingly fresh, dry, peat. Palate: Mint creams, then orangey. Finish: After the creaminess, the peat surges back. Clean, sweetish, soft smokiness. Comment: This is a wonderful whisky at 10 Years Old. I love the almost shocking hit of heavy peating. Rating: 9/10. - Michael Jackson, www.whiskymag.com

Other reviews... Vague echo of oak sappiness rescued by top-notch weighty barley. The tongue is forced to inspect the roof of the mouth countless times as wave upon wave of complex barley-honey notes rocket around the palate. Long with a tangy coppery richness that counters perfectly the barley, golden syrup and toffee. Mildly dodgy nose, overly toffeed finish… and still it's a lightweight treat!
Rating: 89 points. - Jim Murray's Whisky Bible - 2009
Note: We have one bottle only to sell. Some very slight bruising to the outer box.