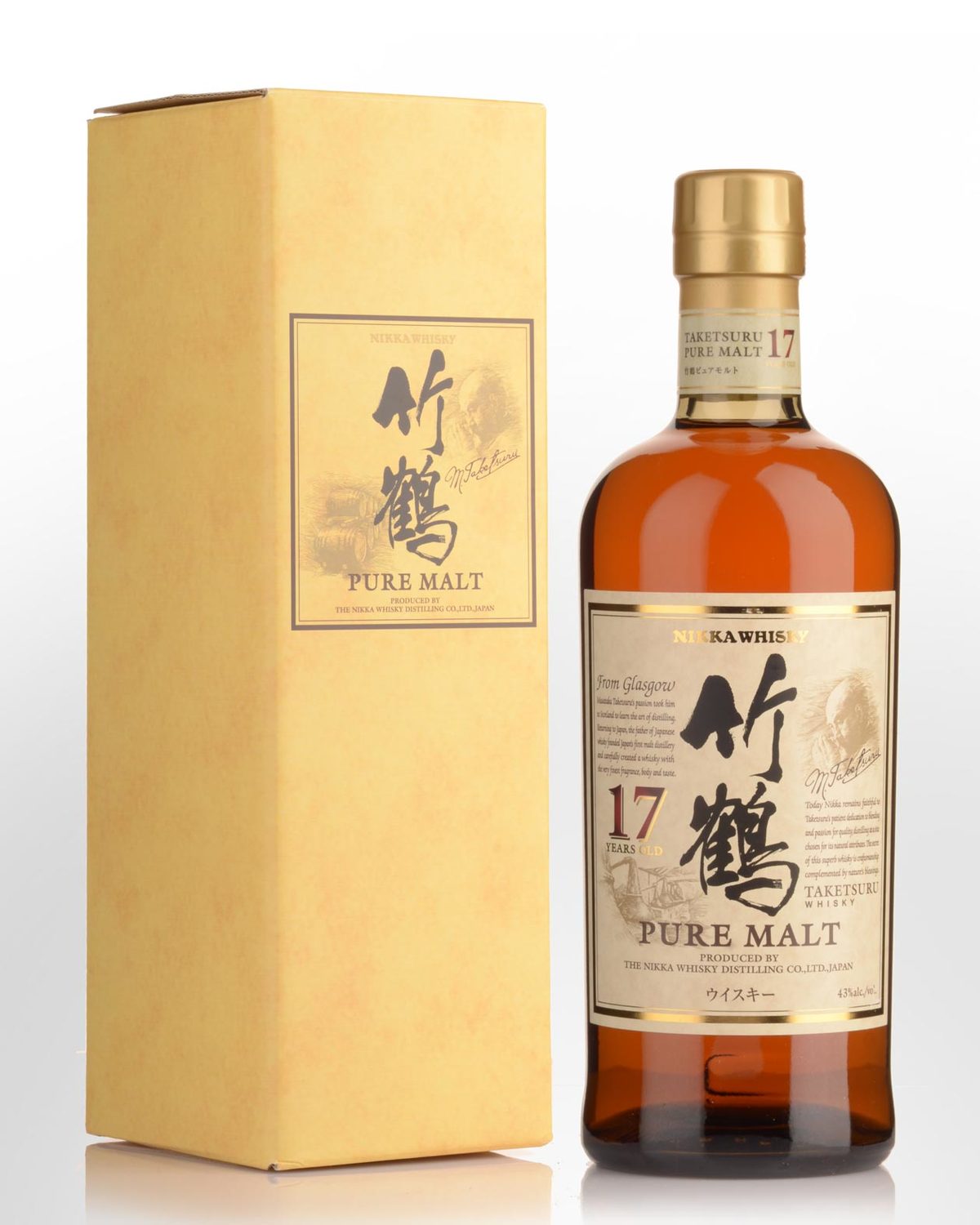 Nikka Taketsuru Pure Malt 17 Year Old Blended Malt Japanese Whisky (700ml)
Note: Box has come from a private collection and as such has some light creasing/scuffing/scratches/handling marks.
DISCONTINUED.
Following Suntory's lead, Nikka has discontinued its lines of extra-aged whiskies, with some reports that the shortage could last up to a decade before the taps are turned back on.
Winner World's Best Blended Malt at the 2018 World Whisky Awards.
Nikka's range of blended, pure malt and single malt whiskies will be exciting new discoveries for any Whisky enthusiast. This now discontinued 17 Year Old bottling is dedicated to the Father of the Japanese Whisky Industry, Masataka Taketsuru.
The tale of Taketsuru's life is of the same fabric legends are made of. Sent in 1918 as young apprentice to Scotland by his Japanese employers to crack the secrets of Whisky, he not only came back with that knowledge but also with Rita Taketsuru (nee Cowan), who went on playing a decisive role in the development of the Japanese Whisky industry. Thanks to her connection to Japanese high society, Masataka was able to finance the company that is now known as Nikka Whisky. Forward a century later, Taketsuru 17 yo is awarded the Best Blended Whisky at the World Whisky awards 2012 and 2018, a fitting crown for this blend of Malts from the two Nikka distilleries, Yoichi and Miyagikyo.
Other reviews... Firm oak, but compromises sufficiently to allow several layers of malt to battle through with a touch of peat-coffee. Massive, a toasted, honeyed front gives way to really intense and complex malt notes. Superb finish. some late marmalade arrives from somewhere, the toast is slightly burnt but the waves of malty complexity are endless. Not a whisky for the squeamish. This is big stuff – about as big as it gets without peat or rye. No bar shelf or whisky club should be without this one. 43% Alc./Vol.
89 points - Jim Murray's Whisky Bible - 2009