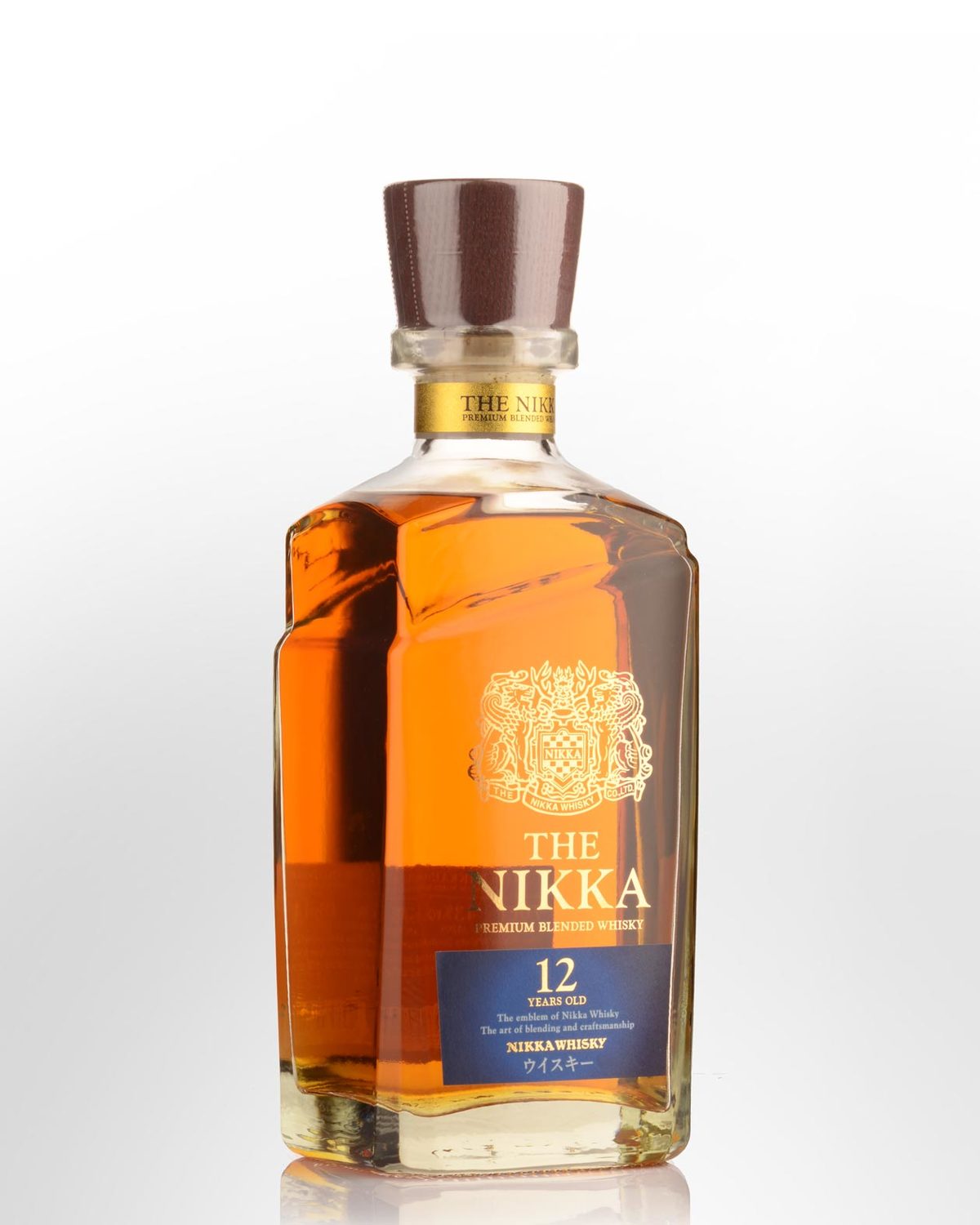 Nikka 12 Year Old Blended Japanese Whisky (700ml)
JAPAN
The kind of masterful blend that puts many a Scot to shame.
In an industry where brands can (and often do) combine malts from Scotland, Master Blender, Tadashi Sakuma forgoes input from the Nikka owned Ben Nevis distillery, creating an assemblage that honours all that's great about Japanese blends – or blended whisky full stop. Deftly balancing Miyagikyo (light & elegant) and Yoichi (more robust) pot still malts with a judicious splash of sweet Coffey grain, from the very first sniff, you can tell you're onto something special. Launched in 2014 as a national exclusive to celebrate Nikka's 80th anniversary, as one of the few affordable Japanese age statements to emerge in years, this will grab the attention of drinkers as much as collectors, offering a compelling alternative to Suntory's equivalent: If you buy Hibiki 12 year old at $700 but ignore this, frankly, we don't know what to say.
Awarded Best Japanese Blended Whisky 12 Years and Under in 2015 and Best Blended 12 Year old at the 2016 World Whisky Awards
, following through in 2017 with a Gold Award at the International Spirits Challenge, this superb effort comes suitably presented in a heavy-set decanter topped by a large wooden stopper. The asymmetrical bottle inspired by the neck of a "Kimono" is decorated with the same emblem designed by Masataka Taketsuru for his very first Nikka whisky.
Tasting note:
Deep polished brass. Opening sniffs are fresh, zesty, becoming floral soft with poached pear and apple, developing beeswax, cocoa and sweet spices, in particular cinnamon and nutmeg. A blend of poise and presence, marrying mature depth with the vibrancy of youth. Also surprisingly intense. Entry is medium dry, evolving with sweeter malt and honeyed fruits (apple, pear) framed by lively spices. Miyagikyo's delicate, fruity notes are wonderfully woven into the sweeter grains through the finish. Pepper warmth and oaky freshness lingers. Beautifully structured. The kind of masterful blend that puts many a Scot to shame.
43% Alc./Vol.
Other reviews...
This blend is soft and quite sweet, with low levels of spice and that characteristic Nikka richness behind, a classic fist in a velvet glove. Ripe, round, and generous, there's cocoa and butterscotch, with plenty of persimmon and nutmeg. Lush, round, and balanced; a classic Japanese blend. This will become the core blend in the range.
85 points
- whiskyadvocate.com, Dave Broom (Winter 2014)
...most importantly, the quality is superb. We got an advance sample and it really is a great sipping whisky. On the nose, the presence of the Coffey grain is immediately clear (with notes of roast coconut flakes and banana leaves), but it's balanced with orchard fruits (green apples and pears) supplied by the Miyagikyo malt and a slight whiff of peat from the Yoichi malt. On the palate (it's bottled at 43% abv, by the way), you get annin dofu, orchard fruits again, barley sugar and a touch of white pepper. The finish is medium-long on Oreo cookies and shortbread with a bit of grapefruit peel and some spice thrown in the mix.
- nonjatta.com
Awarded Best Japanese Blended Whisky 12 Years and Under 2015 and Best Blended 12 Year old 2016 at the World Whisky Awards.
Gold
International Spirits Challenge 2017