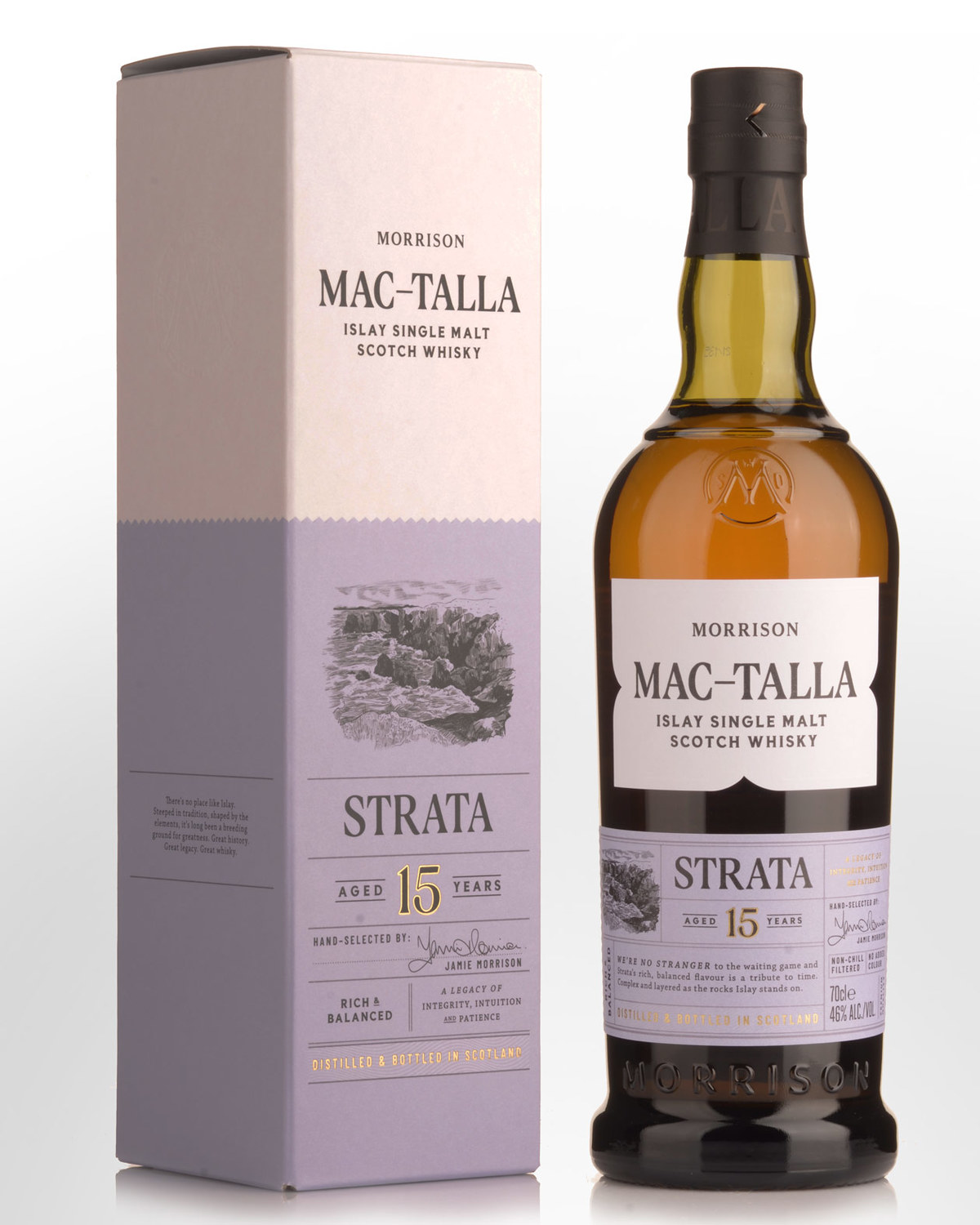 Morrison Distillers Mac-Talla Strata 15 Year Old Single Malt Scotch Whisky (700ml)
Probably Bowmore, but in a style rarely encountered. You could get lost in this for quite some time.
Here's another secret Islay with a rocky title: 'Strata' as the plural of 'stratum', refers to the many igneous rock formations that are visible along Islay's rugged but breath-taking shores. Of course peat has become synonymous with Islay whisky, and Mac-Talla 'Strata' is a great example of the island's smoky style, softened by a fairly lengthy maturation. This references Bowmore (or Caol Ila), but it's in a style you don't find often nowadays: Sweet and complex opening sniffs develop with brine, white pepper, wet rocks and sea shore combined with a twist of grapefruit. Just wonderfully fresh, sweet and salty. A silky entry leads into a full, rounded and salivating middle. Peppers gently tease the tongue as earthy peat vies with maritime peat, only matched by the richness of the malt. Fabulously pure, minerally and fine, managing to flood every crevice of the mouth effortlessly at 46%. It ends long, fresh and fizzing with complexity. Prototypical Islay that tastes older than the label states. American oak matured. Non-chill filtered.
Other reviews... Colour: white wine. Nose: a gentler nose that could well be Caol Ila as it would display vegetal oils (sesame), oysters, kelp, overripe apples, some softer fresh almonds, a lot of lime, some brine, and one olive for good measure. I find it rather '25' than '15', which is good news, obviously. Some CIs from the 1980s used to be a bit like this, but so were most 1990s and 2000s Bowmores. Mouth: a little wilder, a little more on bone-dry white wines, with a lovely sourness, some lime and lemon juices, chalk… What we call a vertical nose. Nutshell, it would taste rather 10 than 15, go figure, but it's excellent. Finish: a little short perhaps, with some cider apples and more fresh almonds. The smokiness would fade away a little bit but we'll find quite some brine in the aftertaste. And riesling. Comments: excellent, kind of the opposite of the young Whic. I'm sure a few more watts would have done it much good. Oh and the name Morrison sure suggests this could be Bowmore.
86 points - whiskyfun.com
Notes from the bottlers... NOSE: Smoked barley, sea shells and sherried fruits. PALATE: Velvety texture with earthy peat and winter spices. Rich and warm with a lovely smoky finish. Non chill filtered.