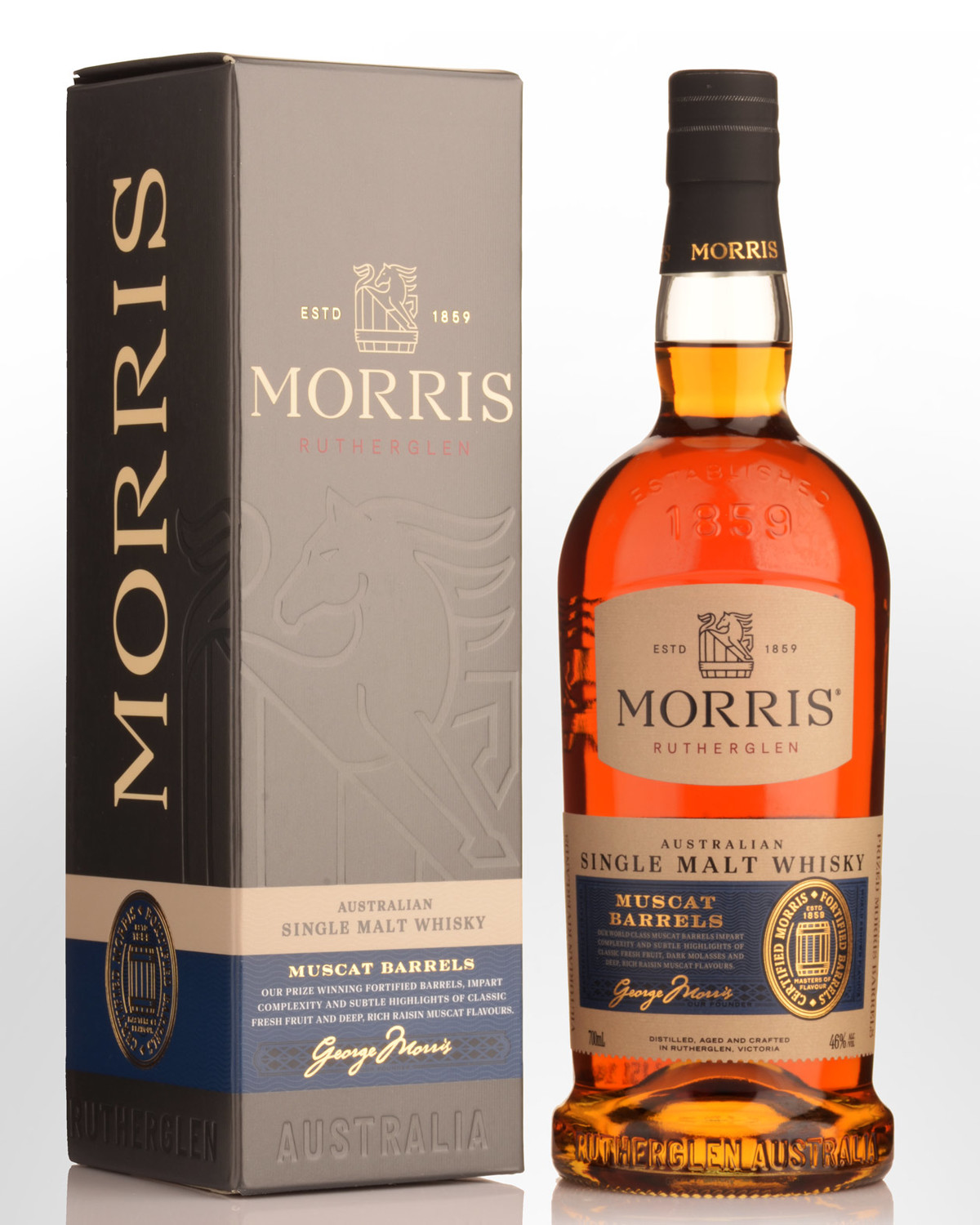 Morris Rutherglen Muscat Barrel Finished Single Malt Australian Whisky (700ml)
Rutherglen, Victoria,
AUSTRALIA
Former Springbank Master Distiller with Scotch Industry legend, Dr. Jim Swan kick off a new chapter in Morris's 160 year history.
Founded in 1859 and best known for their award-winning fortified wines, Morris of Rutherglen are now making whisky. Given the company's access to high quality barrels, it makes sense. The family hasn't cut any corners since the inception of the project in 2016. Their dream team originally consisted of Master Distiller, John McDougall, a widely-respected whisky maker with experience at Balvenie, Laphroaig and Springbank. The late Dr Jim Swan, famous for his work with STR casks at Kavalan, Kilchoman et al, was also a key consultant and worked with McDougall on honing the barrel and toasting regimes. Currently, Darren Peck (ex-Diageo) is Head Distiller having worked under the tutelage of McDougall for the last five years.
At the heart of the process is a restored hybrid copper pot and column still - none other than the original installed at Morris's in the early 1930s used for producing base spirits for fortified wines. High quality barley is sourced locally. Add a private cooperage and a warm/cool day/night maturation environment combined with reasonable sell prices and Morris are setting the standard high.
The first releases include a 'Signature' label and a Muscat Barrel finished malt, initially matured in a combination of French and American oak x-wine barrels. Both entries were awarded gold medals at the 2021 San Francisco World Spirits Competition (it should be noted that these were slightly higher abv variants for the US market). The recent SIP Awards in the US (May 2021) also recognised their quality, with the Signature being awarded Platinum, and the Muscat a Double Gold. For collectors, these first releases may carry some significance in years to come. For the Morris family, they mark a new chapter in a 160 year history.
Tasting note: Deep topaz to brass gold. More expressive on the nose than the 'Signature' bottling, this adds some red berry wine character to the toasty malt, the aroma bearing a passing resemblance to lamingtons or berry tarts. Well managed wine input creates a film of sweet dried fruits over the barley, coating the mouth and extending the finish. Powdery tannins and a spicy flourish check the sugars. Rounds off with medjool dates and a mild gingery warmth. Stays with you. Nicely done. 46% Alc./Vol.
Notes from the producers... COLOUR: Deep rich copper with reddish hues. NOSE: Rich with dates, figs and sweetness of dark molasses. PALATE: Well balanced and complex. Dried fig, sweet malt, vanilla and spices with creamy mouth feel. FINISH: Superb oak influence, lovely finish with satisfying after taste that lingers on the palate.