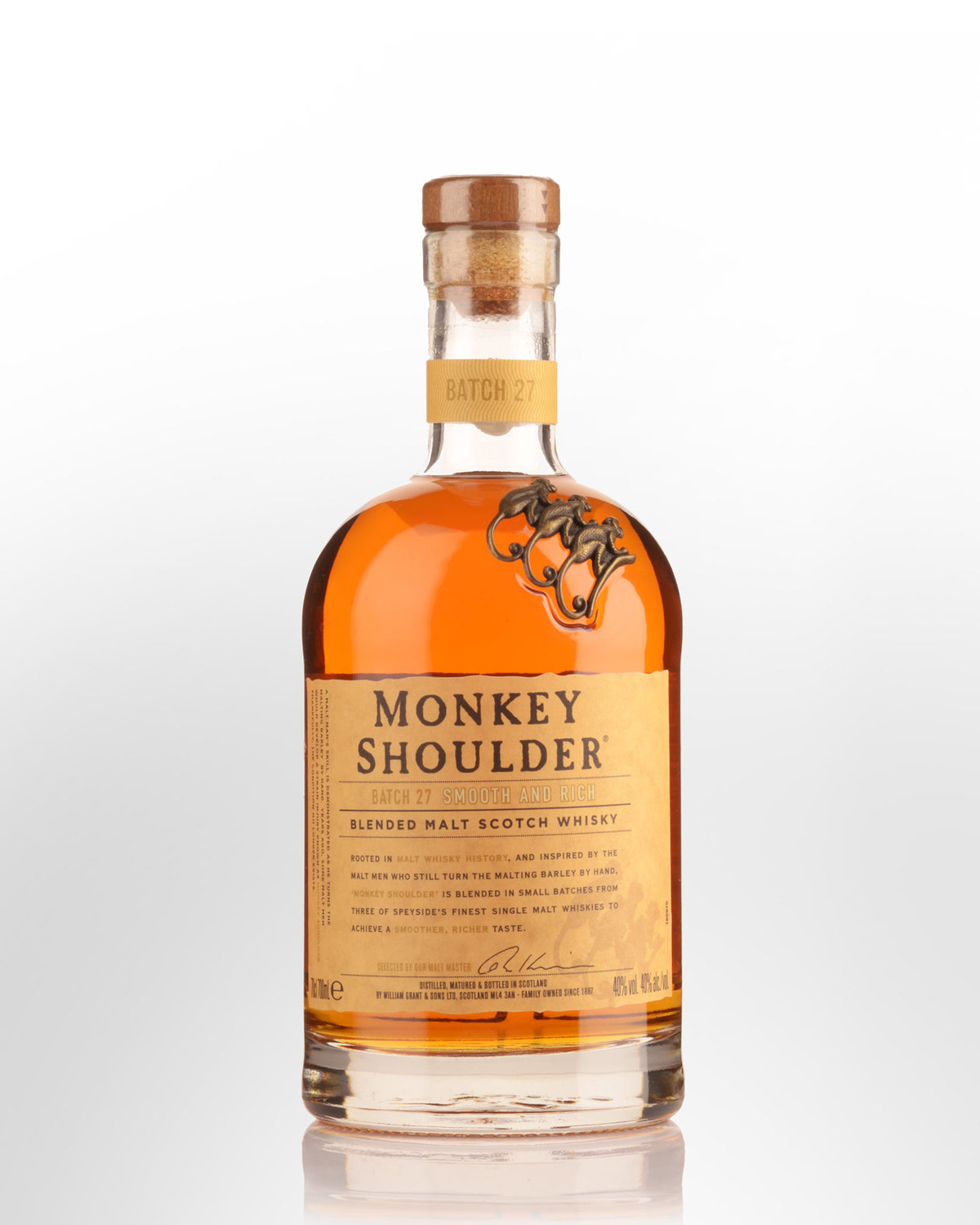 Monkey Shoulder Batch 27 Blended Malt Scotch Whisky (700ml)
"Monkey Shoulder" is named after an afflication sufferred by distillery workers engaged in the back-breaking work of turning the malting barley with a shiel (a kind of large wooden spade). Thankfully machines do this now, but this whisky has been named in honour of their passion. Produced by Malt Master David Stewart at William Grant & Sons, the whisky is a blended malt made up of 27 casks from Kininvie, Glenfiddich and Balvenie distilleries. (Kininvie has been in production for over a decade but without a bottling of any kind coming onto the market). The bottle features a triplet of monkeys, representing these three distilleries.
"Outstanding vatting here by David Stewart who clearly has the malts in the palm of his hands." - Jim Murray.
Other reviews… Nose: Ripe, very sweet and long. Toasted/polished oak, light resin notes, nutmeg. Palate: Still sweet: a soft start, vanilla custard, a hint of dried fruit, baked banana, cinnamon, vanilla. Honeyed centre. Toasted, indeed roasted, wood gives much needed grip. Finish: Membrillo. Comment: Exuberant, sweet and extremely well balanced. A great introduction to whisky. Rating: 83 - David Broom, www.whiskymag.com
Nose: Busy, complex and wonderfully weighted: the theme is orangey citrus softened by vanilla. Excellent malt-oak ratio. Palate: soft mouth arrival and then a steady increase in malt intensity; shards of Demerara sweetness help counter the vanilla…some grain early on…enormous length…A joy. Rating: 93
- Jim Murray's Whisky Bible 2006
 Click here to learn more about Scotch Whisky