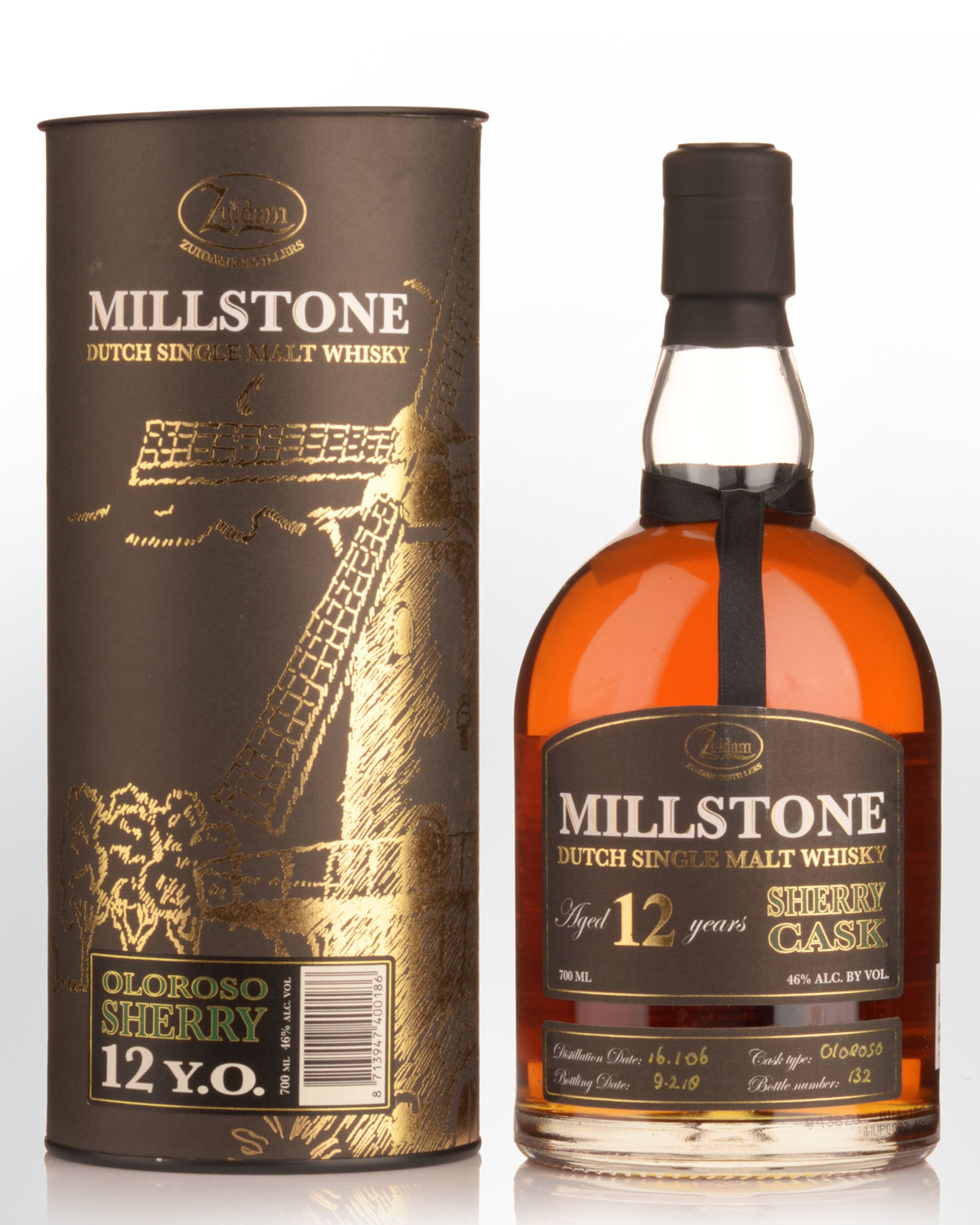 Zuidam Distillers Millstone 12 Year Old Sherry Cask Single Malt Dutch Whisky (700ml)
NETHERLANDS
"...this is Premier League, a world class sherried 12 year old that matches many sherried Scotch whiskies flavor to flavor. That's a first for Europe". - whiskyadvocate.com
The Zuidam Distillery was started back in 1975 by Fred van Zuidam as a deliberately contained operation with one small copper still. It took more than a decade to forge their present reputation as the finest distillery in the Netherlands. In 1989 Zuidam expanded their warehouse to 600 square meters and one production line. Presently, both sons, Patrick and Gilbert, run the distillery under the watchful eyes of their parents. With four brand new copper stills, over 1000 oak barrels, four production lines and modern tank storage, Zuidam is now a state of the art operation, however, they have held on to one throwback from the past - Windmills. These are used to mill the malted barley destined for their Malt Whisky. It not only preserves this iconic piece of Dutch heritage, but more importantly, the producers believe that the traditional slow grind causes almost no increase in the temperature of the barley and thus helps preserve the grain's wonderful aromas.
As with many Australian distilleries, the whisky at Zuidam is aged in small barrels - typically American white oak as well as barrels that have previously held Bourbon and Oloroso Sherry. Because they use only new and/or once used barrels, and they store the barrels in a warm warehouse, the whisky ages rather quickl
Tasting note: Deep amber / gold. Butter menthol / barley sugar lozenge in the opening pass. Vaguely grassy? Wafer biscuit? Three or four minutes draws out a sweet spot as the Sherry blossoms and finally you get it: Pure, elegant, nutty malt delivered with a soft touch. The sophisticated restraint continues in the mouth, being fresh rather than sweet, middle weighted, with a nutty, dried fruit, almond biscotti kind of profile, and gorgeous feathery spices fanning out the finish. Vanilla and fruit cake dissolve in the fade. Deceptively long. Beautiful whisky. 46% Alc./Vol.
Other reviews... Near perfect on the sweet-dry balance; fresh lively grape, slowly infiltrated by much heavier and drier tannins....Decidedly raisin shortcake biscuit on the finale; after last year's disappointing sherry bottling, thought I'd need some Dutch courage to tackle this one. But, instead, an excellent cask at work here which ensures an overflow of character. Just underlines the difference between putting a good quality spirit into a less than impressive cask or filling into top quality oak. So, so elegant.
95 points- Jim Murrays Whisky Bible 2015
...Millstone is made by Zuidam, a Dutch spirits and liquor company that prides itself on never cutting corners and in using the very finest ingredients. There are hundreds of European distilleries making spirit, but few this good. Its malt and rye whiskies have always been special, but this is Premier League, a world class sherried 12 year old that matches many sherried Scotch whiskies flavor to flavor. That's a first for Europe. 93 points - whiskyadvocate.com (Spring 2013) Reviewed by: Dominic Roskrow
Awarded "World Whisky of the year" by Whisky Advocate Magazine in the USA 2013.
[1999 distillation] ...I liked Millstone's rye very much. Now, how a 1999/2013 could become a 12 years old, I don't quite know - but we've seen that done elsewhere (at Balvenie, for example). Colour: dark gold. Nose: ho-ho! This one does not nose like any unlikely 'foreign' malt, it's as high in fruits as one of the best Benriachs or Littlemills, if that says something to you. Very impressive, everything is just perfect in this nose, the milk chocolate, the pink grapefruits, the passion fruits, the golden raisins, the touches of cappuccino, the very elegant maltiness... Mouth: oh yes! I'm speechless, I knew of Zuidam but only by name, I just didn't know that they were making 'Scotch-like' wonders. Prejudices prejudices… A great fruit salad with apples and oranges first, then mangos, bananas and many other fruits. Finish: long, fresh, clean, just a tad yeastier. Pencil shavings in the aftertaste. Comments: had I tried this blind, I'd have said 'it's an unusual Littlemill'. Only the finish was a little less to my liking. 86 points - whiskyfun.com